The Wombats: This Modern Glitch
[Bright Antenna/ILG]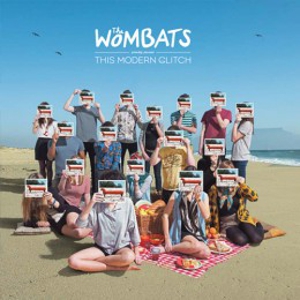 British indie-rockers The Wombats are back with This Modern Glitch, a more danceable, darker output than 2007's A Guide To Love, Loss & Desperation.
The 17 tracks on A Guide, except for the barbershop-quartet-style opener, all fit the energetic British indie-rock vein, similar to The Mystery Jets and The Kooks. It's full of high tempos, angular guitar riffs, repeated chants and quick-twitching bass lines.
This Modern Glitch
removes A Guide's excess and shifts the band's direction; the former album contains just 10 songs, not 17. Its opening track, "Our Perfect Disease," sets the mood for the rest of the record by inserting rapid electronic bloops before adding '80s-style synths and keys.
The Wombats' new course feels like an attempt fit in with modern trends. Music's equivalent of '80s-style sunglasses has returned to pop charts, so The Wombats' move isn't surprising. Synths and deep drones, staples of recent dance-rock outfits, appear throughout the majority of This Modern Glitch. Such digital traits combined with songs of nostalgia and regret (e.g. "1996"), lend the album a gloomy feel. But thanks to The Wombats' intensity, it never approaches depressing.
The group's main selling points remain. Every song is designed to get people moving by focusing on danceable rhythms that all build to infectious, energetic choruses. Occasional background vocals add ethereal elements behind lead singer Matthew "Murph" Murphy's confrontational delivery, and most songs try for at least one noticeable hook.
"Tokyo (Vampires & Wolves)" focuses heavily on gloomy synths and rhythmic elements, reaffirming the group's dance-vibe direction. By highlighting a warm bass and adding subtle flourishes, "Tokyo," along with the more minimal "Jump Into The Fog" and string-heavy ballad "Anti-D," stand out against the remainder of a rather stale album.
Unlike other groups in the modern indie dance-rock category (Cut Copy, Friendly Fires) that create intriguing layers and textures by mixing in disparate, interesting electronic elements, The Wombats stick to a relatively ordinary bag of tricks.
Their engaging, accessible brand of '80s-twinged indie rock ("Techno Fan") makes for fun, foot-tapping listening experiences. However, the majority of This Modern Glitch is an enjoyable — but not terribly memorable — collection of songs.
Others Tagged With