Best of What's Next: Rubblebucket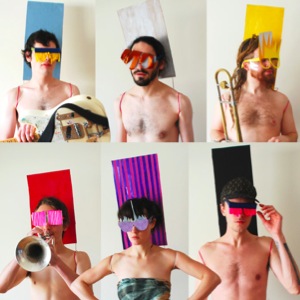 Hometown: Brooklyn, New York
Members: Alex Toth (Trumpet/Vocals/Bandleader), Kalmia Traver (Lead Vocals/Tenor Sax), Adam Dotson (Trombone/Vocals), Dave Cole (Drums), Darby Wolf (Keyboards), Craig Myers (Percussion), Mark Stewart (Bass), Ian Hersey (Guitar)
Album: Omega La La
For Fans Of: Dirty Projectors, Fela Kuti, Vampire Weekend
Rubblebucket vocalist Kalmia Traver just finished eating breakfast somewhere in Oregon, but she isn't quite sure where.
"I'm good—I'm just sitting on a bench in a town that I don't know the name of!"
Her voice is a tad scratchy, and, even over the phone—as we battle intrusive static and the din of passing motorcycles—it's easy to sense the red in her eyes and the waves of physical exhaustion. She, along with her seven bandmates that comprise Rubblebucket, are on tour, promoting their excellent new full-length studio album, Omega La La, sweeping across the West Coast and bringing their funky, eclectic, energetic psych-pop to responsive audiences that, according to Traver, seem to be swelling nightly.
So far, the set-up might seem a tad cliché: a burgeoning young indie band burned-out and disillusioned at an anonymous road-side gas station. But Traver's blank slate is the result of dizzying passion, not absent-mindedness. For Traver and the gang—including bandleader/trumpet player (and Traver's boyfriend) Alex Toth—the exhausting exchange of performance, of devoting one's entire body and spirit to music, is what makes life worthwhile. They've been categorized by the curious genre tag "yes-wave," a label used to describe bands who are both good at their instruments and project positive vibes. But Rubbebucket are pretty hard to pin-down sonically—their line-up sports an array of horns, keys, and percussion; their dense soundscapes are equally hooky and technical, bouncing from sublime pop hooks (like on the effortless back-porch soul of "Raining") to rhythmically challenging clatter (the furious synth-twitch breakdown that propels the second half of "Breatherz"). The tunes aren't easily pigeonholed into jam-band, funk, or indie rock scenes, so "yes-wave" might just be as good a description as any—but Traver isn't worried about labels in the first place.
"It's hard for us to find a home within any genre," Traver says. "And you can spin that good or bad. And that's actually been a frustration of mine. You meet somebody on the street, and they ask, 'What kind of band are you?' It takes so many sentences to explain it, but that being said, 'yes-wave' doesn't really explain anything at all. So I just think it's funny, and I also connect with that word, 'yes-wave.' It sounds fun, and from what I understand, the spirit behind it is sort of what we're all about, which is being good at your instruments and really devoting a lot of time to mastering the music, and then being positive and sending 'yes' energy out into the world."
And Rubblebucket are all about "yes energy." Through an "ingenious" marketing campaign developed by their managers, the band released Omega La La (which was produced by LCD Soundsystem vet Eric Broucek) as a free download on their website—on the condition that fans "like" them on Facebook and spread the word to friends via e-mail.
"Basically, everything is so different now, and they were operating under the hopes that if we gave away our music to as many as people as possible, it will get heard and get more buzz and appreciation. It was definitely a little nerve-racking just rocketing our entire album out into space, but I feel like the returns have already, even just now, been great because so many people have heard it, appreciated it, and liked the music!"
At the end of our conversation, I bid Traver and the rest of the band good luck on their voyage, reminding her to rest up—and figure out what city she's in. She laughs, describing the band's chaotic state of mind as they drift off, ready for another show, in the van:
"It's definitely tricky being right in the middle of all these guys, and we're all pretty spacey in some ways and organized in others. But we're all definitely artists, and it's always just up and down. We have these great, creative moments where we're all just laughing our heads off and jumping around. After shows, we'll be driving around, and the whole van is just filled with chatter and laughter and jokes. And a lot of us really love to improvise, even though with our music, there's not that much improvisation that goes on. But we are all totally improvisers, so that really comes out more in the conversations we have and all the playful little games that we make up. So that stuff keeps it really fresh on tour. If that ever starts to die, then it becomes a lot harder to operate."
Others Tagged With