The Lumineers: The Best of What's Next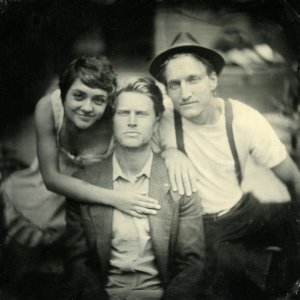 Hometown: Denver
Members: Wesley Schultz (vocals/guitar/piano), Jeremiah Fraites (drums, yells), Neyla Peckarek (cello, piano)
For Fans Of: The Head and the Heart, Ryan Adams, The Avett Brothers
Wesley Schultz and Jeremiah Fraites forged their band from the sparks of pain, and built upon that foundation with a persevering gleam of hope, so it's fitting that the bands name is an imaginary term for the shine that comes from porcelain veneers used in dentistry.
Schultz and Fraites grew up in the same small town in Ramsey, N.J., but it wasn't until Fraites' older brother, also Schultz's good friend, lost his life to a drug overdose that The Lumineers were formed.
"A few years later Jer and I began playing together and formed The Lumineers," says Schultz, who was close friends with Fraites' brother. "In a strange but fitting way, we became brothers, bonded over time and mutual loss. It went by other names at first, but we've always been The Lumineers."
After a short stint paying their dues to the New York music scene, on a whim, the two of them decided to uproot to Denver. The first order of business was to place an ad for a cello player. That's when they found their missing link, the charming Neyla Pekarek. She was the first to respond to the ad and a perfect fit to complement their orchestral melodies. "She had just cut off all her hair and was ready for a change as well," Schultz says. "It's worked out beautifully. We could always hear cello parts in are heads, or I could. We couldn't really hear traditional bass parts."
The trio then went on to mix and master their own seven-track EP, an impressive at-home venture. There's something ornately anguished about songs like "Don't Wanna Go," when Wesley's vocals channel levels of pain only Jeff Buckley could match. At the same time others like "Oh Hey" are intricately composed, rich and full of exuberance, hand-claps and optimism.
"We also sing about family folklore and about our own history where we're from and our culture," Shultz says. "Some of it is autobiographical, like 'Charlie Boy' is about my Dad's eldest brother. He went to Vietnam, he signed up for it and then he was killed. It affected the family in a really profound way, having someone go off to war that was going to be a doctor and volunteered to do it. He heard JFK speak, and was drawn to serve."
The songs are finding an audience across the country. "The first tour we did was a nationwide 30-day tour that spanned 8,500 miles and 25 states, and we didn't stay at a single hotel. We believed it would work out and it did—people offered us their homes to sleep and food to eat."
It didn't take long for their adopted hometown of Denver to take to notice either. They were offered the opportunity to record in an established recording studio and they spent all of June recording with Ryan Hadlock at Bear Creek Studios in Washington. Perhaps escaping Brooklyn was the key. Balancing money and a band eventually started to become too cumbersome.
"An unforeseen perk of coming to Denver was that we immediately met bands that were touring and doing exactly what we wanted to do for so long back east," Shultz says. "And they were willing to help us—an attitude all too lost on many of the bands we knew back in NYC. Kill or be killed."
Now, gearing up for the release of a debut album around the new year, they have a few wishes. "Get a bigger van—we're in a soccer mom van with LUMINRS vanity plates," Shultz says. "Make music that makes you smile, cry and stomp your foot simultaneously. Make music for years with these dear friends of mine. Be proud of our music. Play Letterman and Europe."
Others Tagged With