Kitty, Daisy & Lewis: Smoking in Heaven
[Sunday Best]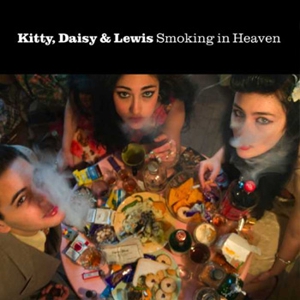 If burlesque-rockabilly-beach pop wasn't already a genre, multi-instrumentalist siblings Kitty, Daisy & Lewis' new album will definitely push to make it one. On their third official album the Durham siblings from Northwest London infuse a variety of sounds that lean retro, but also push the boundaries of today's music.
Smoking in Heaven's opening track "Tomorrow" has a Hawaiian undertone, but sounds like something out of an Elvis Presley beach film. Even the next track "Will I Ever" feels like a 1960s California beach jam with short guitar chords, and Daisy's vocals seductively force you to sway back and forth with the familiar sound. The tracks that Kitty sings on are nearly indistinguishable from her sister's voice, but the subtle difference can be picked up on after a listen and the more the album is played, the wider the difference grows.
Every song on the album has that swingy sound filled with instruments ranging from ukulele, trombone and accordion all the way to xylophone, lapsteel and traditional elements of rock. What's special is that the siblings all split songwriting duties, and there is a subtle difference between the songs. Though most of the songs were written by a combination of two or all three of the siblings, some were penned solo, and those are the true gems.
Lewis' two solo-written tracks, "Don't Make a Fool Out Of Me" and "I'm Coming Home", are the biggest departure on the albums, mostly because his sisters take a break from singing lead. He adds a different dynamic that neither Kitty nor Daisy is able to provide. Where they manage to sing along that fine line of sounding sultry and sweetly innocent, Lewis sounds raw and traditional.
This album will please fans of the vintage stylings of Adele, Duffy and the late Amy Winehouse. What those solo artists produced focused heavily on vocals and lyrics, but this trio gives every aspect of the album equal attention, and the instrumentation is often times the most intriguing part of each song.
Others Tagged With