Loney Dear: Hall Music
[Polyvinyl]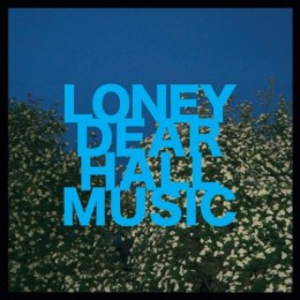 Emil Svanängen has always been more adept at texture than hooks. Even upbeat songs, like "Airport Surroundings," from 2009's Dear John drift into kraut-like hypnosis, the insistence of the rhythm overrunning Svanängen's hushed croon.
This isn't to discount Svanängen's work as Loney Dear outright, but rather to acknowledge the crucial difference that makes the frequent comparisons to artists like Jens Lekman ring a bit hollow. This is especially true on Hall Music, Loney Dear's third properly released full-length (not counting the three albums Svanängen self-released before getting picked up by Sub Pop for Loney Dear's stateside debut, 2007's Loney, Noir).
Where Dear John hinted at cinematic grandeur and prayer-like melody, Hall Music is a spacious and somber affair. Opener "Name" is tender and earnest, buoyed by a wordless chorus and vocal echoes that recall Arthur Russell's landmark World of Echo. Like Russell, Svanängen has never shied from a studious approach to pop music. Svanängen might lack the cunning storytelling of a Belle and Sebastian or the orchestral bombast of a Sufjan Stevens. Listening to Loney Dear is an exercise in sound-appreciation. And, with Svanängen rarely leaving his voice's warm, whispery comfort zone, it's sometimes a bit of a dreary exercise, too.
Songs like "Young Hearts," a smoldering piano ballad draped in warm reverb, hint at the sort of cavernous ballads Band of Horses have successfully mined. But where Ben Bridwell might've let the song swell into a chorus as big as the tides, Svanängen lets his voice drift into the open space his arrangements create. He comes closer on "Drumroll," but still finds himself muffled by a cavalcade of horns. The rush of sound is welcome, but Svanängen seems to be falling behind it, not leading it.
The album ends on a highlight, though. "What Have I Become?" finds Svanängen taking a backseat to vocalist Malin Ståhlberg, whose voice sweeps a range from warm and mellow to piercing. It's little surprise that the song's arrangement is Hall Music's most rhythmically engaged, pushing polyrhythmic percussion against driving keys and gliding streams of brass and strings. "In a land with a thousand seasides/ I never really learned to swim at all," Ståhlberg sings, before resolving "I really don't care no more," as if resignation were its own catharsis. Here, Svanängen doesn't sacrifice the spacious production of Hall Music's preceding 10 tracks, but he benefits from the sudden swell in activity.
At the end of a spare, politely hushed and flatly paced LP, "What Have I Become?" strikes like an alarm clock—but one worth waking up for.
Others Tagged With