My Brightest Diamond: All Things Will Unwind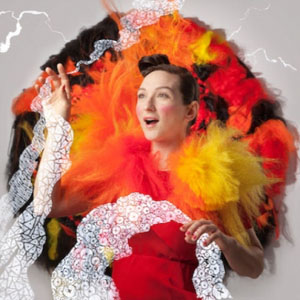 Look at all the arrows in Shara Worden's quiver. There's no doubt she's a member of the music community's upper echelon—or at least has a spot on the guest list. She has collaboration credits and co-signs from David Byrne, Sufjan Stevens, Justin Vernon, Bryce Dessner (The National), The Decemberists, even performance artist Laurie Anderson. Worden, working under the name My Brightest Diamond, proved with her previous two albums she has the talent and execution to roll with and possibly be named on the indie A-list. But on her third LP All Things Will Unwind, her execution becomes a sad hurdle as Worden designs an album with ambitious themes and ideas, but uses a musical swatch book that shrouds the album's intent.
All Things Will Unwind is pure, conventional orchestral pop. Gone are the noir-rock undertones and the bubbling tension of her earlier albums, and they are replaced in favor of unlimited access to the local orchestra's storage closet. Worden, with her studied career in music academia, no doubt worked hard to arrange this album for the chamber ensemble yMusic, aka indie-rock's orchestra for-hire who have played with Bon Iver, Matt Berninger, Antony & The Johnsons, et al. On the surface, the score to the album is quite pleasant and intriguing. The arrangements flutter with violins, flutes, winds and horns of all kind and show off Worden's creativity and remarkable grasp on compositional theory.
Like last year's Have One On Me, or to a certain extent W H O K I L L, orchestral arrangements in pop music work best when they clarify the form of an already shaped thing. Here, the arrangements often obscure any kind of shape whatsoever. When Worden wants to reaffirm and simplify her love on "Escape Routes," it's surrounded by a buzz of flutes and violins that should just be swatted away. Instead of cradling Worden's lyrics, the ensemble more often than not offers frantic counterpoint or lily-gilding unison melodies to the vocal lines that keeps Worden's heart and message at a very sad distance.
What could be an affecting '60s protest song about Detroit's unemployment crisis on "High, Low, Middle" instead suffers from a stale rhythm and by that point in the album, strings that are far past their expiration date.
There are times when some of the members of the ensemble tacet, and the album becomes far more approachable. Worden's expressive voice and ear for the uncommon melody strut their stuff on the lullabies "She Does Not Brave The War" and "I Have Never Loved Someone," both warming odes to her new-born son. Alternatively, she's joined by equally virtuosic vocalist DM Stith on the wildly eccentric and moving "Everything Is In Line," a song that finally connects the ensemble to the theme of the song: two people assuring each other that everything will be OK amid utter chaos. It's a standout song for just how far it takes the avant-orchestral aesthetic and dense narratives.
But My Brightest Diamond is never one to shy away from a challenge—this album serves up plenty of them. In a year where -gaze and -wave still hold sway, Worden's music is diametrically opposed to those genres. It's a heady and abstract album that feels more like it should be studied than enjoyed. What saves this album from being a self-servicing vanity project is the sheer scope of what Worden creates with a seriously outmoded style. It's also unfortunately uninviting and stiff, a quality never even hinted at on her earlier work. Where you could slide her other albums over you for comfort, if I closed my eyes and fell backwards into this album, I would only trust a handful of songs to try and catch me.
Others Tagged With