Lyle Lovett: Release Me
[Lost Highway]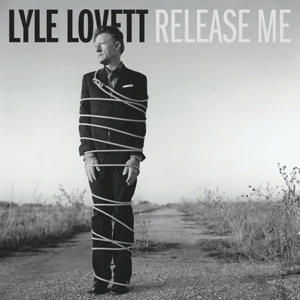 Somewhere between Leonard Cohen and Bob Wills lies the Promised Land inhabited by Lyle Lovett, who balances elegantly broken romanticism with loose-jointed swing that shuffles and jumps like exalted Texas Playboys. Lanky with high rise hair, Lovett has been an anomaly of the singer/songwriter ilk since appearing with a chock-a-block debut album—and Release Me, his final album of an almost 30-year career for Curb, finds him resolutely steadfast in his excellence and eclecticism.
Opening with a hard reel, fiddles flying in close formation and gallop-beats pummeling the traditional "Garfield's Blackberry Blossom," this true country nugget suggests Lovett's final Curb project is an homage to the people, artists and oeuvres that have, as they say in the South, "brought him." Melting into the slinky noir jazz of the doubly ironic title track, he gets entangled with fellow country-cred-scare upstart and world-class chanteuse kd lang for a rumination on the silken torture of needing to be freed from a love that is gone.
A tribute to his roots, there are songs by obscure folkies, who inspired Lovett. Eric Taylor's tentative outreach to a girl ("Understand You") and John Grimaudo and Saylor White's breathtaking tale of a seaman's child and the siren/mother who're torn apart by the hale fellow's preference for the water ("Dress of Laces,") take yearning to near madness, a theme found in Lovett's own songs.
Not all is dour. Lovett writes "The Girl With The Holiday Smile," a jaunty homage to a hooker in the grocery store, and revisits the droll "White Boy Lost in the Blues" with a soulful vocal assist from Arnold McCuller, skewering poseur musicianship with a sincerity that takes irony to another level.
The jazz standard "Baby, It's Cold Outside" is slyly read by Lovett's lothario to the Rickie Lee Jones-evoking Kat Edmonson, all slushy vowels and wide-eyed Judy Holliday dishy-ness. With piano sauntering along, resolve crumbles, young love tumbles and the crescendo packs the charm of vintage romantic comedy.
That camaraderie extends to the appearance of Nickel Creek's Sean and Sara Watkins on the ruminative "Night's Lullaby," as well as the horn-propelled "Isn't That So," featuring Was (Not Was) vocalists Harry Bowen and Sweetpea Atkinson and bluegrass progressive Sam Bush. That's the beauty and wonder of Lyle Lovett: coexistence isn't just natural, it's tasty.
Winding up with a scorching rendition of Townes Van Zandt's "White Freightliner Blues"—featuring vocal support from road compadres Keith Sewell, Luke Bulla and Ray Herndon, the combustion desolves into "Keep Us Steadfast," an old Methodist hymn that's an elegy of all that is happened.
Others Tagged With