Kyle Kinane: Death of the Party Reissue
[Stand Up! Records]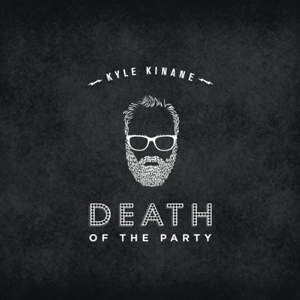 Warning: Audio contains profanity.
There have been very few stand-up albums that scream out for a vinyl release, but Kyle Kinane's Death of the Party definitely merits the treatment. The heavy-metal-esque cover art alone is frame-worthy. But it's also worth celebrating that the album, easily one of 2010's most essential stand-up records, is being revisited.
With Kinane, a Chicago guy now calling Los Angeles home, perhaps his greatest strength as a comic is the way he tries to get into his subject's head. When a terrifying tattooed man starts talking to Kinane while he's on the toilet, he immediately starts analyzing that man's decision-making process in the ensuing moments. When Kinane's girlfriend compliments him, saying he "looks like a Greek god" after getting out of the shower, he analyzes how his own brain works after he yells, "You don't know shit about mythology." When he watches his friend's kids, he immediately starts coming up with responses in case anybody asks if they're his kids. ("You can't just say 'no.'")
Of course, there's self-deprecation (specifically regarding his appearance and drinking), but it's always cut with a punchline straight outta nowhere: "It turns out I get the kind of drunk where people don't let me hold their babies anymore…I just thought it was the kind of drunk where you confused Bob Seger songs with the national anthem." So yeah, a 2012 vinyl reissue just makes the prospect of a new Kinane stand-up special that much more attractive. Here's hoping it comes soon.
Others Tagged With