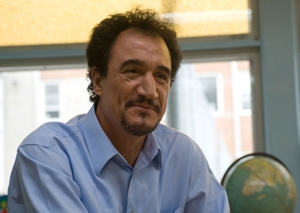 Director Philippe Falardeau's new film, Monsieur Lazhar, presents various lives with seemingly few similarities forced to deal with tragedy in ways that are remarkably and movingly similar. At a French-Canadian school in Montreal, a teacher has just committed suicide in a classroom, traumatizing her highly impressionable and innocent students. Into her place steps Monsieur Lazhar, an Algerian immigrant who is recovering from an unspeakable personal calamity in his own recent past. Such a meeting of two disparate worlds, especially in a classroom setting, has been played out time and time again in film, often in the most clichéd manner. But Monsieur Lazhar is the exception to the rule.
The acting is stellar throughout the film, from the one-named Algerian actor Fellag's subtle and warm portrayal of the title character, to the cast of precocious children who make up his classroom. There is a particularly moving scene where one of the children, Simon (Emilien Neron), breaks down under the burden of guilt he is carrying around since his teacher's death. His tears come gradually and organically, not the product of theater class but of real emotion way beyond his years. Monsieur Lazhar, previously warned about touching any of the children in any manner by the rule-bound principal, gently comforts Simon. Though he runs the classroom in a much more traditional manner than the other free-spirited teachers at the school, his tenderness as a mentor and as a human being shines through at moments like this.
Lazhar is in the process of applying for asylum in Montreal, but he keeps the window into his personal life opaque, allowing no one in. The only scenes that reveal what he has gone through are those few that take place at his asylum hearings. Falardeau smartly keeps these spaced far apart, allowing the audience to discover his recent past at a natural pace.
"The classroom is not a place where you infect a whole with despair," Lazhar says at one point in the film, speaking to both the previous teacher's classroom suicide and another teacher's urging him to tell his students more about his story prior to coming to Montreal. As his life begins to resolve and unravel simultaneously, near the film's conclusion, he stays true to this ideal, ensuring that his students will not be a party to his own trials. Monsieur Lazhar is a thoroughly engaging film that goes far beyond the average classroom drama in emotion and storytelling.
Director: Philippe Falardeau
Writer: Philippe Falardeau
Starring: Fellag, Sophie Nélisse, Émilien Néron
Release Date: Apr. 13, 2012
Others Tagged With