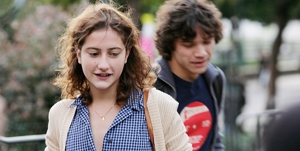 Goodbye First Love is a small, sweet film that tells an old story with some new twists. While many films embrace the theme of young love, French filmmaker Mia Hansen-Løve takes an almost dispassionate approach; her characters are not especially precocious or quirky, or even exceptional. Instead, they really are "just" a couple of kids in love, making the story all the more relatable. With a gentle, hands-off approach, Hansen-Løve gives us a love story of modest (rather than epic) proportions.
In the beginning of the film, Camille (Lola Créton) and Sullivan (Sebastian Urzendowsky) are heading for a break-up because they are teenagers and that's what teenagers (and, to be fair, lots of adults) do. In terms of character, Camille is all of the wrong things, but appropriately so. She seldom wears a bra, but always wears a frown. She is angsty, but without the love for dead poets or punk rock. Instead, she has one, single interest: Sullivan, her boyfriend who has (naturally) many other interests.
When Sullivan leaves to backpack across South America, Camille (after being severely depressed for a time) eventually becomes a real person with real interests. Her narrative deepens when she begins studying architecture, learning to construct buildings as she begins to construct her own sense of self. Unfortunately, Créton's actual performance is by no means so dynamic, and the changes that occur in the script are not aptly reflected on the screen. Also, it is difficult for the viewer to accept that, after the passing of eight years, Camille still looks like a fifteen-year-old girl.
Camille's independence is further complicated with Sullivan's return. One cannot help but root for him, as he is now up against a more independent Camille who is also in a serious relationship with her professor.
With the help of cinematographer Stéphane Fontaine (A Prophet) and music consultant Pascal Mayer (Incendies), Hansen-Løve manages to evoke some true emotion in this, her third feature film. The mood and tone of Goodbye First Love is palpable—sharp, moving, and intense even where the actors are not. Camille and Sullivan are somewhat difficult to connect with, individually. They are not especially interesting, and their dialogue is pretty unremarkable. However, the intimacy between them feels authentic, even as we recognize it as being a bit superficial.
Goodbye First Love is ultimately successful in its care for the small, lovely things. So unapologetically focused on young love, it becomes somewhat of a guilty pleasure to watch (and enjoy). This love story is not also a biopic, or a period piece, or a romantic account of vampires; it does not attempt to also address existentialism or racism or gender norms. Goodbye First Love is "just" a love story, but in that, it is enough.
Director: Mia Hansen-Løve
Writer: Mia Hansen-Løve
Starring: Lola Créton, Sebastian Urzendowsky
Release Date: Apr. 20, 2012
Others Tagged With