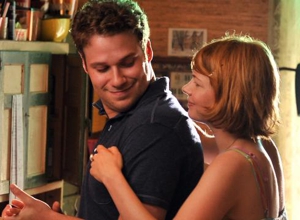 Having explored the fading of a lifelong romance in Away from Her, writer-director Sarah Polley turns a tender lens on a relatively young one in which a happily married couple is threatened by lust over an especially steamy Toronto summer. At the center of the love triangle is Margot (Michelle Williams), who, although she still genuinely loves her husband Lou (Seth Rogen, in a genius bit of casting against type), feels restless in life and in love. Through Margot, Polley also examines an existential crisis particular to twentysomethings who, as they segue into what might be a perfectly comfortable and satisfactory situation, mistake it for unhappiness and unfulfillment. Yet her final judgment on the matter remains ambiguous, open to interpretation.
A writer who doesn't do much writing other than marketing materials for tourist attractions, Margot lives with Lou in an aggressively bohemian house. He, too, is a creative type, heating up the kitchen as he tests recipes for his chicken cookbook. Although they've been married five years, theirs is still a puppy love. They role-play "bad baby" but can't talk seriously about having one.
Enter Daniel (Luke Kirby), a rickshaw-runner by day and painter by night. Margot and Daniel meet-cute while she is away on assignment. They flirt on the plane and share a cab ride home, but when she discovers he lives across the street from her, she knows she's in trouble. Saturated visuals by cinematographer Luc Montpellier and moody harmonies by composer Jonathan Goldsmith help convey the stifling atmosphere that has settled over her.
Through Polley's specific writing and direction and Williams' nuanced performance, Margot emerges as a unique character, a singular soul. But the role, indeed the film itself (named for the Leonard Cohen song), hinges on the viewers' take on her—on whether they consider her sensitive or whiny, vulnerable or weak. Too often, it's the latter. For example, nobody relishes flight connections, yet most of us don't need a wheelchair assist to manage them.
Margot pursues Daniels with plausible deniability, heading out to buy groceries at the same early-morning hour he leaves for work with his cart. Yet she keeps him at arm's length, engaging in some hot dirty talk but fleeing when he dares to touch her ankle. She's as passive as a junior-high girl at her first dance, and one wonders how long he'll let her string him along.
And yet. There's something indelible about Polley's portrait of love, an intimacy and playfulness to Margot and Lou's relationship that's particular to them but emblematic of the private language and inside jokes close couples develop. In one especially poignant scene, she sits at the kitchen table mouthing words to music he can't hear from where he sits brooding outside on the porch.
It's Rogen who sells it, revelatory as a young husband still smitten with his wife, content in their routine, baffled by her erratic behavior and in denial about what's happening to her, to them. In a special performance, he demonstrates that sometimes no one has to do wrong for the relationship to be wrong—and that sometimes you have to let go even when it isn't.
Directed by: Sarah Polley
Written by: Sarah Polley
Starring: Michelle Williams, Seth Rogen, Luke Kirby, Sarah Silverman
Release Date: July 6, 2012
Others Tagged With