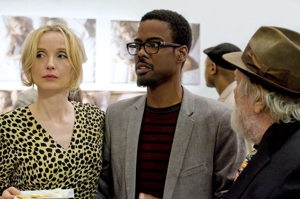 A matchless New York romantic comedy with language full of smarts and crudeness, 2 Days in New York brings audiences a hilarious 48-hour portrait of an atypical modern family. The sequel to Julie Delpy's manic 2007 film, 2 Days in Paris, New York utilizes the same Parisian family-meets-American boyfriend formula but this time around swaps cities and companions, replacing Paris' Jack (Adam Goldberg) for a toned-down Chris Rock as Mingus.
Just as with 2 Days in Paris, fenzied vigor and jaw-dropping scenarios are the rule, especially after Marion's (writer/director/star Julie Delpy) peculiar family arrives via Paris. Crashing Marion and Mingus' modest-sized Manhattan apartment, which they share with their two young children from previous relationships, the Frenchie sideshow consists of Marion's father, Jeannot (Albert Delpy, the actress's real-life father), along with Marion's overly sexual sister, Rose (Alexia Landeau), and her skeevy boyfriend, Manu (Alexandre Nahon).
The vulgar, over-sharing and mannerless trio provides plenty of reasons for children's ears to be covered and Mingus' eyes to bulge as they gear up to attend the gallery opening of Marion's photography (an opening where she'll also auction off her soul). Chris Rock's strong performance as a straight-edged journalist with a wry sense of humor combines with Marion's hyper and deprecating hysteria to make for a madcap duo who are fun to watch as they attempt to salvage their relationship, their sanity and the respect of their neighbors in spite of the dizzying warpath of societal destruction wrought by Marion's family.
At the end of a chaotic family dinner scene filled with raunchy laughs, the craziness calms, as if the characters' stamina has been depleted after giving it their all in the first half of the film. This quiet doesn't last, as the family collective attends Marion's gallery opening. Disaster ensues, topped off by Marion's soul being sold to none other than Vincent Gallo. (I would be worried, too.)
Julie Delpy's intellect and talent as a writer/director/actress are undeniable, leaving one to wonder why she doesn't participate in this Hollywood juggling act more often. In a season where critics and audiences continue to praise comedic female writing and directing, Julie Delpy should receive nothing less than a standing ovation for 2 Days in New York, a lively example of sharp and entertaining filmmaking.
Director: Julie Delpy
Writer: Julie Delpy
Starring: Julie Delpy, Chris Rock, Albert Delpy, Alexia Landeau, Alexandre Nahon
Release Date: Aug. 10, 2012
Others Tagged With