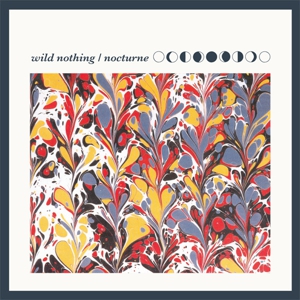 Wild Nothing brainiac Jack Tatum nailed a solid formula with his project's debut effort Gemini. With Nocturne, he takes his tiny, colorful hammer to create little cavities and imperfections that demand time spent with it. This record has the same instant dream pop appeal Real Estate's Days boasted upon first listen. Make no mistake, it's mostly about love—specifically (and oh God I hate this phrase) summer love. And one-night stands, with a splash of voyeurism.
The sexy starts with opener, "Shadow." It's shoegaze pop to a T, with really nice, pretty strings. "Midnight Song" takes a turn toward disco, going big on the chorus delay but keeping up the heart/genitals-centric M.O. previously established.
Tatum's lyrics dabble in monogamy, or at least more pointed giddiness. "This Chain Won't Break" touches on what might be accidental commitment, and "Only Heather" shines a love/lust light on, yes, only Heather.
Then there's the slightly stalkerish anthem—and coincidentally, title track—"Nocturne." The drums are excellent and cloudy, like non-obscuring gauze curtains. This chick is obviously using him for convenient self-affirmation and confidence boosts. He's cool with that. He'd prefer more, but until then he seems to be OK with existing at said lady's beck and call and simply memorizing her schedule.
Nocturne isn't just about celebrating crushes and bedpost victories in the warm months. "Disappear Always" will probably make more sense come winter. He's holed up, hiding from the morning sun and generally feeling sorry for his lonely self. It's a miserable feeling he brings up here, one that begs for affection over general attention. He needs intimacy, or so he says—because judging by some of the other lyrics on this album, he gets plenty of it.
And then there is "Through The Grass." Frank Ocean may have recorded the most poplin', panty-melting record of Summer 2012, but Tatum vies for a close second with this. It's not neo-R&B. Incandescent ripples encompass his wispy vocals, "Nothing ever stays / I let you go / You let me in / I want you." It steams with the sweat and shingle grit from a rooftop-based, hardcore makeout session. The stark tom drum suggests said tonsil hockey sesh heats up to further tomfoolery. Summertime crushes, you guys. Nothing permanent. They're fleeting, but that doesn't make that time any less special. Put this track on your own's next mixtape and get ready. (Or something.)
Just like the subject matter of "Through The Grass," Nocturne gets you high on anticipation and delivers a pretty satisfying climax. However, that climax is temporary. The record is fun and lovely when it's happening—and you'll want it to happen a lot—it just doesn't leave you with much fat to chew on after. Tatum doesn't offer anything game-changing, but he does serve up a platter of breathless, sometimes mindless synth-pop fun. And that's a good thing on its own.
Others Tagged With