The Killers: Battle Born
[Island]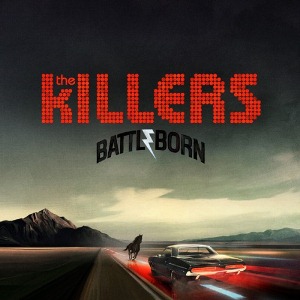 Don't underestimate The Killers, a multi-platinum American band who functions as a synthesizer like LCD Soundsystem or DJ Shadow. Forget their mildly dance-punk origins and they're an antenna to the uncool, a short wave radio station that only plays "heartland rock" (as Wikipedia says) and synthy schlock worthier of John Hughes than M83. They evoke countless unnamable nobodies that soundtracked terrible TV in the '80s, but—unlike chillwave—right-side-up and crystal clear. Drama is high but also vague; production's huge; reviews are impolite. They sound like an entire band built around Don Johnson's "Heartbeat." And yet they have no analogue in rock today (nobody knows if the Bravery is still soldiering on). No wonder John Darnielle named "The Killers" as one of the fictional band name possibilities in 2002's "Best Ever Death Metal Band in Denton." They just didn't seem like they'd ever exist, and now that they're here, it doesn't make them any easier to comprehend. They're so '80s they accidentally slip into utter timelessness on their fourth album.
Battle Born forges deeper into their distinctive traits and away from the compromises with radio or current trends; thus it's their first record to lack a widescreen knockout single like "When You Were Young," "Human" or "Mr. Brightside." It's also their most consistent record since their debut, as long as you don't miss the peaks. For one thing, the ballads are exquisite: "Heart of a Girl" manages to combine Bewitched-era Luna and The River-era Springsteen at once—and that's before they deploy the ginormous backing choir for the finish. Brandon Flowers' surprisingly decent solo album Flamingo first fostered this adult-contemporary influence and here it creates a pleasantly gauzy sheen—perhaps the first Killers album that's spacious rather than suffocating. "Deadlines and Commitments" manages to squeeze new sexiness out of Kate Bush's "Running Up That Hill" chords and beat, while the best song here, "Be Still," ascends from funereal silence to the some of the loveliest harmonies and chord changes of the year on a marching power ballad. It instantly sounds classic despite typical Flowers goofiness like "Don't break character/ You've got a lot of heart."
It's bizarre how this band could also conversely evoke punkers like the Gaslight Anthem on "From Here on Out," but both traffic in angst-ridden nostalgia even if they have wildly divergent ideas of faithfulness to the source material. While Brian Fallon's (hey, same initials!) band fetishizes details down to handwritten letters and old white Lincolns, Brandon Flowers is prone to making couplets like "I don't want your picture/ On my cell phone" sound like Greek tragedies. If only he could edit himself—65 minutes is way too long, and the opener "Flesh and Bone" and single "Runaways" aren't all that, while bonus track "Prizefighter" is a brass-filled scream. But that would undercut the glorious excess that the auteur of the autobiographical "Welcome to Fabulous Las Vegas" was battle born to write. So in many ways, Battle Born will live up to everything you wish of it, just not every Lanois-Lillywhite-and-O'Brien-helmed second.
Others Tagged With