Cutie and the Boxer Sundance 2013 Review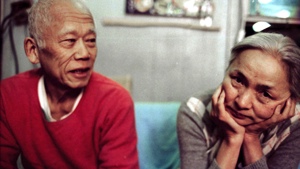 Director/Screenwriter: Zachary Heinzerling
Great artists are often forgiven for flaws in their personal lives, but such forgiveness usually hinges on success. Cutie and the Boxer, Zachary Heinzerling's fascinating documentary about Ushio Shinohara and his wife, Noriko, studies the life of a man who is entering his 80s, but still dreams like he's 20. Ultimately, the audience must decide whether he's an important mind or a bum.
Ushio, who spear-headed the Neo Dadaist movement in the '60s, is best known for his "boxing paintings," created by punching the canvas with paint-soaked boxing gloves. He also makes grotesque cardboard sculptures of motorcycles. While he's noteworthy, his work doesn't inspire many people to pull out their checkbooks.
The documentary follows the passions and struggles of the couple as they live in their small New York City apartment with little income to support their lives and endeavors. Noriko emerges as the heart of the movie, as she recalls her life while writing a graphic novel about her rocky marriage. Heinzerling combines Noriko's drawings with contemporary footage to create a story that isn't only a tale of creative minds, but an honest love story.
Others Tagged With