The Music Of James Bond by Jon Burlingame
Licensed to Thrill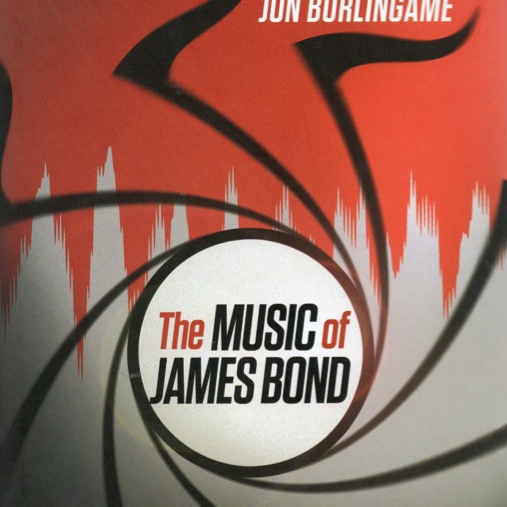 When asked to pick a favorite James Bond, I usually choose Pierce Brosnan.
I recognize the controversial nature of this selection, and offer in my defense that GoldenEye was the first Bond I ever saw, possibly accounting for my bias. Compared to Sean Connery's thick charm, Roger Moore's amused dandyism or Daniel Craig's aggressive, lethal-bull-in-a-tiny-china-shop demeanor, Brosnan always seemed the suavest, most glamorous, most casually alcoholic of the bunch. (George Lazenby—who?—played Bond in just one film, and Timothy Dalton took the part for two, but neither actor put much of a mark on the role.)
Of course, the relative suavity of the man playing Bond represents just one of many possible dimensions for evaluating Bond movies. Best henchman? I lean towards Oddjob, from Goldfinger, since he stands out from a long string of physically imposing, blond, Neanderthal types. Best car chase? I'm partial to the yellow Citroen romping through the olive groves in the underrated For Your Eyes Only. Most impressive chest hair? This easily goes to Sean Connery. The most ridiculous name for a Bond girl? It probably comes down to Pussy Galore or Xenia Onatopp, with honorable mention to Holly Goodhead.
A new book by Jon Burlingame allows fans to evaluate the movies from yet another angle—best music. The Bond songs and theme have been an important part of Bond's appeal since the release of Dr. No, which launched the now-famous theme song, full of taut guitar and jazzy swing. Monty Norman, the theme's composer (John Barry, who did the music for many Bond films, has claimed credit for the composition, but a court decided it belonged to Norman in 2001), incorporated modern elements with more timeless classy ones just as rock, technological gadgets and spyware started taking over the world.
Soon other songs played over opening Bond credits and met with success. For those who haven't seen the movies (is there anyone?), these signature credits generally blend images of shooting guns and buxom women into a dazzlingly cheesy display. The song soars in the background. Any object appearing in these sequences will likely morph quickly into a naked lady. Weapons emerge from mouths, cleavage . . . it's all fair game. The popular English belter Shirley Bassey sang the third movie's theme, "Goldfinger," and made it a radio hit. Many stars would follow her gleaming example through the years.
Burlingame's book devotes a chapter to each Bond movie—including, for the completists in the world, the 1967 spoof Casino Royale and the inferior Thunderball remake Never Say Never Again. Burlingame's sub-sections delve into the origins of the theme songs, and each film has a "score highlights" section, describing in detail the placement of each part of the score throughout the whole movie.
We get plenty of song trivia. Ursula Andress's brief singing part in Dr. No is dubbed (learning this fact probably would have broken my 13-year-old heart). When Bassey recorded "Goldfinger" in the studio, she wasn't able to hold a long high note. According to the guitarist present at the recording session, Vic Flick, "'then there was a rustling noise and suddenly this bra comes over the top of the vocal booth.'" Braless Bassey hit the right note.
As Burt Bacharach and Hal David scored the 1967 version of Casino Royale, they listened a lot to the classic bossa nova tune "Girl From Ipanema." This inspired "The Look Of Love," a Dusty Springfield hit that soundtracked a seduction scene in the film. Nancy Sinatra's "You Only Live Twice" had to be cobbled together from "'like 25 different takes'" because the singer could not master her nervousness in the studio.
Several of the most hilarious stories concern Harry Saltzman, who co-produced many of the early Bond films with Albert Broccoli. Saltzman might have been smart to bring Bond to film, but his musical knowledge appears remarkably out of sync with the times. According to Burlingame, Saltzman referred to "Goldfinger," as "'the worst song I've ever heard in my goddamn life. It's terrible. If we weren't opening in three weeks time, I'd take it out.'" (The song went to No. 8 on the U.S. charts.) Saltzman got angry again when he heard the risqué lyrics in the song "Diamonds Are Forever." His complaint—"'The lyric, it's dirty'"—seems to miss the whole point. When Sir Paul McCartney came up with "Live And Let Die," for Roger Moore's debut movie, Saltzman had never heard of the ex-Beatle.
But information about recording dates, orchestra size, personnel, recording locations, lyric writing, press reception and charts can get pretty dry. Everyone knows the Bond theme, and a handful of the songs stay memorable—not always because they're good—but it is hard to discern larger trends, if there are any, from Burlingame's wealth of minutiae.
One of the Bond movies' big contributions to movie music stems from the consistent use of pop and rock singers to imbue title sequences with star power and a touch of currency.
Burlingame notes in his chapter on 1985's A View To A Kill:
"James Bond may not have changed much in the dozen years since Roger Moore took over. . . but rock 'n' roll had. . . a younger generation of filmmakers, in the late 1960s and early 1970s, began demanding a hipper, more contemporary sound. . . movie studios and record labels were partnering to maximize profits on both sides. And in 1984, for the first time, all five Best Song Oscar nominees were from the popular-music world."
Though no official Bond song earned a nomination before McCartney's "Live And Let Die" ("The Look Of Love" from the 1967 Bond spoof got a nomination, but lost), the franchise had been using successful pop singers since Ms. Bassey in 1964.
After Duran Duran sang the theme in A View To A Kill, getting a big name to sing over the credits became even more important for Bond movies. It's now another part of the 007 formula, just like the henchman, the femme fetale and the main love interest. Duran Duran, A-ha, Gladys Knight, Tina Turner, Sheryl Crow, Madonna, Alicia Keys (with Jack White) and Adele all lent their pipes to Bond's aid, hoping to get a little bump in coolness and sales from the Bond crowd in return—except for Adele, who just won an Oscar for her performance of the latest Bond tune, "Skyfall." She doesn't seem to need help from Bond, or anyone else.
Does 007 give a hoot? Of course not. The Bond songs always shamelessly derived a large part of their success from association with the Bond movies. The process has rarely worked in the opposite direction.
 
In the end, hardly any of the movies' songs turn out to be stand-alone material. "Goldfinger" occasionally hits the right spot. "Live And Let Die" still gets radio play. And "Skyfall" has been very popular.
Aside from these exceptions, Bond songs really work best as part of a gloriously campy institution strong enough to outlast the Cold War that started it.
Elias Leight is getting a Ph.D. at Princeton in politics. He is from Northampton, Massachusetts, and writes about music at signothetimesblog.
Others Tagged With