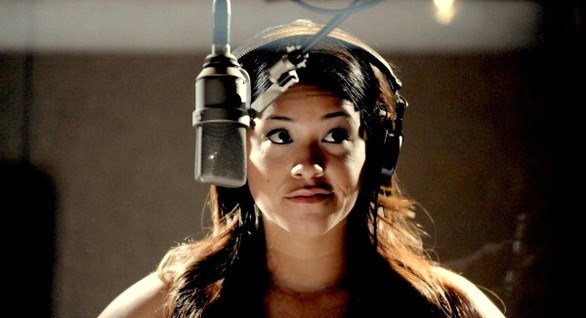 Headlined by arresting newcomer Gina Rodriguez in her breakout role, Filly Brown aims to give voice to L.A. hip-hoppers spitting rhymes on Internet vodcasts and in underground clubs. The form is inherently authentic, articulating the performers' life experiences in the language of the street. But it's just as susceptible to bastardization as any other commodifiable art, especially when the artist is a hot young Latina who goes by the stage name of Filly Brown (Rodriguez).
Unfortunately, this conflict between Filly Brown's art and commerce exists more on paper than on film. Her original lyrics and especially her freestyle are what attract DJ Santa (Braxton Millz) to her and her music, but she swiftly agrees, seemingly without a second thought, to tarting up her act when presented with the promise of some fast cash.
She needs the money ostensibly to pay a lawyer for her mother (Jenni Rivera, in her first and last on-screen performance), who's behind bars on a drug charge. Maria is a piece of work, clearly (to the audience anyway) wielding guilt to get her daughter, desperate for her mother's approval, to come up with funds for an enterprise that's fishy, at best. These scenes—in which Maria insists Filly give the money to some guy named Caesar rather than their legal-aid attorney played by Edward James Olmos—get repetitive after awhile, the melodrama dialed up to telenovela.
Filly's uncle and father are no help, tired and broke from Maria's shenanigans. Dad Jose (Lou Diamond Phillips) has his own drama brewing. A contractor, he's under pressure from his real-estate agent client to "look the part"—i.e., lose the wifebeater and cover the tattoos. In case it wasn't clear that Filly must learn to be true to herself, Jose's parallel journey, in multiple, redundant scenes, drives it home.
As portrayed by Rodriguez, Filly is fiery and fierce, so it's all the more frustrating that she acts a fool, putting her career in the hands of a low-rent shyster and then signing a contract with a predatory producer without reading it. The movie works best as a showcase for Rodriguez, transcending its simplistic script and clichéd plot in snatches—when its leading lady is at the mike and especially in the film's final awkward family reunion.
Directors: Youssef Delara, Michael D. Olmos
Writer: Youssef Delara
Starring: Gina Rodriguez, Jenni Rivera, Emilio Rivera, Noel G., Kerry Norton, Braxton Millz, Joseph Julian Soria, Chrissie Fit, Lou Diamond Phillips, Edward James Olmos
Release Date: Apr. 19, 2013
Others Tagged With