Ólafur Arnalds: For Now I Am Winter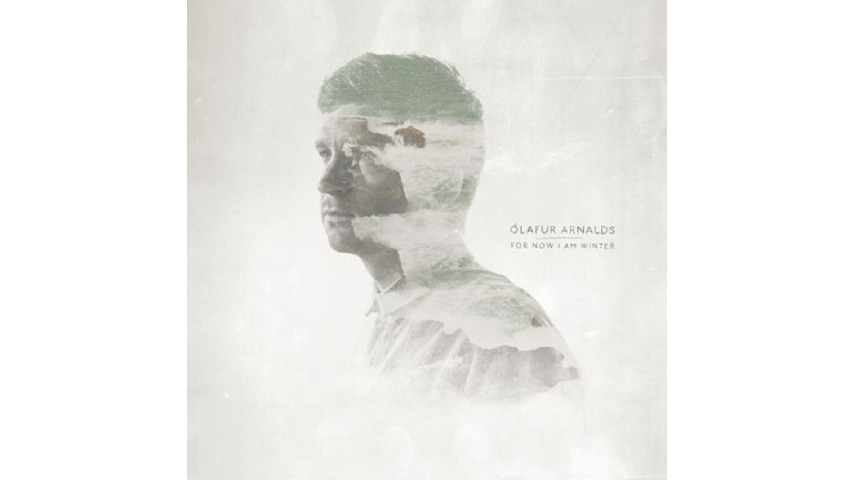 Since his emergence as a solo composer and producer in the mid-'00s, Icelander Ólafur Arnalds has been categorized more for his nationality than his actual music—inextricably linked to the expansive, glacial imagery of his homeland. But it's not as if he's shied away from those labels: Like his fellow countrymen (and former touring mates) Sigur Rós, Arnalds has a flair for textural drama and grandiose extremes—arranging angelic orchestral ambience that often explodes into post-rock climaxes or gurgling electronic tirades.
Not much has changed on his third full-length, the fittingly titled For Now I Am Winter. But with the assistance of Nico Muhly (indie-rock's go-to orchestral whiz) and prog-rock vocalist Arnór Dan Arnarson, Arnalds has given his songs a much-needed jolt of emotional color. For its first mild-mannered minute, "Sudden Throw" is painfully snail-paced, barely-there woodwinds hovering over distant synth pads and dampened piano chords; but two minutes in, the piece begins its heart-stopping surge, Muhly's anxious strings gradually nudging the tempo forward until an unexpected collapse. "Brim," one track later, is defined by its delicate blend of electronics and orchestrations: sawing, crossfire cellos underscoring a blur of woodwinds, programmed blips and chiming piano ostinatos.
That rattling one-two punch sets an intense precedent—and further highlights (the simmering title track, "A Stutter") follow a similar template, blending Arnald's lush keyboards with Muhly's orchestral thunder and Arnarson's tortured croon. But Winter frosts over entirely when Arnalds settles for stark, crawling ambience: "Words of Amber" and "We (Too) Shall Rest" are so wispy, they function as tedious preludes to proper songs that never arrive. In these moments, For Now I Am Winter plays like a cultural stereotype, conjuring all the obvious adjectives but none of the emotions.
But Arnalds has a gift for making boredom sound beautiful. And, more importantly, his most visceral new tracks suggest a future free from pigeonholing.
Others Tagged With