Full Sail Brewer's Share Berliner Weiss Review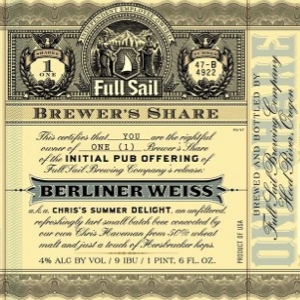 Since Full Sail is an employee-owned brewery, its limited series, "Brewer's Share," is an opportunity for those employees to show off their brewing skills—and designate a charity partner along the way.
For the Summer 2013 release, assistant brewing supervisor Chris Haveman tried his hand at a Berliner Weiss, a half-millennium-old style of sour wheat beer (usually spelled with an "e" on the end of "Weisse"). Chris's Summer Delight Berliner Weiss uses 50% wheat and 50% barley. Hersbrucker hops cut the sweetness without adding much bitterness. But the tartness is still there, giving sour-beer aficionados a refreshing, easy-drinking summer alternative to the more potent Belgian sours.
A graduate of Oregon State's Brewing Sciences Program, Haveman has selected his alma mater as the charity recipient for the beer's sales. It's an appropriate tribute to the place that taught him to get adventurous when a brewery hands them the reigns for a beer release. Chris' Berliner Weiss is available for a limited time in 22 oz. bottles.
Brewery: Full Sail
City: Hood River, Ore.
Style: Berliner Weisse
ABV: 4%
IBU: 9
Others Tagged With