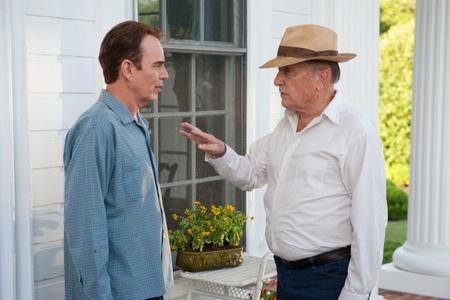 It's obvious that Billy Bob Thornton is attempting something meaningful with Jayne Mansfield's Car. It's just tough to figure out what it is. Taking on the triple tasks of writing, directing and acting for the first time in more than a decade, Thornton creates a Southern period piece that lingers close to being a lot of things—family drama, cautionary war tale, story of lost love—but ultimately seals the deal on none. Thornton attracts a strong, notable cast and can execute competently, but the film is overrun by a distinctive lack of cohesiveness.
In a sprawling Alabama home in 1969, patriarch Jim Caldwell (Robert Duvall) learns that his former wife has died, years after making a new married life for herself in Great Britain. Jim's sons (Thornton, Robert Patrick and Kevin Bacon) prepare for the arrival of mom's body and its English escorts: new widower Kingsley Bedford (John Hurt), his proper son, Phillip (Ray Stevenson), and frisky daughter, Camilla (Frances O'Connor). A culture clash hits the Caldwell house, of course, hammered home horrendously by "blue collar" comedian Ron White, playing Jim's son-in-law as a cartoonish Southern idiot, successfully insulting anyone who's ever lived in Alabama.
Despite Jim's long-simmering resentment and an uncomfortable level of hospitality (which Thornton amplifies well with wide shots covering a roomful of people), nearly all the men have something in common—they've participated in war. With the generations covering three major wars, everyone has their battle experiences and, in some cases, their demons to fight. Jim tenaciously follows car wrecks and traffic accidents on the police scanner, showing up on the scene like some sideshow forensic analyst. It's not clear whether it's a post-war obsession for the aging man, but it is a curious character quirk that never really fully materializes.
Duvall, as expected, embodies Jim's restrained hatred and stoic behavior, doing an awful lot with just his eyebrows and a gentle drawl. Thornton is equally talented on screen, and more courageous here, writing himself the challenging role of an ex-military pilot who seems to have lost a screw or two along the way. Soon enough, he's jacking off furiously while Camilla recites poetry to him in the nude, Thornton twisting his face into ugly angles that confirm the slight madness behind it.
Jayne Mansfield's Car has a slew of characters and a smattering of ideas, but Thornton the director isn't really biting off more than he can chew. Nearly the entire cast turns in fine performances—Shawnee Smith impresses as the only Caldwell daughter—and Thornton uses his frame wisely, leaving lonely shots of an empty pantry or half-occupied dinner table. Each scene plays well, but there's little to no carryover of tension or tone from one sequence to the next, resulting in just a palatable series of vignettes.
The script, which Thornton co-wrote with Tom Epperson, his One False Move writing partner 20 years ago, might have benefited from one less tangent, to better focus its time and emphasis. Or perhaps we could do without the odd slo-mo montages, where Thornton seems to be channeling a version of David Lynch. Maybe a trim at the opening or near the close would tighten up the story and the film, which feels long at just about two hours. There's something here. It just needs a clearer road to travel.
Director: Billy Bob Thornton
Writer: Billy Bob Thornton, Tom Epperson
Starring: Robert Duvall, Billy Bob Thornton, Robert Patrick, Kevin Bacon, John Hurt, Ray Stevenson, Frances O'Connor, Shawnee Smith, Ron White
Release Date: Sept. 13, 2013
Others Tagged With