Have Bike and Coffee, Will Travel
Gravel & Grind's Trips Bring the Brew to Slow Biking
Food
Features
Coffee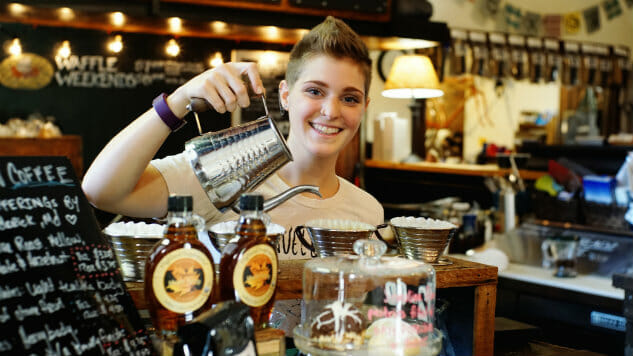 Photo by Jay Divinagracia
Frederick, Maryland is a crossroads town, where exurbanites and tourists come for weekend adventures of the historical and natural varieties. A small town that is the county seat, a town both colonial and surprisingly modern, D.C. locals like myself are surprised to find a bike shop so radical in its ideals and applications here: elegant bike shop and third-wave coffee stop Gravel & Grind.
Upon entering, select some proto-punk for the vintage record player, grab your biscotti and latte, and get your study on. Then, hours later, purchase a bike light and hop on your steed to pedal home in the dark night. It's all possible at this bike-and-brew.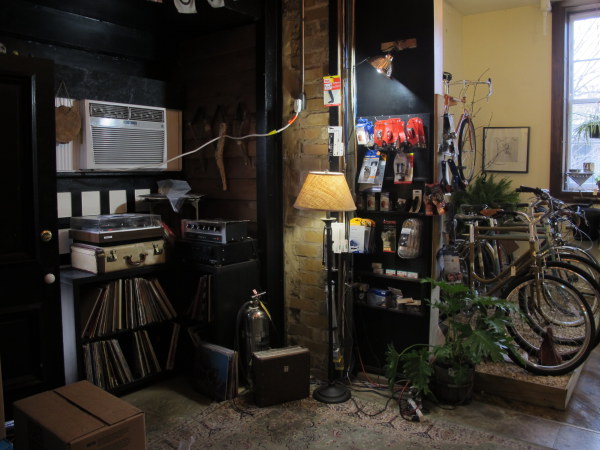 Photo by Liz Lessner
Owners Tracy Hathaway and James Johnson worked in bike shops for years. Gravel & Grind radiated from their desire to slow down and approach their environment with the wonder and openness they associate with childhood bike rides. You won't find bike computers or drip coffee here, but you will find everything you need to get on the road and up into the mountains. Hathaway and Johnson will outfit you for an exploratory ride with bike and camping gear, and egg on your kid-like desire to roam, fueled by their energetic, fair-trade coffees and snacks.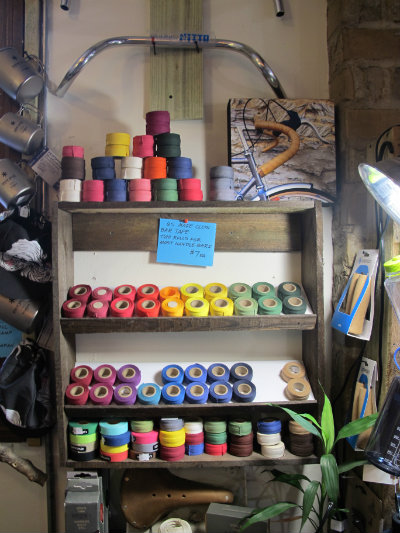 Photo by Liz Lessner
On Sundays, you can slow down with a group of other Gravel & Grinders. The shop closes early on Sunday afternoons for a pleasurable, backroads ride on a beautiful, well-crafted bike. Gravel & Grind sells simple, durable, elegant town bikes for commuting, but it also has Whatevering Bikes, which are made for starting on the road, but which fare just as well heading into mountains, going down trails, and camping in the woods. The group goes where there are few cars, down dirt roads and up sloping switchback paths into the mountains.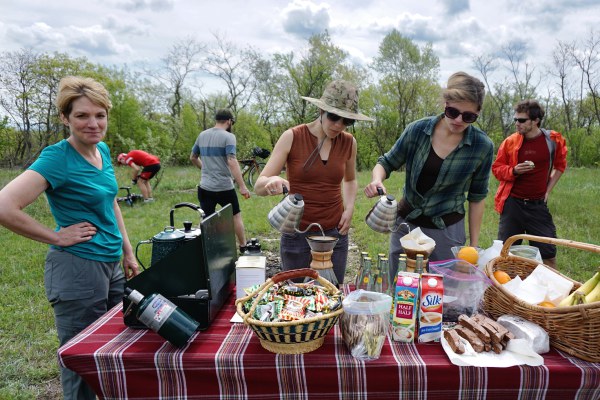 Photo by Jay Divinagracia
Gravel & Grind's rides explicitly forgo times and workouts. When the time is right for refueling, they stop at a scenic overlook to pull out the campstoves and brew a cup of coffee. Hathaway and Johnson view the coffee component of their rides as a way to slow down. "The ride becomes about getting into the woods to experience them, slowly, rather than about fitness or the gym," Johnson said. "So a way to slow down during the middle of a ride is to stop go to a cool overlook, go to a cool lake, swim, make coffee." During these breaks, riders participate in survivalist competitions like, "Can you make a fire to burn through a rope?" and "How quickly can you boil your water?" Of course, for good fun, there's the slingshot can-shooting competition.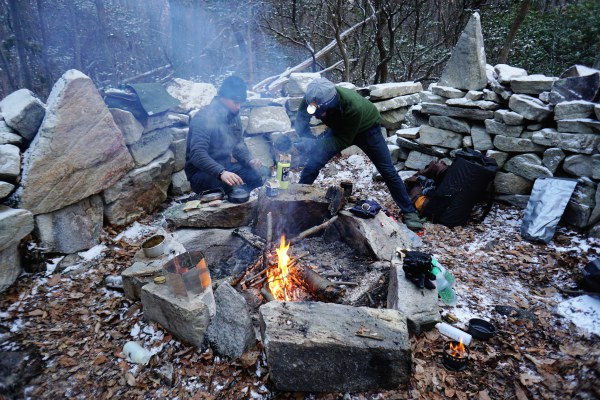 Photo by Jay Divinagracia
Back at the shop, Gravel & Grind offers smooth pourovers and delicious, perfectly pulled espressos. Their coffee is locally roasted by Chocosambra, a Frederick, Maryland company invested in sustainability throughout the production chain. They source their fair trade coffee, chocolate, and grain from single estates in South America. Because Chocosombra's beans come from individual farms, their availability depends on the production capacity and growing season at that farm. For Gravel & Grind, this means that the selection of coffees at their pourover bar changes often. Tracy and James worked with Chocosombra to come up with a house roast that uses a shade-grown, direct-trade bean from Peruvian grower Shamilton Vidurrizaga. They also offer single estate coffees from Ethiopia, Brazil, and Zambia. The Ethiopian pourover is delightfully dulcet, with tastes of tart berry and a slightly earthy, chocolatey finish.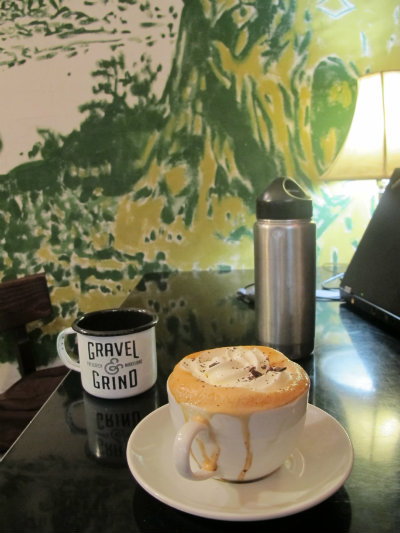 Photo by Liz Lessner
Their pourover bar is augmented by an innovative selection of specialty drinks. I, at first, looked askance at the Johnny Cash in its whipped cream-topped and chocolate-dusted mug. But I was soon seduced by the combination of coffee, chocolate and orange blossom. This nutty and floral smelling cup of joy is irresistible because the depth of the two espresso shots is smoothed out by the sweetness of the Nutella, and the orange blossom water finishes the drink with a barky, citrusy, richness. The Cinnamon Toast Crunch, made with horchata and sweetened condensed milk, tastes like vanilla cinnamon ice-cream. The Catch Me If You Can, made with Chocosombra's single estate chocolate, offers the kick of cayenne with a rich, mouth-coating slick of chocolate, cinnamon, and vanilla.
Fruits and vegetables for Gravel & Grind's dishes are seasonal and local. The owners ride their bikes to the farmers market to pick up the produce. "The idea of exploring your world is not just about riding and knowing your local environment but also eating your local environment," Johnson said.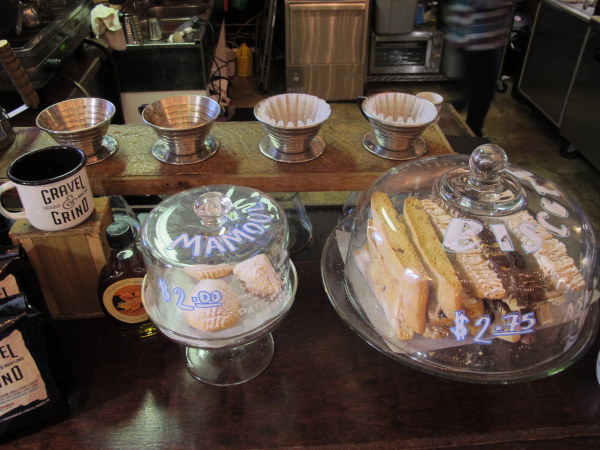 Photo by Liz Lessner
The menu reflects the personalities and experiences of the owners. Tracy's children are half-Lebanese and she makes the hummus from scratch with special tahini. She also carries maamoul, a buttery and rich Lebanese cookie, from Shatila. The maamoul at Gravel & Grind are served flecked with powdered sugar, decadent with butter, and filled with the sweet richness of dates, pistachios, or walnuts. Tracy thinks of them as her protein-packed rival to a biker's energy bar or fig newton.
Their menu of soups, toasts, and waffles feels like a Sunday spent in a cabin in the woods with friends and lovers. Their soups, like the potato leek with a surprising coconut milk and an umami leek tang, are homemade daily. Their toasts are made with hearty bread from Stone Hearth Bakery just down the street, and the thick, nutty slices can be topped with tangy hummus, drizzled with olive oil, dusted with cumin and a sprinkling of chiffonaded parsley.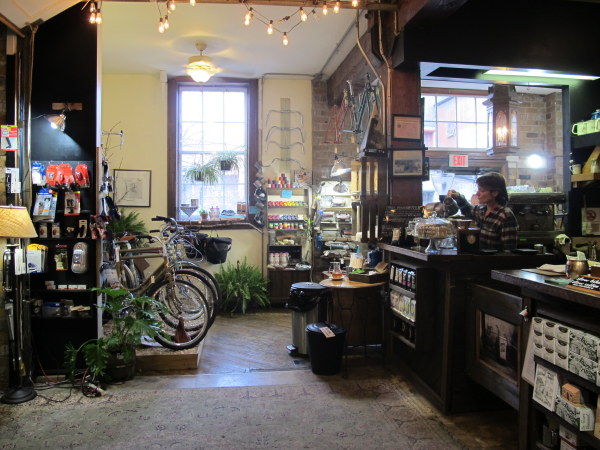 Photo by Liz Lessner
For Tracy Hathaway and James Johnson, opening Gravel & Grind was about telling their story — a story in which quality, craftsmanship, and the pleasure to be found in slowing down and exploring one's community take center stage. In the process, they brought third-wave coffee to Frederick, Maryland and created a unique community space centered around farm-fresh foods, delicious, locally roasted coffee, and a bike shop that returns you to the warmth and wonder of childhood explorations.
Gravel & Grind is located at 124 South Carroll Street in Frederick, Maryland. The shop is open Tuesday through Sunday.