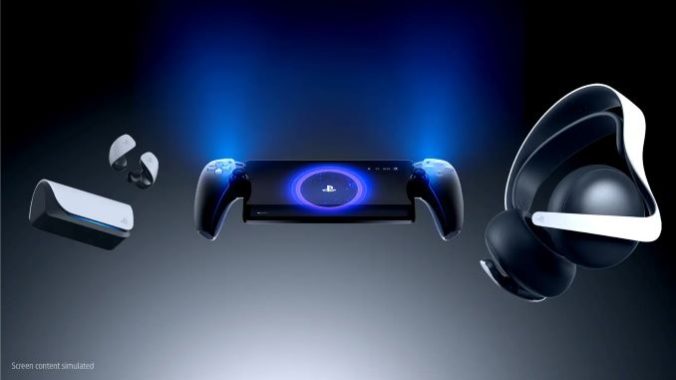 Sony released full details on their upcoming remote play-focused device, now officially titled Playstation Portal, in a blog post this morning.
The Portal, previously unveiled at Playstation's May Showcase as "Project Q," allows its users to play games installed onto their PS5 remotely, with the device containing an 8-inch 1080p LCD screen and a controller with all equivalent features to a normal PS5 DualSense controller.
The device is not fully portable—players hoping for something like the Nintendo Switch for a Playstation should curb their expectations. Using the Playstation Portal requires a Wi-Fi connection with at least 5Mbps to the PS5 in order to run games installed on the console, making it more equivalent to using a smartphone for remote play (or, for a less favorable comparison, the Wii U Gamepad). Rather than full portability, Playstation is advertising the Portal mostly on in-home convenience, calling it "the perfect device for gamers in households where they might need to share their living room TV or simply want to play PS5 games in another room of the house."
The device will be able to play most PS5 games, though those requiring a VR headset, additional peripherals, or streaming via PS5 Plus are not compatible. Playstation plans to release the device later this year for $199.99, though they have not yet listed a specific release date
Alongside the Portal, Playstation released details on a number of new audio devices designed for compatibility with it. First are the Pulse Elite, a new wireless headset, and Pulse Explore, the company's first official wireless earbuds. Both of these will feature noise-cancelling options, lossless audio, and planar magnetic drivers, and will retail for $149.99 and $199.99 respectively, though their release dates have yet to be revealed.
In addition, Playstation detailed Playstation Link, their new wireless audio technology. Playstation Link provides lossless and low latency audio, and allows Playstation audio devices to connect to multiple audio hosts simultaneously using a Playstation Link USB adapter.