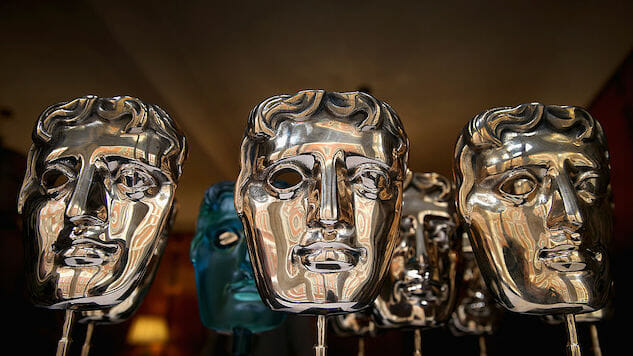 Backlash has been swift after the British Academy of Film and Television announced their 2020 award nominees—Joker received 11 nominations, and Once Upon a Time in Hollywood and The Irishman received 10, while no people of color were nominated for Leading Actress, Leading Actor, Supporting Actress or Supporting Actor. This quickly led to the Twitter hashtag #BAFTAsSoWhite, where there is ample discourse among critics over the tone-deafness of the nominations.
The nominations effectively snub some of the most memorable and critically acclaimed performances of the year—especially considering the fact that two white women, Margot Robbie and Scarlett Johannson, are nominated twice for acting—leaving out Awkwafina's breakout drama performance in The Farewell, which earned her a historic Golden Globe win on Sunday, as well as Jennifer Lopez in Hustlers, British actress Cynthia Erivo in Harriet, Lupita Nyong'o in Us, Eddie Murphy in Dolemite is My Name, or any of the outstanding cast members of Parasite. Interestingly, the only person of color nominated in the directing category was Bong Joon-Ho for Parasite.
The only category to include multiple nominees of color was the EE Rising Star Award, which recognized Awkwafina, Kelvin Harrison Jr. for Waves and Michael Ward for Blue Story alongside white actors Kaitlyn Devers (Booksmart) and Jack Lowden (Fighting with My Family).
While the astounding lack of people of color in the nominees is the driving force behind the controversy, there have also been some definite snubs along gender lines, as well. British director Joanna Hogg's semi-autobiographical film The Souvenir was completely ignored despite overwhelmingly positive reviews from critics and audiences alike. Greta Gerwig was also omitted from the directing category for Little Women, which has also been met with critical praise. Claire Denis' sci-fi thriller High Life also saw no recognition.
Apparently, these complaints don't fall on deaf ears. BAFTA CEO Amanda Berry responded to criticism by saying: "The lack of diversity in today's nominations is hugely disappointing to see. Our year round activity has many strands that focus on diversity. It's clear there is much more to be done and we plan to double down on our efforts to affect real change and to continue to support, and encourage the industry on the urgency of doing so much more."
But what more can be done when it comes to simply recognizing already existing films directed by, starring, and championing people of color and their lived experiences? The films are being made, maybe just not in English: take Mati Diop's Atlantics, Alejandro Landes' Monos or Bi Gan's Long Day's Journey into Night. BAFTA's director of awards Emma Baehr, in a comment to THR, said: "I think more films need to be made, and entered, giving people a chance to see them," which seems to be the opposite of what's actually happening.
People of color, in particular, are swimming against the current. Award recognition is often one of the most crucial steps for a filmmaker or actor when it comes to getting a leg up in their careers. And the staggering exclusion of non-white actors and filmmakers only perpetuates and protects the status quo.
You can read the rest of the BAFTA nominees here.