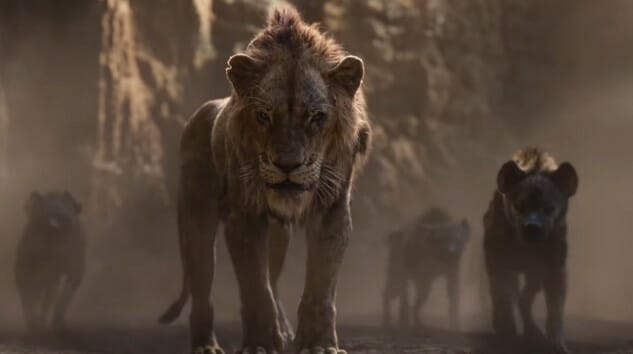 The hotly awaited first trailer for Disney's long-gestating The Lion King remake has just hit the web, and it's pretty hard not to be impressed. This is a whole new level of film CGI we're looking at here—so confusing to the eye that the film is being popularly referred to by film writers as being "live action," despite the fact that, you know … there aren't any actual lions in it. The right term would be "photorealistic computer animation," but that doesn't quite have the same ring to it.
Regardless, the world of the Pride Lands in this Lion King remake certainly looks both beautiful and vast. You can see bits and pieces of all the first film's most iconic moments—the wildebeest stampede; Simba's exile; his coming of age, etc. Oddly, we don't get any actual lines of dialog from either of the actors portraying young Simba (JD McCrary) or adult Simba (Donald Glover). Rather, the voiceover of the trailer is delivered almost entirely by the pairing of Scar and Mufasa.
A word on that dynamic duo: Since the casting of The Lion King was first announced, it's been hard not to wonder at some of Disney's reasoning. Why exactly did they think that one voice was too iconic to not return—that of James Earl Jones as Mufasa—but not feel the same way about Jeremy Irons as Scar? It's not that Chiwetel Ejiofor doesn't seem to be doing a pretty solid job at being appropriately menacing in the new position, but in a film entirely meant to cater to children of the 1990s, you'd think they'd just go with the voices their audience know and love. Who knows?
One final shout-out: In their very, very brief spotlight at the end of the trailer, both Seth Rogen and Billy Eichner sound absolutely spot-on as Timon and Pumbaa. We can't wait to see more of them in action. The Lion King is approaching quickly, and is due for a July 19, 2019 release. Check out the trailer below.