The 11 Best New Songs
Don't miss this week's new tracks.
Hannah Jagadu photo by Sterling Smith
Music
Lists
Best Songs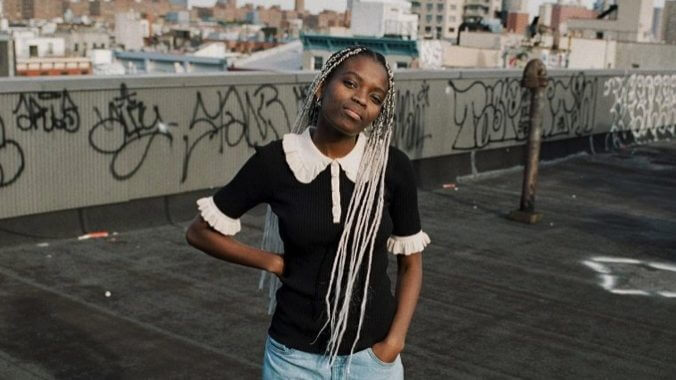 At Paste Music, we're listening to so many new tunes on any given day, we barely have any time to listen to each other. Nevertheless, every week we can swing it, we take stock of the previous seven days' best tracks, delivering a weekly playlist of our favorites. Check out this week's 11 best new songs, in alphabetical order. (You can check out last week's songs here).
Black Duck: "Of the Lit Backyards"
If you've paid any amount of attention to the Chicago music community, you've likely run across the names of the men that make up Black Duck. This supergroup-esque collaboration brings together Doug McCombs (Tortoise, Eleventh Dream Day), Charles Rumback and Bill MacKay, three players who maintain a busy schedule of studio sessions and live gigs around the Windy City and beyond. As a unit, the trio brings together their various influences and skill sets, represented on this first single from their forthcoming self-titled album. The swaying guitar lines call upon the influence of early rock 'n' roll while Rumback's shuffling drums give off the smolder of roadhouse blues. The gentle warmth of the song nicely illustrates McCombs' intention to write a piece of music to evoke the communal spirit of an outdoor, backyard gig that helped musicians like these survive the pandemic. —Robert Ham
Bully: "Days Move Slow"
With her fourth record, Lucky for You, finally on the way, Alicia Bognanno, known by her solo project Bully, is back with a heavy, electric thud. Lead single "Lose You" channeled her collaborative strengths with friend and alt-rock peer Soccer Mommy. But now, the proper first offering of this new album cycle, "Days Move Slow," truly encapsulates Bognanno's ability to conjure the blueprint of 1990s textures and arrangements. The song was written after the passing of her dog, Mezzi, and reckons with agony, unconditional love and acceptance in an immense way. "And I'm stuck somewhere in between / Your death and my lucid dream / I'm no help lately, I know / But I'm tired of trying to prove my worth / To be accepted on this earth / Baby, I'm ready to go," Bognanno sings, in a delivery spread out across the ocean of feedback-laced guitars that have come to define her grunge resplendent roots. —Matt Mitchell
Devon Church: "Slouching Toward Bethlehem"
"Slouching Toward Bethlehem" is a brooding slice of lounge singer heaven, in which Church's vocals are the centerpiece. His singing is ensconced with a warm cocktail of Nick Cave and Leonard Cohen; the arrangements seek out multiple meanings. At one moment, the guitars shine like a jangle-pop dream. Elsewhere, the string arrangements screech like a cinematic concerto. Church toys with exotic imagery and spirituality, engrossing his songs with love and psychedelia in an open-eyed, wandering way that only his pen can produce. On "Slouching Toward Bethlehem," he is particularly excavating the contras and the uncouth beauty that spins our curiosities into irreplaceable warmth. It's a play on the birth and death of Jesus Christ, injected with Church's own didactic romance. "Rolling the stone from my tomb / Into a pornographic sunrise / Empty blossoms in my empty womb / Tender bodies smeared across the sky," he sings. "Slouching Towards Bethlehem" is a tempest of Death of a Ladies' Man-sized proportions, where Church is at his most-piercing. —Matt Mitchell
Durand Jones: "That Feeling"
The first single from Durand Jones without his backing band, The Indications, is a slow-burning soul ballad that serves as both a coming-out and coming-home song. Now based in San Antonio, his upcoming album is all about his relationship with his hometown of Hillaryville, La. The emotions build with screaming guitars as the cinematic video unveils a young, queer love in a rural, Black community on one of the final bends in the Mississippi River. Jones' voice carries the weight of complications and contradictions as he digs into the past. The full album, Wait Til I Get Over comes out May 5. —Josh Jackson
Fire-Toolz: "The Great Allower"
As new generations of music listeners live their lives in continuous shuffle mode, contemporary artists are following suit. Any sound is open for deconstruction, reinterpretation or loving homage. Angel Marcloid's project Fire-Toolz takes this approach to the farthest extremes of good taste, listenability and logic. "The Great Allower," a single from forthcoming album I am upset because I see something that is not there, lets technical death metal share oxygen with squalls of free jazz and experimental electronic music. Like the video released along with the track, the visuals and sounds are at once terrifying and hypnotizing but flows from one mind-altering moment to the next with little apparent friction. —Robert Ham
Hannah Jadagu: "Warning Sign"
As Sub Pop continues to expand its purview beyond scruffy white dudes with guitars, it has been righteously elevating new talent like Hannah Jadagu, a multi-hyphenate artist who plays in whatever field she dares to be it rock, pop or, in the case of new single "Warning Sign," head-nodding funk. The layers of almost psychedelic sound cushion her jagged thoughts about a potentially poisonous relationship. —Robert Ham
The Japanese House: "Boyhood"
After three years of silence from The Japanese House, Amber Mary Bain welcomes us back with her distinct vocals, intoxicating synthesizers and clever samplers. The Japanese House makes delightful dream pop and atmospheric electropop, and her latest, "Boyhood," explores themes of coming of age and regret for not taking those leaps of faith with those you cared for. "I could have been somebody who / You wanted to have around to hold / I should have jumped when you told me to." It's the perfect feel-good song as we start enjoying our days outside again. —Rayne Antrim
Kari Faux: "Turnin' Heads"
Childish Gambino and Chloe x Halle have already figured out what the rest of the world is apparently slow to realize: Kari Faux has skills to spare. The Little Rock-bred and L.A.-based artist works in that electrifying zone where hip hop, future pop and R&B join together to create something far more powerful than their individual components. That's why the aforementioned artists tapped her for features on their platinum-selling albums. The strength of Faux's abilities is such that she can turn a guest spot by a rapper as agile as Big K.R.I.T. into something of an afterthought when compared to her own bold flow. —Robert Ham
Mega Bog: "Love Is"
Continuing to build atop the momentum from "The Clown" earlier this year, Mega Bog is following her piano-driven bliss on "Love Is." It's a scintillating, intoxicating synth moment, where vocalist Erin Birgy is channeling everything from Swedish Disco to French New Wave. Her next record, End of Everything, is her tour de force that's not chained to any particular era or movement. With perfect backing vocals from Westerman here, Birgy turns a love song duet into a kaleidoscopic, danceable transcendence. "I'll go ahead / Leave my door unlocked / Just in case / You want to stop by / And let me / Get lost in your eyes / One more time," she sings. It's erotic yet subtle, a testament of Birgy's mastery of pop architecture. She never throws everything at the wall, opting to play the patient long game with the right number of arrangements. In turn, End of Everything is shaping up to be one of the best electronic records of 2023. But first, "Love Is" is as much of a marvel as it is a revelation. —Matt Mitchell
Meshell Ndegeocello: "Virgo"
Genre doesn't really exist within the work of Meshell Ndegeocello. If she's feeling the music, she'll play it. That fluid mindset has kept the 52-year-old musician busy for many years and brought her work collaborating with Madonna, the Blind Boys of Alabama and John Cougar Mellencamp, to name just a few. It's an approach that has left her wide open to experiment and explore, which she is continuing to do on her new album The Omnichord Real Book. The first single "Virgo" is a prime example of Ndegeocello's wide open approach as she winds in the contributions of harpist Brandee Younger and keyboardist Julius Rodriguez into an extended track that rides a continually changing funk groove towards a closing segment that explodes into fireworks display of polyrhythms. —Robert Ham
Wednesday: "TV in the Gas Pump"
Frontwoman Karly Hartzman has always had a unique way of delivering poetic articulations of what beauty really lives within the off-kilter, grime-soaked parts of her environment, and "TV in the Gas Pump" is a perfect example of it. Through imagery of surreal rest stop pilgrimages and American iconography, Hartzman paints a portrait of her surroundings, all of which could be applicable to a streak of highways nestled anywhere between Middle America and the Deep South. "People standin' with their arms crossed / In the line at the Panera Bread / At a rest stop / Violently came up / In a Dollar General / You took too much / Jake walked into a Starbucks / TV in the gas pump / Blares into the dark," she sings. —Matt Mitchell