The 10 Best New Songs
Don't miss this week's new tracks.
Jenny Lewis photo by Bobbi Rich
Music
Lists
Best Songs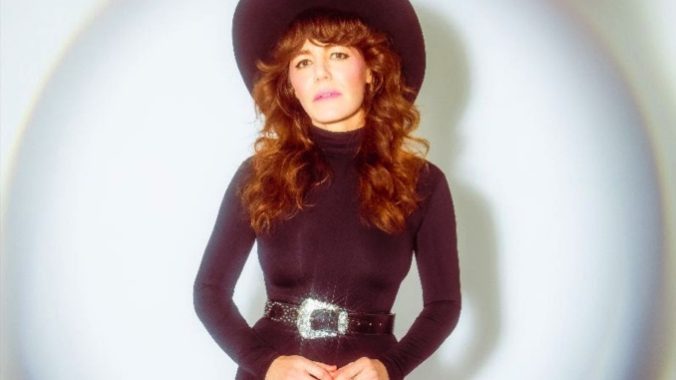 At Paste Music, we're listening to so many new tunes on any given day, we barely have any time to listen to each other. Nevertheless, every week we can swing it, we take stock of the previous seven days' best tracks, delivering a weekly playlist of our favorites. Check out this week's 10 best new songs, in alphabetical order. (You can check out last week's songs here).
Annie Blackman: "Bug"
Annie Blackman begins "Bug" with just an acoustic guitar, spotlighting both her lilting vocals and her confessional and heartbreakingly vulnerable lyrics. The song builds into a catchy, mid-tempo indie-folk gem tinged with growing sadness with each similie she delivers, starting with "I'm not your girlfriend, but I'm a lot of little things / Like the bug inside the bathtub with wet wings." It's the title track for her upcoming EP due out in April on Father/Daughter Records. —Josh Jackson
Devon Gilfillian: "Right Kind of Crazy"
After kicking off the Paste Party in Austin earlier this month with a joyful, soulful set, Philadelphia native Devon Gilfillian continues to make waves with his "Right Kind of Crazy," his latest single from his upcoming album Love You Anyway. Influenced in equal parts by the hip-hop of his own childhood and the soul music of his father's, the album still feels of the moment. "Right Kind of Crazy" is a frenetic song of desperation and desire with a melody that will stick with you long after its final fade. —Josh Jackson
Hand Habits: "Something Wrong"
"Something Wrong," the lead single from Hand Habits' new EP Sugar the Bruise is a patient, gorgeous blend of electronica and indie folk. There are moments when Meg Duffy's technical prowess on guitar jumps out, but, here, they are mostly tinkering with the digital textures that made Fun House such a rich and explosive milestone in their catalog. They channel the ache of longing; the uncertainty of patterns falling back into place. "I'm losing / My mind can't understand / It's stupid / I'd do it all over again / I'm begging / Eating from the palm of your hand," Duffy sings. It's an intimate and vulnerable construction of melodies and emotions, where Duffy dares to approach the work with as much intent as they do playfulness. There's a grief that stretches into bliss on "Something Wrong," and it's equally immense and rewarding. —Matt Mitchell
Jenny Lewis: "Psychos"
Former Rilo Kiley frontwoman Jenny Lewis is entering a new era. Joy'All, her first solo record in four years, is a turn towards a sound that is much more cosmic and mythical than anything else she's put out since dropping Rabbit Fur Coat way back in 2006. Lead single "Psychos" is, easily, one of Lewis' greatest creations. It's a kaleidoscope of pop country and disco; Lewis' vocals have never been sharper, and the instrumentals are so delicious you won't be able to refrain from playing this track over and over and over again. "Psychos" is an odyssey in its own right, as Lewis is on the hunt for sex, romance and good vibes. "I'm not a psycho / I'm just trying to get laid / I'm a rock 'n' roll disciple / In a video game," she sings, before employing a cheeky "Namaste" at the end of the verse. There's a special, newfound confidence that Lewis is working through here, making Joy'All poised to be her most daring project yet. —Matt Mitchell
Jess Williamson: "Hunter"
One of the most underrated records from 2022 was I Walked with You a Ways, the debut LP from Plains, Katie Crutchfield and Jess Williamson's super duo. Now, as Crutchfield returns to her role as the face of Waxahatchee, Williamson is offering up her own solo record, Time Ain't Accidental. It's her fourth LP in seven years, and, possibly, her very best. Lead single "Hunter" is a resilient, poppy folk-country tune that gives the proper spotlight to Williamson's greatest weapon: her soulful, unwavering voice. "I want a mirror not a piece of glass / We went a hundred down the highway / I been known to move a little fast / I'm a hunter for the real thing," she sings during the chorus. Williamson has always had a knack for delivering powerful imagery, and there's something eternally pure and free in the way she projects the story behind "Hunter." You can plug it into any backroad in the US, especially the Ohio billboard-conjuring "But Hell is a real place" line in the second verse, but "Hunter" still feels heavily specific to a part of Williamson's life that she's elected to share with us all. It's a perfect slice of Americana, dolled up in her golden-hour harmonies. Oh, and a little lap steel singing in the background never hurt, either. —Matt Mitchell
Lilah Larson: "V"
Lilah Larson has quietly amassed a discography that would send even the most prolific musician reeling with envy. The multi-instrumentalist is featured on records by Leonard Cohen, Lola Kirke and Alex Cameron, in addition to her time as a member of sea shanty indie rock group Sons of an Illustrious Father releasing her own work, starting with 2016's Pentimento. For her next trick, Larson is dropping a collection of solo guitar improvisations on April 21. The two tracks she has unveiled from this new album, especially the latest single "V," are patient, philosophic explorations of tone and mood. "V" layers a few guitar lines with melodies played using a slide floating free of the atmosphere in the manner of Ry Cooder's score for Paris, Texas or Sir Richard Bishop's more reserved compositions. —Robert Ham
Listen here.
Nabihah Iqbal: "Sunflower"
2020 was a bad time for everyone but Pakistani artist Nabihah Iqbal went through a particularly hellish time that year. Her studio was robbed, which lost her all of her recording equipment and a nearly completed album. And as the dust was settling she received word that her grandfather was ill, sending her to Karachi. That trip allowed her the distance Iqbal needed to look at her music from a new angle, learning to appreciate her talents more. That feeling is suffused in "Sunflower," the latest single from her forthcoming LP DREAMER. The gauzy club-ready rhythm barely hides Iqbal's speak-singing melody, addressing both herself and the artists of the world who often watch their work gain aesthetic and monetary value long after they've left this planet behind. —Robert Ham
Panic Pocket: "Mad Half Hour"
You don't need the music to get a sense of the exuberance found in the music of UK duo Panic Pocket. Push play the video for their new single "Mad Half Hour" on mute and watch as Sophie and Natalie dance and pull faces while clothed in various colorful frocks. They're keeping the outside world at bay with a cocktail on hand and a slight sneer on their faces. Run the clip back with the tune turned up loud and it gets even better. The music is all jangle and attitude akin to their friends in Heavenly, the indiepop group whose members Amelia Fletcher and Rob Pursey signed Panic Pocket to their label Skep Wax and who invited the group to be the opening act for their upcoming reunion shows in London. —Robert Ham
The Beths: "Watching the Credits"
"Watching the Credits" could just a one-off track, which seems likely, given that the Beths put out their best album, Expert in a Dying Field just last September. Nonetheless, the New Zealand rockers, yet again, are flaunting their power-pop prowess. "Watching the Credits" is a terrific, heat-seeking missile of glittering guitars and steadfast percussion work. Frontwoman Elizabeth Stokes delivers a hypnotic vocal performance, while guitarist Jonathan Pearce unleashes a riffing wall of prismatic, face-melting chords. There's imagery of cinema and soundtracks, of doubts and how endings move the compass needles of our life's direction. "It's just a story I don't quite believe / Full of plot holes and constant monotony / Who's going to root for this unlikable lead? / Not them, not me, not likely," Stokes proclaims. What makes the Beths so good is not just their chemistry, but the fact that they can make a standalone single rock so heavily. It speaks to how they endure as one of the most exciting rock bands in the world right now. —Matt Mitchell
Tyler, the Creator: "Dogtooth"
The mark of our greatest artists often comes when their throwaway songs are eons greater than other musicians' lead singles. Nearly two years after releasing Call Me If You Get Lost, Tyler, the Creator is dropping a deluxe edition with previously unheard tracks, which he has aptly titled The Estate Sale. Spearheading the charge with "Dogtooth," Tyler is announcing to the world that he went through a bout with being head-over-heels for someone. "She can ride my face, I don't want nothin' in return / Except for some her time and all her love, that's my concern / I'm tryna buy my neighbor house and turn it to a yard / If you don't know my grandma name then we ain't really dogs," he raps over that typical Tyler, the Creator beat: smooth percussion and piano glazed over by vocals knee-deep in a baker's dozen octaves. There's a thoughtfulness at play, too, where Tyler is attempting to be selfless in his own sexual escapades. However, it wouldn't be a Tyler, the Creator track if he didn't have a little fun with his own accolades. On "Dogtooth," there's no way he didn't have a cheek-to-cheek grin while flexing his "good dick" that's "guap long" in the studio. —Matt Mitchell