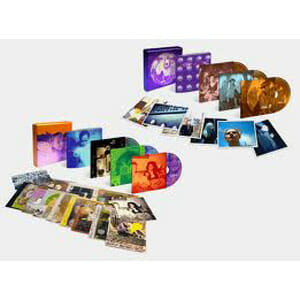 It's the early '90s — a time where Nirvana's Nevermind has struck fear into the hearts of arena giants of the '80s and left record executives scouring the dingiest clubs of the U.S. to try to hop on this "grunge train." Somewhere in Chicago, Billy Corgan and his Smashing Pumpkins have already recorded Gish, a solid-but-scatterbrained debut album, and the band is not-so-quietly flipping the bird to indie music and everything for which it stands.
"We start (Siamese Dream) with 'Cherub Rock,' which is basically my big F.U. to the indie world," Corgan said in Siamese Dream's re-released liner notes. "If you read the lyrics, that was basically me railing against the hipper-than-thou NYC indie mentality."
And so Corgan, the alternative artist he was at the time, was left rallying against pretty much everyone. But it's this attitude that made him such a unique character in a scene that was quickly on the rise, ranging from his questionable clothing taste, his incredibly revealing lyrics and his skillful-yet-artfully atonal guitar solos. But with a fresh look at his band's first two albums, Gish and Siamese Dream it's hard to see how anyone — including Nirvana's first label, Sub Pop, who initially rejected the Pumpkins — didn't like his approach to begin with.
As the band's opening statement, Gish can be confusing. For legions of fans that were introduced by singles like "Disarm" or "Today" that appeared on the band's huge-label debut, Siamese Dream, the album is surprisingly hookless. Yeah, it features qualities that would launch the band to superstardom — Corgan's love-it-or-hate-it snarl, mixes with an over-stacked amount of guitars and Jimmy Chamberlin's jazz-inspired drum parts — but it's obvious the group hasn't really arrived yet on Gish. Instead, Corgan says it best, admitting that "there really aren't a lot of great songs (on Gish), it's really more of a dynamic statement. I wouldn't say there are many great songs but there are a lot of great ideas that are taking chances."
As a remastered package, the Butch Vig-produced Gish does deliver for both hardcore fans and casual listeners. What's so unique about the package isn't only seeing the band's first attempt at a full-length recording, but it also fills in the space between Gish and the amazing jump that is Siamese Dream. The outtakes and concert included in the set are meaty without going overboard and let audiences remember the band at a time when Corgan had a huge mane of hair and wore ruffled shirts, and sludgy Stratocaster riffs and solos were still a prominent part of the group's mission statement.
But the standout package here is unsurprisingly Siamese Dream, which is filled with an abundance of demos, alternate b-sides and acoustic versions of songs. One needs to look no further than Corgan's newfound onstage confidence in the "Live at the Metro, 1993" DVD included in the box to see that the Smashing Pumpkins have gone from a band with great ideas to a band with great songs. Instead of just screeching howls and ultra-loud guitars, Corgan's return to the Metro shortly after the release of Siamese Dream is filled with statements. He's got "Spaceboy," which he emotionally dedicates to his brother who was "born 'not right;'" "Disarm," which is huge among teens who are realizing that they might have had some a messed up childhood as well; and the anarchic audience-riler "Silverfuck," which Corgan warns the audience that they won't want to listen to recorded music after it hits their ears.
With mastering considered, the album sounded charming enough in its original release, and the Corgan-produced set acknowledges that by making changes small. But the package adds a modern sparkle to the album's notoriously stacked guitars (again produced by Vig, as many as 40 were rumored to be used in "Soma") and Chamberlin's much-improved drum sound.
The box set also explicitly highlights some already loved parts of the album. The densely layered and brilliantly arranged "Soma" gets its own instrumental mix, highlighting the intricacies that lie under Corgan's whispered melodies and backwards guitar solos. And "Disarm" gets a certain "Eleanor Rigby" vibe with all of the acoustics pulled out of the mix to highlight an inarguably memorable string arrangement.
Whether you love them or hate them, Smashing Pumpkins had an undeniable effect on the way music would shape up in years to come. And the deluxe editions of both Gish and Siamese Dream are incredible reminders of what the young band — namely Corgan — was capable of creating.