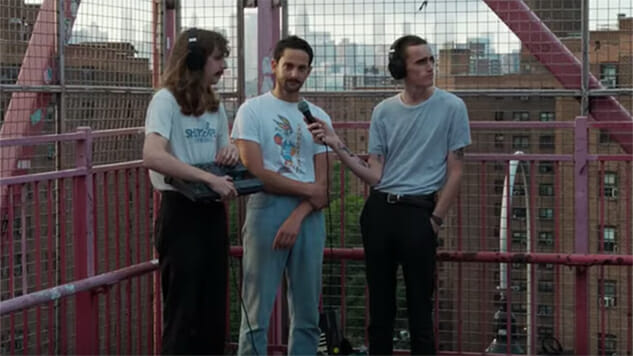 Daily Dose is your daily source for the song you absolutely, positively need to hear every day. Curated by the Paste Music Team.
You could probably find Georgia boys turned New Yorkers Triathalon on a Spotify playlist labeled "lo-fi songs to chill to" with features from their latest album, or "trance-like surf rock" incorporating songs from their debut release. The Savannah-founded, Brooklyn-based trio specializes in pleasantly dazed bedroom pop with whisper-like vocals—think HOMESHAKE meets Still Woozy.
The band released Online, a complex and rich 13-track production filled with synths, twinkling bells and other mellow computer sounds, earlier this year. Following on the album's heels, they dropped a new single called "Courtside" on Tuesday. It's a laid-back summer jam that's sure to provide a refreshing break from the climate change-induced, brain-melting heat. Triathalon incorporate R&B vibes that are so cool, we don't even need the fan on. "Courtside" is synthy, it's got old-school drum machine feels, and we can't stop nodding our heads to the sweet and simple guitar riff.
With the single, they've also released a video that Reddit user mandibleclawlin points out is filmed in the same park as Radiohead's "Man of War." Singer Adam Intrator lays across a basketball court while asking the Serious Questions: "Some people like to talk, but they don't listen / What's the point of thought, if you ain't tripping?"
Check it all out in the video (dir. Adam Intrator & Peter B Samuels) below and listen to Triathalon's 2014 Daytrotter Session further down.