Many major cities around the world claim at least one attraction-worthy fountain. The Bellagio in Las Vegas, Italy's Trevi and Chicago's Buckingham are just a few world-famous fountains. Impressive as those "typical" fountains can be, we are taking a look at a completely different variety.
The fountains on this list are not the most famous or the biggest. These unique pieces of art combine jaw-dropping beauty with mind-blowing innovation. From a fountain that incorporates fire to a rainbow waterfall that pours from a bridge, these eight unconventional artistic expressions do more than make a splash.
1. The Giant at Swarovski Crystal Worlds
Innsbruck, Austria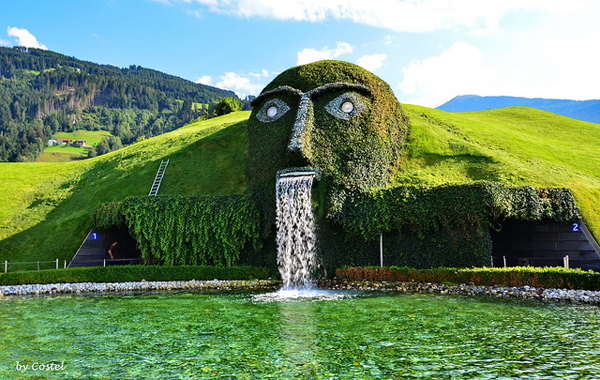 Photo via Flickr/Costel Slincu
Swarovski Kristallwelten (Crystal Worlds) opened in 1995 to mark the centennial of the Austrian-based crystal company. The Giant, as it's called, is a grass-covered fountain that serves as the museum's entrance just outside Innsbruck. This verdant behemoth spews water from its mouth, which gathers in a small pound. Each May, Swarovski Crystal Worlds hosts the Music in the Giant festival, showcasing chamber music from within this fountain and its greater complex. The museum has year-round exhibits relating to the world of crystal.
2. Crown Fountain
Chicago, Illinois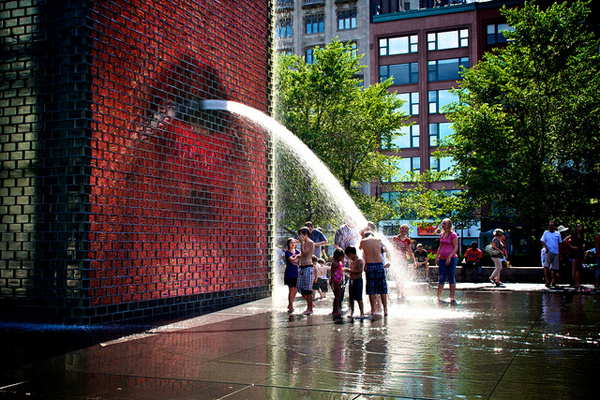 Photo via Flickr/EightySixFilms
Crown Fountain in Millennium Park is Chicago's "other fountain." While it may not have the history and grandeur of Buckingham Fountain, it's as impressive as it is entertaining. Equal parts fountain and interactive artwork, it features two 50-foot glass towers separated by a shallow pool where crowds often gather to play during warmer months. Both towers display LED videos of the faces of various Chicago residents. Stand at their base and engage the faces in a blinking contest, but be warned, they often open their mouths to spit water on anyone standing close enough. In winter when Chicago's other fountains run dry, Crown Fountain continues to entertain, sans water, with its images.
3. La Joute
Montreal, Canada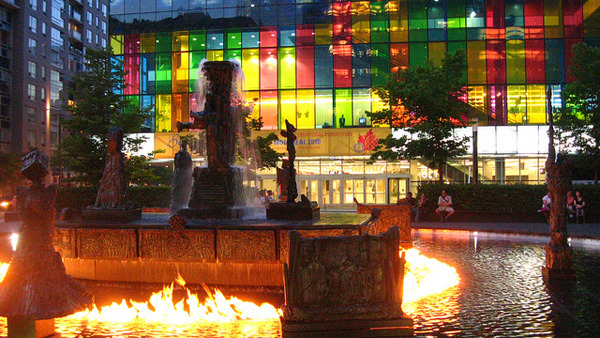 Photo via Flickr/art_inthecity
Some fountains incorporate light and music into their performances, La Joute in Montreal puts on an fire show every hour from dusk until dawn. Located in Place Jean-Paul-Riopelle, named after the sculptor who created the fountain, La Joute is backed by the colorful facade of the Montreal Convention Centre. The fountain is adorned with bronze sculptures of humans and animals, which are encircled by an impressive ring of fire before it's extinguished by the fountain's water.
4. Fountain of Wealth
Singapore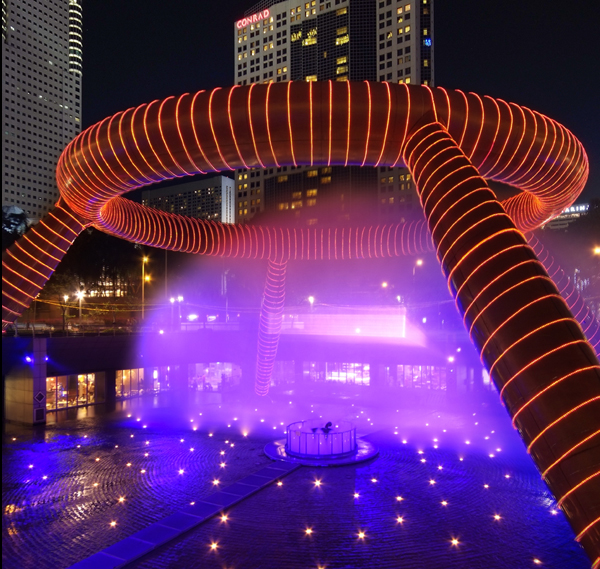 Photo via Flickr/William Cho
The Fountain of Wealth is a massive structure, one you can't really grasp until you stand beneath it, located in Singapore's Suntec City Mall. It was the largest fountain in the world in 1998 according to the Guinness Book of Records, although it has since lost its title to the fountain at Korea's Dadaepo Beach. Still wholly impressive, the Fountain of Wealth occupies more than 18,000 square feet and features a bronze ring measuring 216 feet in circumference. Touching the fountain's water is considered good luck. Each night it's the center of a mesmerizing light show choreographed to music and featuring laser messages that visitors can dictate.
5. Banpo Rainbow Bridge Fountain
Seoul, South Korea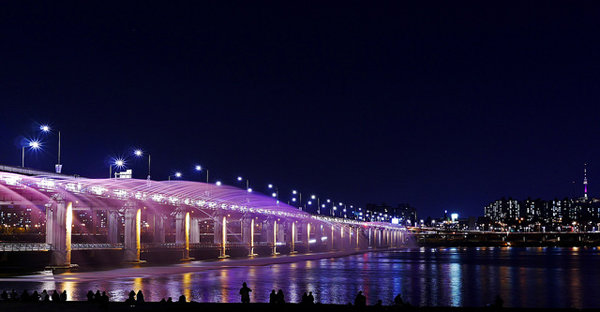 Photo via Flickr/travel oriented
Featuring 380 nozzles that send a reported 60 tons of water into Seoul's Han River, the Banpo Rainbow Bridge Fountain is most certainly a sight. At 3,740 feet, it's the longest bridge fountain in the world. After dark from April to October the fountain puts on a colorful LED light show set to music and, as its name alludes to, resembles a rainbow waterfall pouring over the side of the bridge. Catch the show from the deck of a Han River Cruise, which time their evening tours with the water show … just don't forget a poncho.
6. Tap Fountain at Santa
Menorca, Spain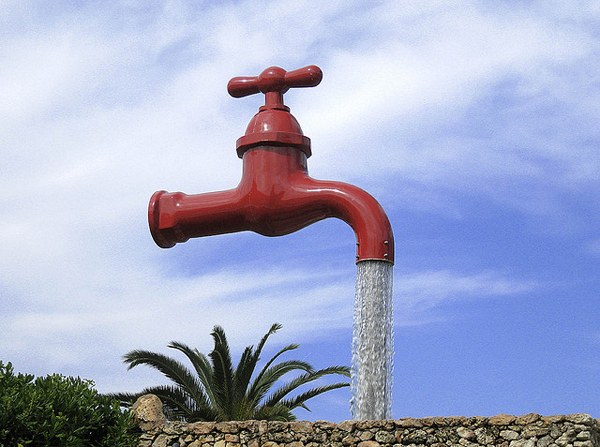 Photo via Flickr/mira66
It's fun to give in to the optical illusion of this fountain in the Cala Galdana area of Menorca. It's not hard to figure out the "magic" behind the floating structure, but that doesn't take away from its creativity. Several variations of this fountain exist elsewhere in the world, including one in Ypres, Belgium.
7. El Alamein Memorial Fountain
Sydney?, Australia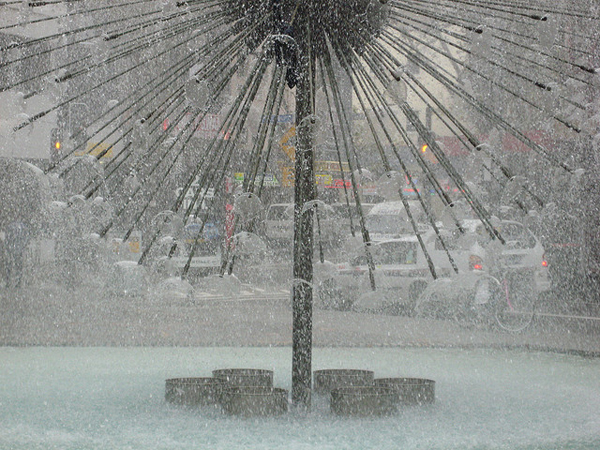 Photo via Flickr/Angus Fraser
This dandelion-shaped fountain in Sydney commemorates those that fought in the battles of El Alamein during World War II. Its modernist design, attributed with being the first of its kind and the work of architect Robert Woodward, has often been photographed and occasionally imitated in the design of other fountains around the world.
8. Merlion
Singapore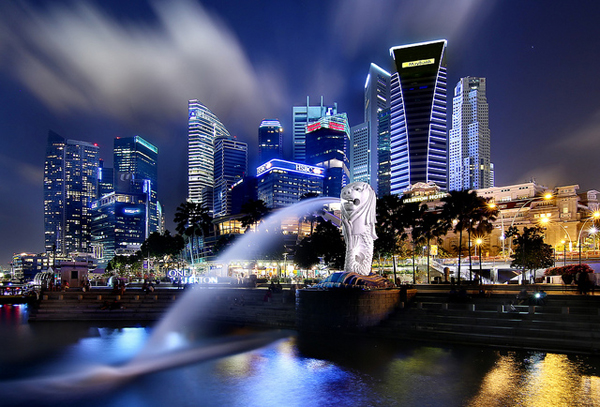 Photo via Flickr/Erwin Soo
As the mascot and national personification of Singapore, the Merlion appears on souvenirs and elsewhere throughout the city. The most famous representation is at Merlion Park near the Central Business District. Here a pearly-white 28-foot-tall Merlion fountain spews water as it looks out onto Marina Bay. In 2011, the water was temporarily shut off and a pop-up hotel was constructed around the head of the Merlion. For 32 days lucky guests had the chance to spend a single night sleeping with the statue to celebrate Singapore's biennale.
Lauren Kilberg is a Chicago-based freelance writer and blogger. Her travels have found her camping near the Pakistani border of India, conquering volcanoes in the Philippines and being humbled in Haiti.