Amazing Grace: Jeff Buckley
Directed by Laurie Trombley and Nyla Bialek Adams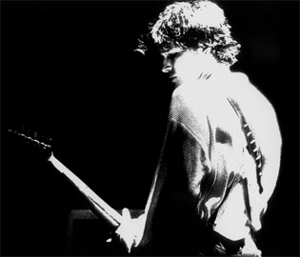 Jeff Buckley's influences are no secret. The few recordings he made before his drowning death in 1997 reveal his muses—pretty much everyone and everything, it seems—so Amazing Grace: Jeff Buckley's exploration of how he himself inspires is a welcome perspective.
First-time documentarians Laurie Trombley and Nyla Bialek Adams interviewed musicians, friends, family members, writers, artists and more about the imprints Buckley left behind. Their sensitive and thorough approach lets Buckley, his music and his legacy do the talking.
The film's enlightening moments show how his art has endured despite a lack of major commercial attention. Popular artists like Duncan Sheik, Chris Cornell and even Skid Row's Sebastian Bach talk about Buckley's integrity and gifted songwriting, as do an orchestral composer, a choreographer and a painter. There's plenty of footage of Buckley performing and speaking (mostly making jokes), as well as some biographical tidbits. The dimly lit, sepia-toned footage of the troubadour singing "Grace" at the film's end ignites simultaneous feelings of sorrowful longing and euphoric satisfaction.
This reverent, powerful film doesn't answer any questions about Buckley's death, but it assures that his greatest gifts are still with us.
Others Tagged With