Paul Simon - Suprise
Warner Bros.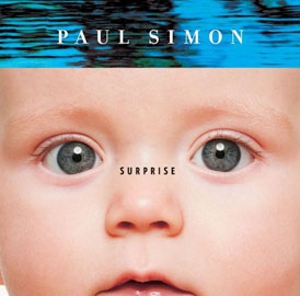 After All These Years: Songwriting great makes stunning comeback
Paul Simon is 64 years old. That's a lot of water—troubled or otherwise—under the bridge, and the temptation is to view him as a pleasant but irrelevant anachronism. The truth is he hasn't released a good album since 1990's Rhythm of the Saints, and his last sighting—the sweet but ultimately slight "Father and Daughter" from the Wild Thornberrys soundtrack—didn't exactly inspire visions of past greatness. And that's why Surprise lives up to its title. Co-produced by Simon and Brian Eno (U2, Talking Heads, David Bowie) and mixed by Tchad Blake (Tom Waits, Phish, Los Lobos), the 11 songs here re-establish Simon as one of our best songwriters, and they masterfully probe the uneasy malaise and melancholy that has always characterized his finest work.
Surprise is Simon's most unabashedly autobiographical work since 1983's Hearts and Bones. He sings about his wife, his children and the hole in his soul that seems unable to be filled. He looks for answers in family and God, but the answers are complicated, and they resonate with unresolved dilemmas. On "Sure Don't Feel Like Love" Simon's deceptively cheery melody masks a sucker punch as he ponders the chemistry of teardrops—mere electrolytes and salt—and why that chemistry doesn't even begin to explain the calculus of sorrow and regret. On "I Don't Believe" he wonders why the idyllic, sun-dappled family times are so ephemeral, and why the next day always dawns grey and bleak. Eno wraps these conundrums in his patented ambient gauze, which perfectly mirrors the disquieting, ruminative songwriting. Bill Frisell's guitars and Herbie Hancock's keyboards peek through occasionally, but it's Eno's production, and Simon's impressive acoustic fingerpicking—again, his best since Hearts and Bones—that mark this album, sonically.
The record's centerpiece, "Wartime Prayers," is a musical State of the Union that can hold its own with early masterpieces like "American Tune." There's a deep, sorrowful dirge at the song's heart—for the American Dream, for all the individual dreams that lie battered and torn—and it's seasoned by the kind of hard-won humility that's rare in anyone, and almost impossible to find in certified pop stars:
I'm trying to tap into some wisdom
Even a little drop will do
I want to rid my heart of envy
And cleanse my soul of rage
Before I'm through
It's the kind of music that can only be made by a man whose days are numbered, and who wants to leave a legacy broader and deeper than Grammy Awards and Gold records. And Surprise is all the better for it. The context is everything, and when the by-now-familiar "Father and Daughter" finally arrives at the end of the album, with its just-this-side-of-saccharine sentiments and its doo-wop evocations on the chorus, it sounds like the natural extension of what's come before. Dad might be a little sappy and morbid, but this is still one lucky kid.
If the lack of truly standout melodies ultimately derails this effort just short of greatness, it's hard to find fault with such a warm, generous and open-hearted collection of songs. The real surprise is how vital Paul Simon sounds—still crazy, and still fighting for peace and sanity, after all these years.
Others Tagged With