Live Review: My Bloody Valentine @ The Roseland Ballroom, 9/22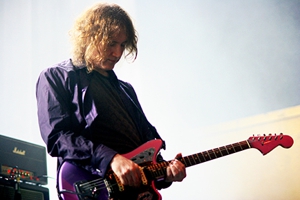 There's no more enjoyable way to make your ears bleed than to attend a 
My Bloody Valentine
concert. The attendants at Midtown's Roseland Ballroom even gave nonverbal warnings as they passed out free ear plugs to the crowd that flooded the sold-out show. At 10 p.m., the Irish quartet nonchalantly walked onstage and delicately holstered their shiny, pastel Jazzmasters in front of a wall of Marshall and Vox cabinets. And then, without warning, an entire spectrum of distorted guitar and synth assaulted the venue as many learned why a group that has been absent since 1993 would be greeted back to headline a 
music festival
 and destroy any chances we might have of growing old without hearing aids. 
The night started pleasantly enough with openers
Le Volume Corbe
and 
The Wounded Knees

.
 Dinosaur's Jr.'s J. Mascis even trotted out for an extended jam with flautist Suzanne Thorpe that lulled everyone into an audio haze of false security.
When Kevin Shields, Bilinda Butcher, Debbie Googe and Colm Ó Cíosóig let free the opening chords of their 2-hour set, everyone hung on until the last squelch left Shield's massive amplifier. Like their music, MBV is all based on sensory extremes: Their songs are as fuzzy and chaotic as a busted lawn mower but also hold a choir of angelic, new wave lullabies inside every soft-spoken melody. Butcher and Shields stand solitary and motionless (though I didn't see them gaze at their shoes once) while a busy collage of strobe lights and ambient video loops blind the entire audience. Indeed, My Bloody Valentine are their own opposites.
With earplugs removed, every disassembled note sounded perfectly tight and honed despite the fact that the songs they belonged to were almost unintelligible save for standouts "Only Shallow" and "Come In Alone." The group's noise renaissance wasn't lost on NYC's artistic community: At one point, I saw J. Mascis to my left, Patti Smith to my right and The Yeah Yeah Yeah's Nick Zinner behind me in a triangle of complete awesomeness. And they weren't wearing earplugs either.
My Bloody Valentine closed their set with a 25-minute stretch of white noise straight from the interior of a jet turbine. While I couldn't sing the tune walking home or quote its lyrics to my girlfriend, I would pay a lifetime of
tinnitus
and wait another 15 years to hear it and another live set from MBV again.
Others Tagged With