The Tudors: The Complete Second Season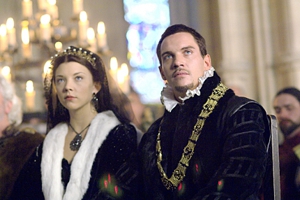 Writer:
Michael Hirst
Producers:
James Flynn, John Weber
Starring:
Jonathan Rhys Meyers, Henry Cavill, Jeremy Northam, Natalie Dormer, Peter O'Toole
Studio/run time:
CBS DVD, Showtime Entertainment and Paramount Home Entertainment, 542 min.
Wry historical series worth a weekend binge
Overrun with crude political intrigue and comically exuberant sex, the second season of
The Tudors
remains closely in step with the first, a gaudy window into the early reign of King Henry VIII. Jonathan Rhys Meyers returns as Henry, delivering his frantic, wild stares, a jarring reminder of how overcooked the series can be. But even with its loose, uneven pace and cavalier relationship with history,
The Tudors
at its best has real scale—a wry sense of the past and of the future. Creator Michael Hirst, who remains the show's sole writer, provides allusive moments with a young Princess Elizabeth, and the appearance of a droll Peter O'Toole as Pope Paul III reassures us that he hasn't lost his sense of humor. This four-disc set includes only nominal extras, but its real virtue is simply compiling the episodes, since the only way to consume a series like this is with a weekend binge.
Watch the trailer for The Tudors: Season 2:
Others Tagged With