Vivian Girls: Share The Joy
[Polyvinyl]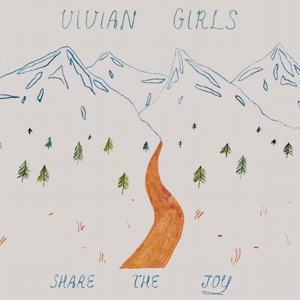 Vivian Girls built a reputation on the short shrift of soda-pop rock on their self-titled debut in 2008. The follow-up, 2009's Everything Goes Wrong, an arguable victim of the sophomore slump, continued playing with the same old garage-addled girl group sounds. On this latest effort, the girls — Cassie Ramone, Katy "Kickball Katy" Goodman, and Fiona Campbell — attempt to stretch their songwriting, but end up muddying the water.
For the most part, the Girls' deadpan style sidesteps hackneyed nostalgia. Unfortunately, it also thwarts them from fully cashing-in on their playful pop influence. When they stick to the bubblegum, the listener is greeted with the sock-hop cheer of "Dance (If You Wanna)" or the silly charisma of "Take it as it Comes." Tracks like "I Heard You Say" and "Death" prove they can more seriously push the boundaries of that style. Combining swelling '60s throwback harmonies and the sweet, swift wit of '50s songwriting, they parlay clichéd notions into winning melodies.
The music's best when they let it build, layer the voices and frazzled riffs on top of choppy rhythmic bursts. It quickly loses its charm when the sounds dip into a monotonous drone of nasally voices, cymbal splashes, stilted guitar lines and feedback fuzz (as with "Lakehouse"). There's also the matter of abrupt shifts in time signature ("Light in Your Eyes") and repetitive emotional hooks that don't build toward anything ("The Other Girls"). The record is dulled with meandering stylistic flares, almost clever ideas that stall out at the last minute.
The other part of the problem is that while these girls may have rode the early wave of revivalist of girl group indie rock, bands just simply doing it better are converging on their turf. Best Coast (featuring former Vivian Girl Ali Koehler on drums) has mastered the art of the surf-pop gem; Those Darlins have cornered the market on rock 'n' roll attitude; Dum Dum Girls' take on indie pop has less baggage and a sharper ear. It's a built-in comparison (fair or not) that makes the first lines on the record, "I don't want to be like the other girls," either a fantastic joke or prophetically sad. Let's face it, it's probably both.
Others Tagged With