Levon Helm: Ramble at the Ryman
[Vanguard]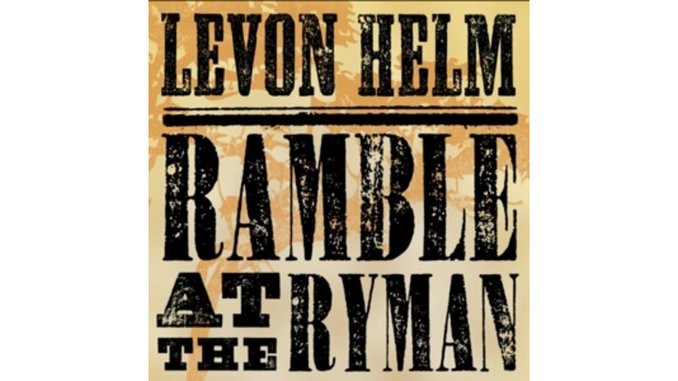 Levon Helm was more than just a drummer, singer, and mandolinist for The Band. He was the group's very soul, and not just because of the loamy rural tenor made famous by songs like "The Weight." As the only actual Southerner in a Canadian outfit that mythologized the American South, Helm shouldered the load of a nostalgic yet troubled history that was, for his compatriots, mostly a dream. You could almost hear this existential burden in his weary yet unbowed style of drumming—a little behind the beat, as if life were always moving faster than he'd like. On live disc Ramble at the Ryman, with a characteristically exuberant blend of rock, blues, country, and folk, Helm proves himself once again to be one of our most vibrant conservators of traditional Americana.
The child of Arkansas farmers, Helm has always had a nearly mystical awe of the terrain that spawned him, succored him, and will one day take him back. "Like my father before me," he sang through the proxy of Confederate soldier Virgil Caine on "The Night They Drove Old Dixie Down," "I will work the land." When Caine's brother is killed by a Yankee, he swears not by God or country, but "by the mud below my feet." By naming his 2007 comeback album Dirt Farmer, Helm pledged his ongoing fealty to that mud. But it was also an acknowledgement that, at age 67, his time on it was growing limited. In fact, it had nearly been cut short a decade earlier.
Helm lost his voice upon being diagnosed with throat cancer in the late '90s, and while he recovered, his vocal cords were badly damaged. For most of the '00s, his primary musical activities were his famed "Midnight Rambles" at the Barn, his home studio in Woodstock, which featured a dazzling roster of pop and Americana heavy-hitters coming through to jam, from Elvis Costello and Emmylou Harris to Dr. John and Norah Jones. Miraculously, Helm's voice recovered over this period, and by the time he unveiled it on Dirt Farmer, it had regained its former glory—a little more cracked, but hard and pure, and perhaps with a newfound strength of character or wisdom. The record promptly won a Grammy for "Best Traditional Folk Album," and its follow-up, 2009's Electric Dirt, followed suit, taking home the statue in the new "American" category.
While Helm's modern studio albums feature plenty of musicians who have been involved with the Midnight Rambles—such as Ollabelle's Amy Helm, Levon's daughter—this live set brings us closer to the freewheeling spirit of the Rambles than ever before. It documents a stand at Nashville's legendary Ryman Auditorium in 2008. Alongside the Levon Helm Band, the roster of guest musicians has something for everybody, from traditionalists (Sammy Davis, Buddy Miller, Sam Bush) to pop fans (a surprisingly at-home-sounding Sheryl Crow). And the set-list, while stocked with Band favorites—"Ophelia," "The Weight," "The Shape I'm In"—also features a couple Helm originals from Dirt Farmer and some eclectic covers, like Buster Brown's "Fannie Mae," the Carter Family's "No Depression in Heaven," and the Grateful Dead's "Deep Elem Blues", which makes for a nice companion to the great cover of "Tennessee Jed" Helm recorded on Electric Dirt.
The first thing you notice is how amazing the Band songs still sound—these crack players (the saucy horns deserve special recognition) do them justice. At age 70, Helm can handle the raw-throated pitch slides of "The Weight" with accuracy and passion, and to hear him sing "Ophelia," you'd think she just boarded up the windows and disappeared yesterday. The second thing you notice is how well Helm's modern songs stand up beside his classics. His "Anna Lee" is the kind of potently simple tune that you can only earn by living a long time, where Helm's voice is hoarsened with plaintive emotion over stately mountain strings—a song more vulnerable than a younger man might allow himself. And the third thing you notice is how you've stopped noticing stuff in order to just tap a foot or sing along. So much of our relationship with music now is about seeming and thinking. But in Helm's world, it's about listening and doing, about honoring tradition without trying to trap it in conceptual amber. Though it comes from the venerable stage of the Ryman, we can hear the music's origins in a group of remarkably talented friends getting together to have fun, to raise a well-worn song and a massed voice for the old and essential purpose of keeping the night at bay.
Others Tagged With