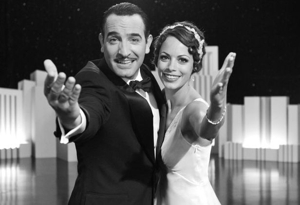 Michel Hazanavicius' The Artist opens—in a nod, perhaps, to the OSS 117 French spy spoofs he made with actor Jean Dujardin—on a silent action movie in progress. As the hero escapes his torturers on-screen, the camera pulls back to reveal the orchestra, the audience, the grand, glamorous theater, and star George Valentin (Dujardin) photographed dramatically backstage against his own giant image. When the credits roll, our ears are met with … silence.
It's only by the filmmakers' reaction in the wings that we realize the audience is applauding wildly—and that The Artist itself is also a silent movie. In black and white, no less. In his ode to the Golden Age of Hollywood, Gallic writer-director Hazanavicius honors form as well as content, packaging his romantic melodrama about the rise of a new ingénue and the fall of a silent movie star in 1920s and '30s Los Angeles in luxurious black, white, and shades of shimmering silver.
George is a Douglas Fairbanks-grade celebrity, utterly charming both on-screen and off, especially with his sidekick Jack Russell terrier at his side. Classically handsome and a gifted physical comic, Dujardin is enchanting in the role, as seductive to 21st-century audiences as to his character's screaming fans. His seemingly fail-safe success hits a snag, however, with the advent of talkies, a development that ushers in a new generation of talent.
Speaking of which, at the height of his powers, George crosses paths with Peppy Miller (Bérénice Bejo, who is married to Hazanavicius), a movie extra whose career takes off just as his begins to tank. And peppy she is, with her cocked hip, flirtatious wink and spunky gestures. As lovely as she is lively, Bejo demonstrates unexpected depths to her perky character when, alone in George's dressing room, she slips one arm into his tuxedo jacket and pretends she's in a lover's embrace—a bit of business that only could have resonated in a silent film.
Early in the film, Peppy is cast as a background player in one of George's movies. She's to dance a few steps with him as his very serious spy makes his way through a party to a contact across the room. He's supposed to be focused on his objective, isn't meant to pay her any mind, and here are the first hints at Dujardin's impressive range: On camera, he repeatedly falls out of character—not only the one George is supposed to be playing but the one he projects to the world—smitten with the woman in his arms. Alas, they aren't meant to be together, at least not yet, and as George's fortunes turn, Dujardin, in one of the year's great performances, transforms from the happy-go-lucky chap who's got the world by the tail to a dark, tormented soul who's lost not only his career and his celebrity but his art.
Although—or, rather, because—The Artist is a silent film, it uses sound in provocative ways. Largely, the image's only accompaniment is Ludovic Bource's light, airy, foot-tapping score, perfectly tuned to the on-screen action, but Hazanavicius breaks the sound barrier, so to speak, in a marvelous sequence that introduces elements of magical realism to the story, and the soundtrack goes dramatically mute at the film's climactic moment.
Meanwhile, with no dialogue and few intertitles to convey plot, Hazanavicius and cinematographer Guillaume Schiffman have taken special care with the geometry of their images. In one scene, George and Peppy meet on the open-air stairs of a studio where he has just been shown the door and she has just signed a new contract. While they chat, studio personnel move back and forth and up and down the levels behind and around them in an example of how there's something artful and delightful to look at in every scene.
If The Artist has a flaw, perhaps it's a little too on-the-nose sometimes with, for instance, its movie titles. Peppy's breakthrough film Beauty Spot describes her signature physical feature, and Guardian Angel defines the role she takes in George's life. But overall, it's a beautiful, ambitious, nostalgic endeavor that demonstrates its makers are, indeed, artists.
Others Tagged With