Xiu Xiu: Always
[Polyvinyl]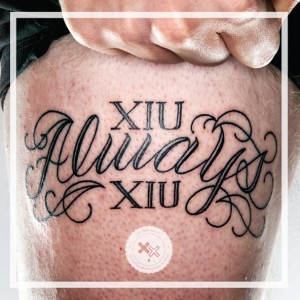 It still seems odd to hear Xiu Xiu leader Jamie Stewart at the helm of pop song, as if his dark and unflinching worldview might actually have room for some kind of joy. To be sure, there's always been a sense that he'd been searching for it, but it's also like a dog chasing a car, or like maybe Stewart was getting off on being miserable.
Maybe that's a projection.
Stewart and I both reside in Durham, N.C. Stewart hates it, and makes no secret of that. In a Jan. 31 column for Huffington Post, for example, Stewart described Durham as a city "famous for tobacco; Duke University; minor league baseball; having as its civic mascot an ad campaign symbol that was used in astoundingly racist, capitalist forays against African Americans and which overlooks the huge jail in the center of town that is filled with African Americans; feel-good indie rock beards/saggy butts; and people who get touchy whenever anyone says anything that is less than uproariously supportive of every meager attempt at being whitely evolved."
As predicted, and as they tend to, Durhamites (at least those who know who Jamie Stewart is) weren't happy to have our humble city lambasted so. They took the bait. I imagine Stewart enjoys the furor.
Stewart's role as provocateur can't be overstated, both in his writings and in Xiu Xiu. That's why the infectious hooks and house-driven beats of "Hi" seem less characteristic than the noise-blasted and violent "Black Drum Machine," though the tracks bookend Always, Xiu Xiu's latest long-player.
In total, though, Always might be both Xiu Xiu's most approachable and most volatile collection. Though it contains "The Oldness," a dramatic piano ballad that suggests Antony and Kate Bush, the driving mix of Motorik pulse and M83 synth-gaze on "Joey's Song," and the anthemic "Smear The Queen," Always also dares us into "I Luv Abortion" and its face-flaying smash of eerie John Carpenter synths and harsh noise that ought to set a higher bar for any would-be cybergrind band.
Xiu Xiu has consistently been a vehicle for meeting abrasive and outré techniques to pure pop — perhaps never more so than on last year's gender-bending take on Rihanna's "Only Girl (In The World)." With Always, this vision is at its most realized. "Honey-Suckle"'s guitar tangle, and the contrasting vocals of Stewart and Angela Seo (his a theatrical falsetto, hers a flat deadpan) gain momentum with the addition of synth swells and electronic turbulence. "Factory Girl" erupts occasionally with Deerhoofian polyrhythm, and "Born To Suffer" gives electro-pop an industrial acid bath.
But though it's a more immediately approachable record, Always doesn't shy from provoking discomfort in its listener. (That's another Xiu Xiu constant.) Stewart delights in forcing us to gaze upon the tortured and demeaned, and usually it works both as unsettling setpiece and political statement.
This is, of course, why my fellow Durhamites kind of miss the point when they leap to defend the city against Stewart's insults. Stewart doesn't hate Durham nearly as much as he loves making us question why we love it so unquestionably. He does the same throughout Always, forcing us to look at his characters' anguish and challenging us to like it.
Always is not an easy album to enjoy, but it's a harder one not to.
Others Tagged With