Beasts of the Southern Wild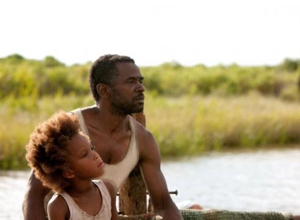 A 6-year-old girl named Hushpuppy, little and wiry with a wild pouf of hair, crouches in a ruin of twisted metal and junk. She holds a small bird to her ear and listens to its heart.
This is our introduction to the gorgeous, bewildering, explosive world of Benh Zeitlin's Beasts of the Southern Wild. It is a moment remarkable for its stillness in a film rarely at rest. This moment is one of the few quiet intimacies of Hushpuppy's life, and such stillness won't come again until the end of the film. Hushpuppy's life is one of clamor. It's a life of shouting and celebrating, of fighting and surviving.
Hushpuppy lives with her father in a place called The Bathtub—a fantastical junkyard utopia on the Louisiana levees. The community created by the outsiders gathered here is both ideal and bizarre. It is a colony built around revelry and ritual, around drinking and a kind of gritty escapism from the regulated horrors of the "civilized" world. Her schooling includes backwoods medicines and extinct monsters. She lives in her own trailer with her drawings and relics of her mother. Her father, played with incandescent fury by Dwight Henry, lives next door where every evening he throws a chicken on the grill, clangs a bell and calls Hushpuppy over to eat.
After disappearing for a few days, leaving Hushpuppy to wander the bayous and fend for her tiny self, her father returns in a hospital gown. He's angry and afraid and quickly lashes out at Hushpuppy who, being the fierce creature that she is, lashes back. Here the mayhem begins as a giant storm comes, obliterating The Bathtub and serving as a vanguard for ravenous beasts awakened from years of sleep in glacial ice. Hushpuppy's father is desperate to teach her to be self-reliant. He is unflinching and brutal in his lessons, shouting at the little girl, teaching her to catch fish with her bare hands, making her crack open crabs with her tiny fingers, manhandling her, telling her someday she'll be "King of The Bathtub." Always shouting. Anything to make her tough enough to survive.
Beasts of the Southern Wild operates from a six-year-old's perspective and on a six-year-old's logic. Adults are huge, their hands like giant paws or scoops, their heads always bent to look down on us, faces usually leering with sarcasm or impatience. We begin to see the world through Hushpuppy's eyes at the same time that we go white-knuckled with anxiety for her. Can a cardboard box provide protection from fire? Will inflatable water wings work in a hurricane? Can she strike out on her own to find her mother, to escape social services, to fight monsters, to save her father's life with magic and stubbornness?
Visually, this film is singular. Grainy, filled with lush color and purely magical shots. Watching Hushpuppy and her father float down the river in their boat made from the bed of a truck, following her and her young friends as they swim out into the gulf toward a distant flashing light, images of fireworks and funerals, horses staring from islands in the middle of flooded pastures, the vast world that enwraps the small Hushpuppy—these are moments of intense pleasure.
Benh Zeitlin, writer Lucy Alibar and cinematographer Ben Richardson have given us a treasure chest of images and a jewel of a story. But the diamond here, the burning core of the film, is young Quvenzhané Wallis as Hushpuppy. She is precious and mighty. She is a tiny warrior who is also an immensely vulnerable child. The defiance, love and pure force of will that she emanates are unique and unforgettable. She is easily the most winning protagonist to come along in quite a while, both in her natural qualities and by luck of the story and world in which the filmmakers have placed her.
Beasts of the Southern Wild is remarkable, bizarre and beautiful. It is both triumphant and immensely sad. Forget that it won the Grand Jury Prize at Sundance and the Camera d'Or at Cannes, and that it is quickly becoming a critical darling. It will doubtless be picked apart, over-analyzed, lionized and demonized over the coming months, especially as we approach award season. No matter what, go see it. It is no exaggeration to say that, as of this writing, it is the best film of 2012.
Director:Benh Zeitlin
Writers:Lucy Alibar & Benh Zeitlin
Starring:Quvenzhané Wallis, Dwight Henry
Release Date: June 27, 2012
Others Tagged With