Frightened Rabbit: State Hospital EP
[Canvasback/Atlantic]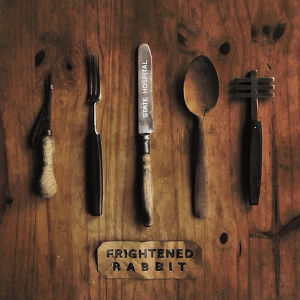 As singer, guitarist and frontman Scott Hutchinson recently wrote on his band's website, "I suppose certain songs just don't fit in to an album, but we thought these four still deserved to be given more than simply 'B-side' status." Thus explains the creation of Frightened Rabbit's most recent EP, State Hospital.
Coming from one of Scotland's most addicting recent exports, the cinematic five-track EP tells dramatic tales of war, loneliness and breakdowns. And the band—a five-piece from Glasgow noted for its gloomy and poignant, yet honest storytelling—sounds whole on this EP, which Hutchinson attributed to the full band writing these songs together.
The opening title track is the only song from the EP that is also slated to appear on the band's upcoming full-length release, due out next year. The song is by far the best on the EP, channeling the same dull Scottish darkness and pain that marked on 2007's The Midnight Organ Fight. Near the end of the song, Hutchinson wails the "all is not lost" refrain, layered with arpeggiated "ohh ohh ohh's" that close out the track.
Elsewhere on the EP, Frightened Rabbit employs more rollicking rhythms and quicker tempos. "Boxing Day," which was written during the same sessions that spawned last year's excellent "Scottish Winds" and "Home From War" share similar themes and musical styles. The only seemingly out of place track is "Wedding Gloves," a bit of a drone-rocker that features guest vocals by Aidan Moffat, the Scottish singer known for his work with Malcolm Middledton in the band Arab Strap.
So even if four of these five songs on State Hospital are just castaways not included on the next year's record, this EP still manages to flow just fine on its own.
Others Tagged With