Homeland Review: "The Smile" (Episode 2.01)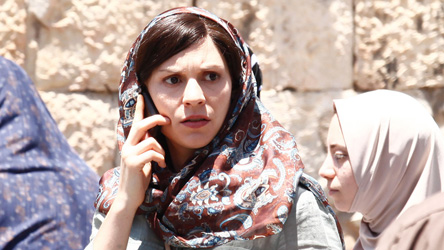 Homeland strutted its way to the Emmys for its first season, winning Best Actress in a Drama Series, Best Actor in a Drama Series and Best Drama Series. Shocked? I know I wasn't. The chemistry between Carrie Mathison (Claire Danes) and Nicholas Brody (Damian Lewis) was nothing short of phenomenal. With a perfect blend of suspense, intelligence, and compassion, Homeland not only tackles the topic of terrorism—but also how it relates to the human condition.
With the premiere of season two, we are left with each of the main characters in substantially different positions of influence: Brody is filling the shoes of a Congressman because of a scandal, and Carrie is living with the disappointment of being fired from the CIA, while slowly progressing from the disorder that absolutely paralyzed her at the closing of season one.
At the beginning of the premiere, Carrie sifts through the garden at home almost expressionless. This is vastly different from the last time we saw her: receiving jolts of electroshock therapy in an emotional scene that was difficult to watch. I wanted to look away, but the flashback clips of her and Brody connecting were far too powerful. The most painful part wasn't watching her physically in pain; it was the mental torture of knowing that she was right about Brody.
The Carrie we see now is very different. She is calm and peaceful in the bosom of her family, protected from all the anxiety and harshness that the CIA had exposed her to. Well, at least for the time being. Let's be realistic though, Carrie is a natural-born operations officer; she's intelligent, decisive and knows how to get what she wants. Only a short six months later, her life has changed into grading papers and distancing herself from her past—including Brody.
There was a noticeable stillness to the approach of the season premiere though, something we were not used to in the previous go-round. This storyline has essentially started fresh, instead of kicking the door down and asking for our undivided attention. Due to the slowdown, there were some absolutely beautiful moments that cannot be ignored, like the burying of the desecrated Quran with Brody and his daughter Dana. Very little is said between them but so much is understood. Is she the only person that isn't trying to mold him with an agenda in mind? Abu Nazir, his wife, the Vice President— everyone has plans for Brody and he's merely shedding the one thing that was truly his own: his Muslim faith.
Meanwhile, David Estes has offered Carrie a three-day mission to the Middle East to track down an informant who will only share information with her. (He is painfully clear in mentioning that this is not her getting her job back). The informant has info on an attack against America, leaving Carrie as the individual for the task. During her prep at a safe house, it's apparent that Carrie is not as sharp as she's been—lithium is one hell of a drug. I can't help but wonder if we'll soon get another dose of her without a dose of it.
At the end of the premiere, we see a blip of the old Carrie as she eludes a man while en route to meet up with Saul. During the chase scene, Saul tells her to ditch the phone and give herself up. Did you really think that was going to happen? Just a small taste of that old life has her showing resistance and following her instinct. She is cornered by the man but catches him by surprise, knocks his gun away and runs off unscathed with her first smile of the series. Yes, she belongs in the CIA, folks. I couldn't help feeling a small victory for her.
Others Tagged With