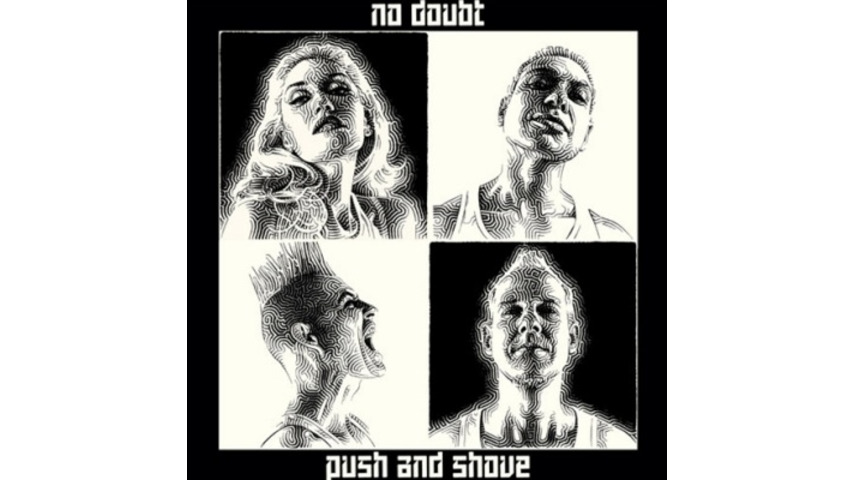 It's been over a decade since we last heard from the glitzy pop fiends in No Doubt—and a lot's changed in the interim: The music industry has tanked, and the kind of buzzy electro-tinged pop the band perfected on 2001's stellar Rock Steady is now a predictable Top 40 standard. So it comes as no shock that No Doubt swings for the fences on their sixth album, Push and Shove, exploding through synthy arena-pop ballads, synthier arena-pop ballads and amplified forays into dance-hall reggae. No time for subtlety—another sing-along chorus is always just around the corner.
In today's age of fake pop divas like Katy Perry, it's a pleasure simply to be in the company of Gwen Stefani, who's back in the game after having a couple babies and generally being sexy in every other TV commercial. Her sugary vibrato is still sharp as ever, and she hasn't lost an ounce of charisma. But No Doubt has always been more than a platform for a gifted frontwoman, a fact Push and Shove seems to forget at times, downplaying the band's fluid chemistry in favor of soaring hooks and "cranked to 11" dynamics.
That being said, the pop bombast has its undeniable pleasures: "Looking Hot" is about as deep as a sidewalk puddle, but it's silky smooth, Stefani boasting, "Do you think I'm lookin' hot (…) / Go ahead and stare, and take a picture please if you need" over lazy brass lines and cushy synth runs. "Undercover" thrives on Tom Dumont's silky guitar chords and Tony Kanal's unrelenting bass, but the chorus might as well be all Stefani, romancing the hell out of a hook that refuses to stop squiggling.
But Push and Shove works best when the band actually pushes and shoves. "Settle Down" opens the album with a tease of Indian orchestration, before synths give way to a light Afro-pop groove (with Kanal adding perky slap-bass accents), eventually dissolving into a dubby instrumental coda built on Adrian Young's crackling, jazzy snare rolls. Meanwhile, closer "Dreaming the Same Dream" actually offers Young some breathing room to explore his kit, while synth-strings circle beneath a skyrocketing Dumont guitar solo.
Pound for pound, all of these ideas were better represented on Rock Steady, a weirder, more eclectic album that unfolded at a more leisurely pace and never strained as hard for the Big Moments. But Push and Shove is still a welcome return, even if it's a tad exhausting.
Others Tagged With