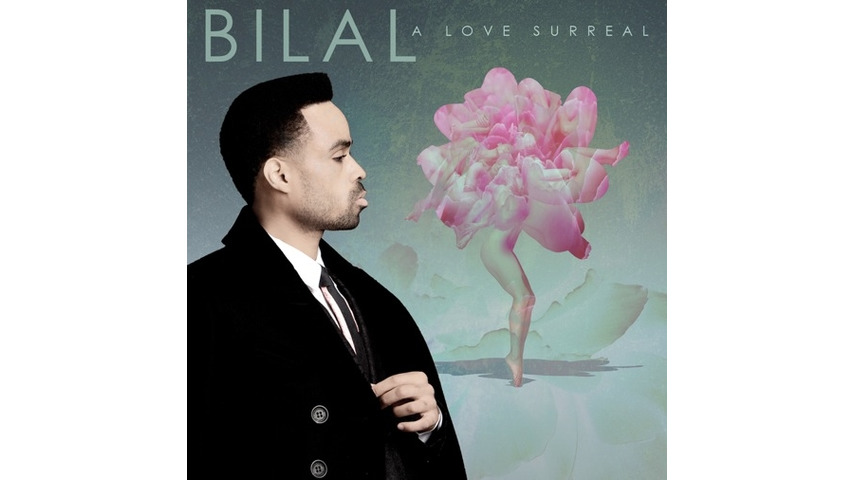 Released a full nine years after his 2001 debut album 1st Born Second—a trying period defined by a failed battle with his label to release what would have been his second album—Bilal's 2010 record Airtight's Revenge captured the neo-soul singer on the edge. With no career left to lose, Bilal unleashed a splatter of raw emotions, weighing in on big themes of relationships, religion and identity as if each song had to stand as his final thoughts on the matter. Unnervingly tense, it was the work of an artist who was no longer taking anything for granted.
His follow-up represents a necessary leveling out. Trading the burning existential concerns of its predecessor for a narrower focus on matters of the heart, A Love Surreal is the singer's mellowest, most unhurried album by a distance, yet it's no less compelling for that lighter touch. Bilal was always the most jazz-indebted of the first-generation neo-soul singers, and he makes those roots clear throughout the record, throwing his whole body into the chilling torch song "Slipping Away" and showcasing his upper register on "Butterfly," a supple, elegant duet with pianist Robert Glasper. The two longtime collaborators could probably make a marvelous traditional jazz record someday, but for now, Bilal is too interested in exploring the fringe applications of jazz to commit himself to the genre exclusively. He recycles Biggie's "Party and Bullshit" chant on the seedy jam "Climbing," lets his libido drift à la Prince on "West Side Girl," and channels a more strung-out strain of funk on "Astray."
With its heady, post-Dilla hip-hop thump and periodic psychedelic drift, A Love Surreal is unmistakably a neo-soul record, but it's not saddled with the heavy ambitions that characterize the genre's touchstone works. First and foremost, it's a sessions album. For the first time in his career, Bilal no longer sounds like an artist with entirely too much to prove; he's just a great singer, backed by great players he puts to good use on a set of sticky, deceptively inventive songs. The low stakes become him.
Others Tagged With