Comedy Bang! Bang! Review: "Aziz Ansari Wears A Charcoal Blazer" (Episode 2.02)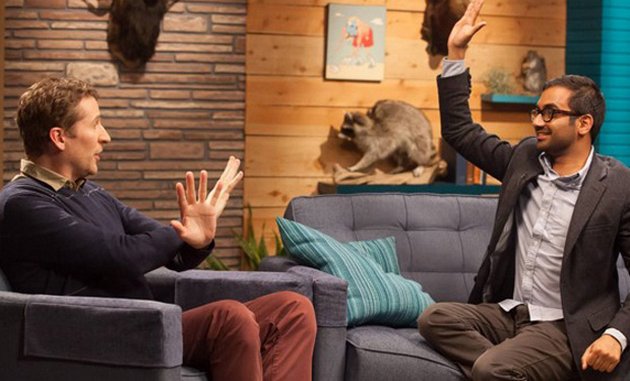 Comedy Bang! Bang! as a TV show has such a delicate balance it has to maintain. On one hand, CBB is a beloved podcast, filled with insane characters and host Scott Aukerman's unusual brand of humor. Yet the TV show has much more going on, with little side skits and weird tangents, in addition to everything the podcast has. The show's second episode of the second season, "Aziz Ansari Wears A Charcoal Blazer," is a perfect example of Comedy Bang! Bang! really nailing its voice on TV.
At the beginning of the episode, it turns out that Scott has a cold. He could just fight through drowsiness, but a trio of medics, played by Christopher Meloni, Echo Kellum from the canceled-too-soon Ben and Kate and Scott's real-life wife Kulap Vilaysack, must shrink down and attack Aukerman's sickness from the inside.
One of my favorite things that Comedy Bang! Bang! does so well is to give actors who are mostly thought of as serious a chance to take a stab at comedy. It's on CBB that Jon Hamm gave fans one of their first hints that he could be funny, or even give Lance Reddick a chance to laugh as he did on last week's episode. It's great to Christopher Meloni do comedy, after hilarious turns in Wet Hot American Summer and Wonder Showzen, and Kellum and Vilaysack are quite fun as his crew as well.
The guest this week is Aziz Ansari, who plays his part much more timidly than expected. The discussion of Ansari's parents' business feels like the most improvised part of their talk and most like the freeform one-on-one interviews that start most of the podcasts. Ansari's revelation that he's working on the Emoji movie makes hilarious use of post-production additions and Cedric Yarborough as Aziz's bodyguard is just the sort of wacky character that plays much better on TV than it ever would on the podcast.
"Soap or Dope" is a great game that Aukerman plays, where he watches to see if people leaving the bathroom wash their hands or not. Of course there's much more to it than that, like when a woman has to use her hand to wipe, or when a ghoulie escapes a toilet, but it's this type of escalating weirdness that shows Aukerman's reverence for the humor of David Letterman.
But as with most episodes of CBB, the highlight is the insane special character guest who appears. This time it is podcast favorite Fabrice Fabrice, played by Nick Kroll. It's sort of surprising how underutilized Fabrice was on Kroll Show, so it's great to see him getting more screen time here. Fabrice is a craft service worker who got his start catering for That's So Raven and has gone on to work for Lost—where he served the smoke monster miniature Snickers and cheese snacks—and now CBB. But the highlight of the episode may be Fabrice and Aziz's interactions, when Aziz asks Fabrice if he wears purple camo because he plans on fighting Grimace. This leads Fabrice to explain that he wears purple because of his favorite football team, the Baltimore Ravens, which he believes is made entirely of Raven-Symones, making Aziz break right before the cameras cut. It's these types of fantastic moments you won't get from any other show.
Others Tagged With