A Brief History of Coffee and Booze
Page 2 of 3
Kahlua
Kahlua got its start when the Alvarez brothers got local businessman Señor Blanco to add their recently harvested coffee beans to a liquor Blanco was already developing. The famed Mexican coffee-and-sugar-cane spirit was first invented by Blanco in 1930, then later altered by chemist Montalvo Lara and has been manufactured in Mexico since 1936.
Kahlua comes from simple beginnings but the manufacturing process isn't simple at all. After harvesting both the cane and coffee from Veracruz, Mexico, the coffee beans are dried, de-husked and aged for half a year, at which point the beans are roasted, ground up and brewed. The sugar cane spirit featured in Kahlua is produced after the cane has been harvested, crushed and juiced. The cane juice is then reduced to form a molasses to which water and yeast are added to ferment the mixture to produce the alcohol content in Kahlua. Afterwards, the resultant cane spirit is combined with the brewed coffee extract, caramel and vanilla. After resting for eight weeks, the Kahlua is then filtered, bottled and finally ready for consumption.
A nod to coffee's Arabic origins, the name "Kahlua" is actually derived from the word "kahwa", which is Arabic slang for coffee. Today, the coffee-flavored cane spirit is drunk at a rate of two million cases a year in 150 countries around the world.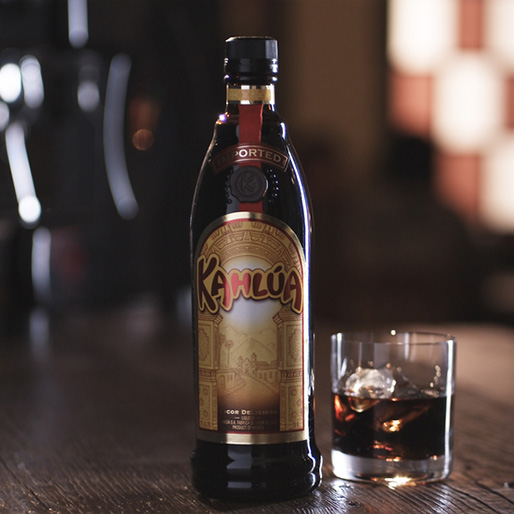 Allen's Coffee Flavored Brandy
Unlike Kahlua, Allen's Coffee Flavored Brandy isn't a worldwide phenomenon. Made of Brazilian coffee extracts and brandy, its success stems from a small but extremely loyal following curiously centralized in Maine.
Though known as the "Champagne of Maine," Allen's Coffee Flavored Brandy actually hails from Somerville, Mass., as a product of the family-owned spirit company M.S. Walker. While the company website touts the brandy's strong coffee flavor and lack of "additional sweetness," David A. Fahrenthold of The Washington Post once wrote that "it coats the tongue with syrupy sweetness."
As Allen's has been the top-selling spirit in Maine for over 20 years, it's no wonder M.S. Walker has been able to boast of the beverage's ability to "span generations" and that its reach extends to "all regions of the state from fishing villages to downtown Portland."
Despite Facebook groups dedicated to it and its role in signature cocktails like the Sombrero, you'd be hard-pressed to find it anywhere else other than Maine, where they drink more than a million bottles each year. As a result, the 60-proof liquor also gets listed by name in local police reports in substance-abuse-related incidents, according to the Bangor Daily News.
Remember that dark side of booze we mentioned? Turns out even a seemingly mild-mannered coffee brandy like Allen's can bring that side out of someone, just like any other hard liquor.
Irish Coffee
No discussion of coffee and booze would be complete without mentions of the two most iconic cocktails that feature this classic mixology combination: Irish coffees and the Dude-approved White Russian.
The original recipe for an Irish Coffee was invented in 1943 by chef Joe Sheridan of what was then a restaurant housed within Ireland's Foynes Flying Boat Terminal. On a cold night in 1943, Sheridan, asked to serve "something warm" to flight passengers who had just landed, invented the Irish Coffee: a combination of coffee, brown sugar, Irish whiskey, and lightly whipped cream, that is served, according to the Foynes Flying Boat Museum, in a pre-warmed glass which is then filled with a teaspoon of brown sugar, Irish whiskey, black coffee, all to "within 1cm of the brim [of the glass]." After that, "lightly whipped cream" is added on top of the coffee "over the back of a spoon so that it floats on top of the coffee." The museum goes on to note that the cocktail should not be stirred, but rather the coffee/whiskey mixture should be drunk "through the cream."
White Russian
The origin of The Dude's signature cocktail actually lies within the story of another coffee cocktail, the Black Russian. According to Liquor.com, the Black Russian was invented in the late 1940s by bartender Gustave Tops of Brussels' Hotel Metropole as a signature drink for the then-American ambassador to Luxembourg, Perle Mesta. The Black Russian is basically vodka and the inky-dark Kahlua. Hence the name, Black Russian. The White Russian, as consumed by The Dude, was invented later, sometime in the 1960s, with the addition of cream (or milk) to the vodka/Kahlua base.

Already smacking your lips at the thought of imbibing those classic cocktails? Well, hold on we've got three more recipes to tantalize your tastebuds and help you get your buzz on in more ways than one.
1. Spiked Thai Iced Coffee *
Our spiked Thai Iced Coffee is a combination of two recipes: Saveur's (virgin) Thai Iced Coffee and the spiked version by food blogger Rachael White of SetTheTable. Both recipes use coffee and condensed milk as is tradition in Thailand, but we added the 2% milk to cut the cloying sweetness of condensed milk. And of course, as suggested by White, we spiked our Thai Iced Coffee with vodka.
Per glass, you'll need:
1 cup of brewed coffee (chilled)
¼ cup (2 oz.) of sweetened condensed milk
1.5 oz. of milk
Ice cubes
About 2 oz. of vodka
To assemble:
Fill a glass halfway with ice. Stir condensed and regular milk together in a bowl and chill in refrigerator for about an hour. The order you pour will result in a different look. We poured the milk mixture first, then the vodka and then the coffee over the back of a spoon that sits on top of the glass to ensure that the coffee floats on top as a distinct layer, not mixing with the milk. Once you're ready to drink it, just stir the layers together and enjoy.
Others Tagged With