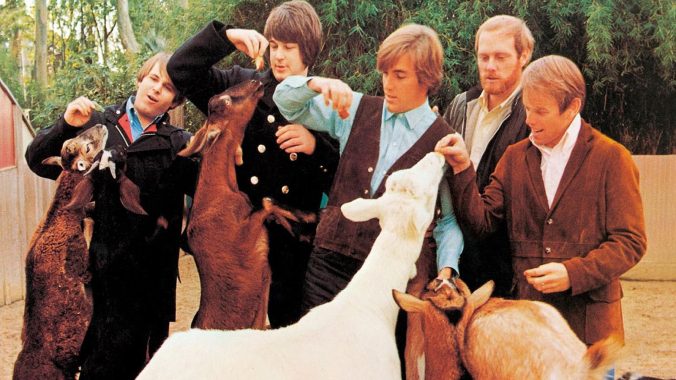 60 years ago this year, the Beach Boys released "Surfin' U.S.A.," and it would become their first #1 hit in the United States. In the years that followed, the Hawthorne, California-born band—Brian Wilson, Carl Wilson, Dennis Wilson, Al Jardine, Bruce Johnston, Mike Love and others over the years—would release some of the greatest songs and most compelling projects in all of rock 'n' roll. Notably, in 1966 they made Pet Sounds, the greatest American record ever created. Spear-headed by Brian's uncompromising and relentless (and sometimes destructive) genius, the Beach Boys went from singing about surfing, girls and cars to making dynamic, layered concertos about loneliness and the American frontier.
Though the Beach Boys haven't struck gold since "Kokomo" in the 1980s, they still tour and their music awes every generation it hits. And, with a new book just announced, it feels like a perfect opportunity to revisit the surf-rock pioneers' catalog. To celebrate six decades of the one of the greatest rock bands to ever exist, we're ranking most immortal creations. From "Sloop John B" to "Help Me, Rhonda" to "God Only Knows," here are our picks for the 25 greatest Beach Boys songs of all-time.
---
25. "All Summer Long"
Not to be confused with the horrible Kid Rock song of the same name, "All Summer Long" was the Beach Boys' underrated track on their 1964 album of the same name. Made famous with its inclusion at the end of American Graffiti in 1973, "All Summer Long" is a pretty buoyant, cheerful ode to, as its title clearly suggests, summer. Brian brought in a marimba and it works so beautifully here, as the Beach Boys chronicle fleeting innocence and a seasonal romance. "Every now and then we hear our song," the band harmonizes. "We've been having fun all summer long."
Album: All Summer Long
Year: 1964
24. "Sloop John B"
A magical adaptation of a Bahamian folk song originated in Nassau, Brian's rendition of "Sloop John B" arrives like a trippy, psychedelic piece of meandering, gonzo journalism. "This is the worst trip I've ever been on," Love sings. With instrumentation like a marching band, featuring flutes, a glockenspiel and saxophone, "Sloop John B" is not just a fixture of Pet Sounds but one of its brightest inclusions. Al Jardine is, apparently, the motivating force behind Brian trying his hand at giving the classic sea shanty a modern translation, and thank God he offered up his input—"Sloop John B" is a masterpiece.
Album: Pet Sounds
Year: 1966
23. "I'm Waiting For the Day"
You could, realistically, put every song from Pet Sounds on this list. But, there's something truly special about "I'm Waiting For the Day." It's beautiful and relentlessly sorrowful. "I'm waiting for the day when you can love again," Brian opines. The only two Beach Boys credited on the track are Brian and Love, as the composition leans on the Wrecking Crew's playing—especially a perfect, snaking piano riff from Al de Lory at the genesis of the runtime. With orchestral strings from the Sid Sharp Strings, "I'm Waiting For the Day" is a full-bodied movement, a prime example of how much of Pet Sounds was Brian's first real solo foray.
Album: Pet Sounds
Year: 1966
22. "Please Let Me Wonder"
The Beach Boys Today! will always live in the shadow of Pet Sounds, but, in many ways, it holds up just as perfectly. It was there that Brian was experimenting with the rich, complex, orchestral sound he'd fully embellished on his 1966 masterpiece, but, on Today! a year prior, he so aptly blends those aspirations with the doo-wop surf-rock the Beach Boys made infamous. A song like "Please Let Me Wonder," which was merely a B-side to "Do You Wanna Dance?," is pure pop majesty. With Brian helming lead vocals, Carl's 12-string lead guitar shines in unison with Glen Campbell's acoustic copy, and the sans-Hal Blaine Wrecking Crew offer one of the lushest backing tracks in all of the Beach Boys' pre-Pet Sounds catalog.
Album: The Beach Boys Today!
Year: 1965
21. "Do It Again"
What makes "Do It Again" such a fun song is how it lovingly calls back all of the beach imagery that made the band so popular in 1963. Released in 1969 as the opening track on 20/20, "Do It Again" was inspired by a day Mike Love spent surfing at the beach. Brian has noted that he thinks the song was the best thing he and Love ever worked on together. "With a girl, the lonely sea looks good," Love sings. "Makes your nighttimes warm and out of sight, been so long." As doo-wop inspired harmonies from the entire band come rushing in behind Love, you can see the flickers of the Beach Boys that took over America five years prior. It's a beautiful sight to behold.
Album: 20/20
Year: 1969
20. "Surfin' U.S.A."
It's the song that, really, started it all for the Beach Boys. Their first #1 hit in America, "Surfin' U.S.A." helped transform the country's cultural understanding of surf culture. With a lyrical cache of about two-dozen surf spots, the Beach Boys made the world of Southern California seem like an oasis folks from all over the world could migrate to and find their own forever in. As the song suggests, surfing wasn't just a culture but a way of life in 1963 for the boys from Hawthorne. There's been a lot of debate over the years about just how much surfing the Beach Boys actually did, but, if there's one sure thing, it's that "Surfin' U.S.A." is one of the catchiest pre-Beatlemania tracks ever written. "If everybody had an ocean" still feels like a picturesque daydream we're all chasing 60 years later.
Album: Surfin' U.S.A.
Year: 1963
19. "Feel Flows"
The only song on the list written by Carl Wilson, "Feel Flows" is a great prog-pop track of non-sensical lyrics set to an airy, piano-based arrangement. Carl himself plays a Baldwin organ, Moog synth and pianos with taped strings, while Brian and Bruce Johnston provide backing harmonies. No other Beach Boy is on the track, but they don't need to be. "Feel Flows" is one of Carl's greatest feats, rivaling his singing on "God Only Knows." It's a pretty experimental track that feels perfectly in-tune with Brian's own shape-shifting pop leanings and, on an odds-and-ends record like Surf's Up, not a lick of "Feel Flows" arrives out of place.
Album: Surf's Up
Year: 1971
18. "Cabinessence"
"Cabinessence," the closing track on 20/20, was written by Brian and Van Dyke Parks as a "freeze frame of the Union Pacific Railroad." The song attempts to become its own microcosm—and it drifts in and out of numerous sonic landscapes. The Wrecking Crew provide a definitive, unparalleled background set, while Love performs lead vocals and the rest of the band take turns "doing-doing" and harmonizing through the chorus. "I want to watch you, windblown, facing waves of wheat for your embracing," Love sings. "Folks sing a song of the grange, nestle in a kiss below there. The constellations ebb and flow there, and witness our home on the range." It's a really wonderful feat of language from Brian, who really was building an unparalleled world on Smile before it was abandoned. The 20/20 overdubs largely keep Brian's original vision intact, and it remains a singular feat in the Beach Boys' catalog.
Album: 20/20
Year: 1969
17. "California Girls"
Though its subject matter might be too on the nose even for the Beach Boys and their stereotypical Pacific Ocean imagery, "California Girls" was one of the last California-centric tracks they wrote and released before Pet Sounds changed the band's trajectory forever. Written in response to traveling the world far and wide and seeing a bunch of beautiful women, Brian was, supposedly, inspired to write "California Girls" while tripping on LSD. Mike Love sings lead, while the rest of the boys harmonize some really slick "ooh-wah"'s behind him. "I've been all around this great big world and I've seen all kinds of girls," Love sings. "Yeah, but I couldn't wait to get back to the States, back to the cutest girls in the world." If you write a song and the Beatles parody it, you must be doing something right.
Album: Summer Days (And Summer Nights!!)
Year: 1965
16. "I Just Wasn't Made For These Times"
Co-written with Tony Asher, "I Just Wasn't Made For These Times" is an epic ballad from Brian. Shouldered by a melodic bass guitar and an Electro-Theremin solo, the song is a brutally blunt portrayal of melancholia by Brian, who sings "Sometimes I feel very sad" while the band harmonizes the line "Ain't found the right thing I can put my heart and soul into" behind him. It feels like an apt commentary on the rigors of musicianhood, and perhaps it was Brian's own diaristic approach to his decision to stop touring and work exclusively in the studio. Either way, that theremin solo is heavenly, and Brian's vocal layering adds a rich, complex depth to an already emotionally dense narrative.
Album: Pet Sounds
Year: 1966
15. "'Til I Die"
Written by Brian for the Surf's Up album in 1971 after threatening to drive his car off of the Santa Monic pier, "'Til I Die" is an existential crisis put to tape. It's one of the most-haunting songs the Beach Boys ever made, as the band harmonizes "These things I'll be until I die" over and over again until the track cascades into an ending. For a band that made a good living singing about girls, cars and waves, "'Til I Die" is a jarring departure that finds the Beach Boys knee-deep in their own mortality. It's a sharp careen into darkness, magnified by the church choir-esque vocal layering that Brian implemented on the final cut of the track. Spectral and damning, "'Til I Die" is unforgettable and unrelenting.
Album: Surf's Up
Year: 1971
14. "I Can Hear Music"
For all the flack you might toss my way for putting a cover song this high on the ranking, I implore you to consider how important this track was in the Beach Boys' world. It's common knowledge that Brian Wilson's favorite song of all-time is "Be My Baby," so hearing the band do this incredible, intoxicating rendition of the Ronettes' Phil Spector, Jeff Barry and Ellie Greenwich-penned "I Can Hear Music" is a full-circle breakthrough. Tucked into the tracklist of the largely forgotten 20/20, this is one of the few post-Pet Sounds songs where the band actually sounds stoked to be performing together. With Carl singing a perfect lead vocal, it's hard to argue with what he and a Brian-less version of the band put together. They were often, largely, unsuccessful in recording and releasing without their bandleader, but "I Can Hear Music" was a smash.
Album: 20/20
Year: 1969
13. "Big Sur"
Though it appears in a slower, ballad version on Holland, the version of "Big Sur" that arrived on the Feel Flows box-set reissue in 2021 is one of the most magical compositions in all of the Beach Boys' catalog. Written and sung entirely by Mike Love, "Big Sur" is a picturesque homage to the natural beauty of California's Central Coast wonder. "Big Sur, my astrology says that I am meant to be, where the rugged mountain meets the water," Love sings. "And so, while stars shine brightly and up above, fog rolls in through a Redwood grove. And to my dying fire, I think I'll add a log." It's a delicate, nurturing and kind ode to the state that made the Beach Boys so big. On top of that, it's the best thing Love ever made with his cousins, as their harmonies beautifully wrap around his vocals—all atop a sublime instrumental perfect for a seaside cruise.
Album: Holland
Year: 1973
12. "In My Room"
The Beach Boys—Brian Wilson, to be exact—long perfected the art of making sad, chart-hitting music. Their 1963 ballad "In My Room" hammers that truth home so well. With Brian singing lead and his band backing him up with a dainty melody, he croons about isolation and loneliness in ways that many pop and rock acts just could never match. "In this world, I lock out all my worries and my fears in my room," he sings. "Do my dreaming and my scheming lie awake and pray? Do my crying and my sighing laugh at yesterday?" Though it was a B-side to "Be True to Your School," it was a Top-10 hit in Boston, Seattle, San Francisco, Washington D.C., Houston, Minneapolis, Pittsburgh and Columbus. In one of those rare moments where it outshines its A-side, "In My Room" is of Brian's sweetest and greatest creations.
Album: Surfer Girl
Year: 1963
11. "I Get Around"
"I Get Around" was America's curbing of the British Invasion. As Beatlemania was raging, the Beach Boys were able to strike gold with a #1 hit amidst all the English fury. Combining surf-rock with energetic doo-wop and that California sound, "I Get Around" is a diaristic song written by Brian and Love about their newfound fame post-"Surfin' U.S.A." and it hauls major ass. With a B-side (doulbe A-side in our hearts) of "Don't Worry Baby," "I Get Around" is the poster-child for one of the greatest single releases in rock 'n' roll history. Love sings co-lead, while Brian applies a chorus falsetto lead behind him. It's a combination that is lights-out, and, with the Wrecking Crew behind them, "I Get Around" is a layered, edgy, warping pop record that still feels pristine 60 years later.
Album: All Summer Long
Year: 1964
10. "Caroline, No"
The closing track on Pet Sounds, "Caroline, No" is one of Brian's most-overlooked compositions ever. Detailing a lover who's lost heri innocence, the song is of longing and heartbreak and retrospect. "It's so sad to watch a sweet thing die," Brian vocalizes in a falsetto. Wrecking Crew drummer Hal Blaine famously plays a Sparklett water jug, while Brian's dogs Banana and Louie provide some barking atop a locomotive horn. Brian is the only Beach Boy credited on the song, making it a true solo endeavor that evokes a powerful, sprawling space of loneliness and loss. Pop and rock are not strong enough descriptors here, as the jazz chords Brian implements transcend any one or two labels. It's a story about watching someone grow up without you, and Brian's perfect, euphoric vocals make "Caroline, No" a truly one-of-a-kind masterpiece.
Album: Pet Sounds
Year: 1966
9. "Help Me, Rhonda"
Initially included on The Beach Boys Today!, a better, more-polished recording of "Help Me, Rhonda" appears on Summer Days (And Summer Nights!!), the second-to-last release before Pet Sounds. With Al Jardine on lead vocals, "Help Me, Rhonda" was a titanic hit, landing at #1 on the Billboard Hot 100 and finishing at #11 on the year-end chart. Larry Knechtel's Wurlitzer piano and Brian's Hammond B-3 organ are an earworm combination and lightyears better than the ukulele arrangement from Today!. Brian once said that "Help Me, Rhonda" was "one of the hits that Capitol [Records] wanted," and the Beach Boys delivered—knocking the Beatles' "Ticket to Ride" out of the top spot on the charts.
Album: Summer Days (And Summer Nights!!)
Year: 1965
8. "Surfer Girl"
Though their early years comprised mostly surfing, the Pacific Ocean, hot rods and drag racing, the Beach Boys' prettiest pre-Pet Sounds track was a love song. Though the validity is debated, Brian Wilson has claimed many times that "Surfer Girl" was the first song he ever wrote back in 1961—and it is, supposedly, inspired by his first serious girlfriend, Judy Bowles. Regardless of what the true story around it is, "Surfer Girl" is a timeless, affectionate tune that Brian based on a Dion and the Belmonts song called "When You Wish Upon a Star." With Brian's vocals wrapping around a light, splendid instrumental alongside his bandmates, he sings of some of the lushest, kindest mementos: "We could ride the surf together, while our love would grow. In my Woody, I would take you everywhere I go."
Album: Surfer Girl
Year: 1963
7. "Heroes and Villains"
Initially conceived by Brian and Van Dyke Parks for Smile, "Heroes and Villains" is an archival of early California history that finds the band weaving in and out of overtures and acts like an opera. Just as inspired by the work of Marty Robbins as anything Phil Spector made, "Heroes and Villains" is one of those songs you can point to when trying to understand the storytelling prowess of Brian Wilson. "Fell in love years ago with an innocent girl from the Spanish and Indian home of the heroes and villains," he sings. "Once at night, cotillion squared, the fight and she was right in the rain of the bullets that eventually brought her down." Like other tracks on Smile, "Heroes and Villains" is a great narrative feat that reads like a short story. And with an orchestra of slide whistles, shakers, French horns, Danalectro bass and tack piano, it's a diverse, wayfaring, technicolor affair that holds up better than 90% of rock 'n' roll from the era it was birthed from.
Album: Smile
Year: 1966/67
6. "She Knows Me Too Well"
I think "She Knows Me Too Well" is Brian's pre-Pet Sounds opus. It's here that he shines in an unequivocal way. A track on side two of The Beach Boys Today!, "She Knows Me Too Well" is this sorrowful glint of romance, jealousy and insecurity—one of the first songs that Brian wrote while stoned on weed. A sibling to "Don't Worry Baby," it's Brian's vocalizations on this track that really steal the show. As his brothers, Al Jardine and cousin Love harmonize around him, he careens into a falsetto that is of his purest, greatest moments. "When I look at other girls, it must kill her inside," he sings. "But it's be another story if she looked at the guys, 'cause she knows me so well, that she can tell I really love her." Jardine's bass-playing and Carl's lead guitar work in unison to send the doo-wop-inspired instrumental into one of the coziest, most-blissful tunes this side of Buddy Holly.
Album: The Beach Boys Today!
Year: 1965
5. "Wouldn't It Be Nice"
I don't think there's a Side-One-Track-One better than "Wouldn't It Be Nice." It's the tune that kicks off Pet Sounds, the greatest American rock record ever made—for that alone, it's an immortal classic. However, its power-pop roots and Wall of Sound-style arrangement makes it a truly unique and hypnotic song. The lyrics, which are, in true Brian Wilson fashion, melancholic, contradict the upbeat, joyous arrangement. It's a formula that was damn-near never-ending for the Beach Boys, and it shines particularly perfect on "Wouldn't It Be Nice." The story is reflective, with aspirations of growing older and into a freer romance, as Brian sings "Wouldn't it be nice if we could wake up in the morning when the day is new? And after having spent the day together, hold each other close the whole night through." It's innocent, depressing and catchy—what more could you ever need?
Album: Pet Sounds
Year: 1966
4. "God Only Knows"
To be Paul McCartney's favorite song of all-time is already an incredible feat; to be one of the greatest songs ever across the board is just icing on the cake. "God Only Knows," the morose, romantic ballad Brian penned with Tony Asher is baroque pop at its very finest. As tonal and introspective as "In My Room" "God Only Knows" signaled an immediate departure from surf-rock altogether. It's a subversive take on popular music's traditional idea of a love song, as Carl sings "If you should ever leave me, though life would still go on, believe me, the world could show nothing to me, so what good would living do me?" Employing suicidal signals and co-dependency, "God Only Knows" found the Beach Boys' digging into their deep, melancholic bag of tricks. Much like he did on "Don't Worry Baby," Brian mined through his own personal turmoil to forge a transcendent, timeless tune that remains a benchmark in pop architecture. Only a brilliant songwriter could assemble something like "God Only Knows," and thank goodness Brian Wilson answered the call.
Album: Pet Sounds
Year: 1966
3. "Good Vibrations"
"Good Vibrations" is the greatest song on this list, no question. Its lasting imprint on rock 'n' roll cannot be understated, as it came out two months after the Beatles released Revolver and it blew everything on that album away. Some might argue it's one of the greatest compositions in the history of post-World War II music. With a cotorie of instruments that include (but is not limited to) bongos, sleigh bells, flutes, contra-clarinet, piccolo, harpsichord, theremin, jaw harp and timpani, it was ambitious and landed on its feet—but not without a laborious, expensive recording process. With reports of the "Good Vibrations" sessions costing nearly $75,000 (about $715,000 in today's money) in total, it's no surprise that Smile fell apart. It's been widely documented that Brian's perfectionism caused strife amongst the band. Love has said he did nearly 30 vocal overdubs of just one five-second part, while getting the dueling cellos outro correct was a particularly nit-picky ordeal for Brian. "Good Vibrations" became the band's biggest hit, though it did come at a cost. However, the creative and experimental alchemy of rock 'n' roll changed forever because of it.
Album: Smile
Year: 1966
2. "Don't Worry Baby"
I think there's an argument to be made that "Don't Worry Baby" is the greatest pop song ever written. I mean, it's immaculate from beginning to end. Even though it's about something as simplistic and niche as a drag race, the track's wonder arrives in Brian's immense, daring and revolutionary arrangement. With a key-change that'll leave you spinning, Brian initially offered the song to the Ronettes but producer Phil Spector refused it. Similarly structured as "Be My Baby," Brian tried to replicate Spector's Wall of Sound technique but wound up making his own singular masterpiece. "She makes me come alive and makes me wanna drive when she says 'Don't worry, baby, everything will turn out alright,'" Brian vocalizes. Ronnie Spector would, eventually, cover the track, but the original recording remains one of the most beautiful, kindest and radical songs ever composed. It's not just a Beach Boys classic; it's a rock 'n' roll benchmark.
Album: Shut Down Vol. 2
Year: 1964
1. "Surf's Up"
After 60 years of music and hundreds of songs, it's hard to imagine anything better than "Surf's Up," Brian opus from the Smile sessions that wound up with its own album in 1971. For our list, we are looking at the original composition that was meant to play a huge role in the follow-up to Pet Sounds. It's a meta take on enlightenment that chronicles a spiritual awakening. With a sequitir composed like a children's song, "Surf's Up" is one of the most unconventional songs in the band's career—and the one that channels Brian's vision better than any other. Interpolating a coda of "Child Is Father of the Man" (another Smile song), "Surf's Up" weaves across numerous tones and textures and is, wholly, perfect from beginning to end. With a title that cheekily winks at the Beach Boys' early years, it's a linguistic benchmark rarely rivaled. "The glass was raised, the fired rose, the fullness of the wine, the dim last toasting," Brian sings. "While at port adieu or die, a choke of grief, heart hardened I, beyond belief a broken man too tough to cry." It's as if Brian invented his own language, as he waxed poetic about a man finding meaning and labeling himself God. It's the closest thing we'll ever get to hearing Mozart in a contemporary setting. I don't think a rock 'n' roll musician has ever been closer to immortality than when Brian made "Surf's Up."
Album: Smile
Year: 1966/67
---
Listen to a playlist of these 25 songs below.