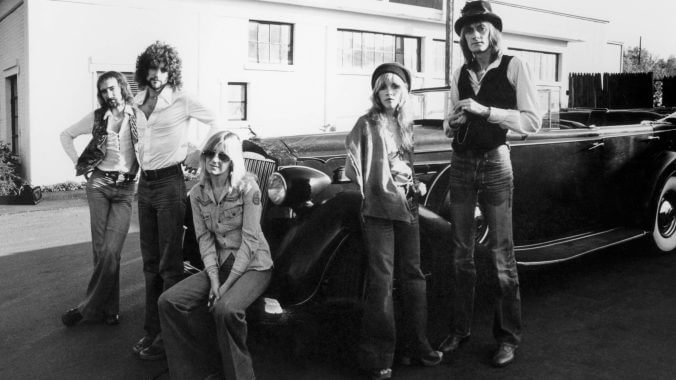 In 1967, Fleetwood Mac was formed in London by Peter Green , Jeremy Spencer and Mick Fleetwood as a blues group. 56 years later, and the band has transformed into one of the single greatest rock 'n' roll acts in music history. Much of that is because of the core Fleetwood Mac lineup, which comprised English musicians Fleetwood, John McVie and Christine McVie and American singer/songwriters Stevie Nicks and Lindsey Buckingham, beginning in 1975. We'll never see that lineup again, because Buckingham left the band for the last time in 2018 and McVie passed away in 2022. But Nicks continues to tour and play her greatest hits from her time with the band, while John and Fleetwood are still active members.
Beginning in 1975 with their self-titled album and ending with Tango in the Night in 1987, the band released five incredible rock records packed with some of the best songs ever written. Their 1977 album Rumours is largely considered one of the greatest albums made since popular music took off 70 years ago. Much of the band's greatest work germinated when all five of them—amid intermingled affairs, divorces, breakups and general viciousness—hated each other so much that they couldn't stand to record their parts together in one room. Much of what Fleetwood Mac accomplished in the 12 years they were at their apex feels mythical in retrospect. Five of the greatest musicians in the world couldn't find ways to love each other beyond the music, but what they gave us will endure long after all of us are gone. Paste originally made this list in 2014, but it felt like it was high-time for a cultural reassessment of the band's catalog.
So, without further ado, from "Little Lies" to "Rhiannon" to "Go Your Own Way" to "Gypsy," here are the 30 greatest Fleetwood Mac songs of all time, ranked.
---
30. "Monday Morning"
The opening track from the first Fleetwood Mac album with Lindsey Buckingham and Stevie Nicks in the band, "Monday Morning" is a bright, bold first offering from Buckingham. Initially meant for a second Buckingham-Nicks album, "Monday Morning" wound up becoming the very first entry in the iteration of the band that would become global superstars. Bassist John McVie feared the song was too harsh a detour from the blues rock he and drummer Mick Fleetwood had perfected with guitarist Peter Green nearly a decade prior. "Monday Morning," however, was the pop rock rewrite the band desperately needed.
29. "Little Lies"
Written by Christine McVie and her then-husband Eddy Quintela, "Little Lies" is a crucial part of Tango in the Night, Fleetwood Mac's big foray into pop in 1987. Like many of the big tracks on the album, Buckingham implements a Fairlight CMI synthesizer that absolutely transports the work into the echelons of 1980s mainstream masterpieces. The instrument puts a heavenly spin on each song, but none more so than "Little Lies," which spotlights McVie's singing—which was, likely, never meant for the highest pop stages but works flawlessly on the third single from Tango. When Nicks' backing vocals kick in, it damn near doesn't sound like a Fleetwood Mac song—and that's what, I think, is so cool about Tango altogether. Next to Rumours, the album doesn't make sense; but it's the route that radio-centric circles sent them towards—and they passed with flying colors.
28. "Albatross"
Written by Peter Green in 1968, "Albatross" is an incredible instrumental track released as a single by Fleetwood Mac in the early stages of their existence. Though Green's slide guitar performance is what shines brightest, it can't be understated just how perfect John McVie and Mick Fleetwood's rhythmic backing beats are here, too. It's one of the better fusions of psychedelia, country and lounge blues. Green was conjuring visions of Pete Drake and B.B. King, and the work was absolutely influential for the type of guitar-focused rock 'n' roll that players like Jeff Beck would continue to work out of for decades. Not the flashiest early Mac song by far, but it's one of the sweetest to revisit.
27. "Come a Little Bit Closer"
The last album recorded with Bob Welch and the final Fleetwood Mac record before Buckingham and Nicks entered the fold, Heroes Are Hard to Find is a mixed bag with some great highs. In all honesty, the album is held together by Christine McVie's unparalleled harmonies and keyboard work. The best song on the entire album is "Come a Little Bit Closer," which McVie herself wrote. At the time, the band was criticized for beginning to abandon their blues roots for poppier baroque visions that spoke to the current mainstream of the era, but Welch's guitar chords and McVie's piano-playing meld perfectly and "Come a Little Bit Closer" is one of the latter's finest songs ever. McVie would harness her star-power even more a year later on Fleetwood Mac, but what a gift it is to tap into the pre-Buckingham and Nicks years and find her stealing the show.
26. "What Makes You Think You're the One"
A stark, experimental detour from the massive, Earth-shattering successes of Rumours, Tusk should have been the outlier in Fleetwood Mac's catalog—but it wasn't, instead becoming their most ambitious and off-kilter release in the band's near-60-year history. A track like the Buckingham-penned, baroque pop ecstasy of "What Makes You Think You're the One" is a great example. The track, which is lo-fi enough that it sounds damn near like a demo, is perfect for Buckingham's ragged, drug-addled vocals and showcases a surprisingly sparse percussion performance from Mick Fleetwood—which was the result of him overdubbing much of Buckingham's snare-drum trackings (which he is said to have played, sometimes, on a Kleenex box). Any other band in the world wouldn't have been able to pull this track off, but Fleetwood Mac turned it into a rousing, weird earworm.
25. "Don't Stop"
One of the better-known songs from Rumours, "Don't Stop" is an upbeat pop rock song that strays greatly from the path of embittered, vicious lyricism that populates most of the album. "All I want is to see you smile, if it takes just a little while," Buckingham and Christine McVie harmonize together. "I know you don't believe that it's true, I never meant any harm to you." It's a needed pause from all of the vindictive brashness of what pieces of each bandmember's personal life seeped into the songwriting, yet it fits so perfectly into the world built within Rumours. I wish we'd gotten just as much of Buckingham and McVie singing together as we did him and Nicks, because "Don't Stop" is a cherry, shining moment in the band's catalog that should have been a #1 hit.
24. "Only Over You"
After the global popularity of Rumours and the experimental brilliance of Tusk, Fleetwood Mac took a turn back inwards towards a more chart-friendly rock 'n' roll with a pop bent. Mirage was a heavy juxtaposition to Tusk, but hit similar heights of reward. One of the most underrated songs off the record remains to be "Only Over You," Christine McVie's final song about Dennis Wilson—who she dated for three years between Tusk and Mirage. It's subdued keyboard pop that showcases McVie's airy high-note singing, as she laments for a bygone relationship that took on a new meaning of heartbreak after Wilson passed away a year later.
23. "Future Games"
The title track from Fleetwood Mac's fifth album, 1971's Future Games, is one of my personal favorites. I like to think of it as Bob Welch's greatest moment as a member of the band, as his vocal and guitar performance on "Future Games" is unreal and cosmic. The track is jazzy, sublime and salient. Welch adopts an airy falsetto that was certainly of the times, but it's a perfect component to the folk and R&B elements that the band was making great use of back then. John McVie has a great bassline on this track, too, further proof that he's one of the most underrated four-string players in all of rock 'n' roll history.
22. "Say You Love Me"
The final single from Fleetwood Mac, "Say You Love Me" is another perfect Christine McVie song that was a Top-15 hit in 1976. It's a pretty simple, upbeat pop rock track that's amplified by a relentless catchiness—due in part to Buckingham and Nicks' undeniable background harmonies in the chorus. Christine and John were still married, but the song suggests that their relationship was on the downswing (Rumours would solidify that notion two years later), and lines like "'Cause I don't wanna fall in love if you don't wanna try, but all that I've been thinking of is, maybe, that you might" cut significantly deep knowing that their romance would fall apart soon after. Not only does Christine give a great piano performance, but this is one of the grooviest Mick Fleetwood percussion outings in the band's catalog.
21. "Oh Well, Pt. 1"
You can't talk about the greatest Fleetwood Mac songs without considering their psychedelic blues rock masterpiece "Oh Well" from 1969. Penned by Peter Green, the track is a blistering guitar concerto that showcases Green, Kirwan, John McVie and Mick Fleetwood's impressive chemistry with each other. In the company of other bands like Led Zeppelin and Cream, Fleetwood Mac were taking all things blues, folk and hard rock and making them into the perfect, loud and entrancing fusion that has defined that era's sound. Though the first part of the song is only three minutes long, it surfs across so many different patterns and sonics that it'll leave you in a tailspin—but it's so magnificent and essential in the Fleetwood Mac cannon, and we couldn't check into this list without it.
20. "Second Hand News"
The opening track from one of the greatest British-American rock records of all time has got to be absolutely perfect—and "Second Hand News" more than fits that bill on Rumours. Buckingham wrote the track, and it remains one of his coolest, most upbeat numbers to this day. The story finds him coming to terms with how he failed in his relationship with Nicks and now ready to move forward. "One thing I think you should know," he sings, "I ain't gonna miss you when you go. Been down so long, I've been tossed around enough." Not to mention, the instrumentation on "Second Hand News" is some of the loudest and richest in all of the Fleetwood Mac catalog. Tapping into this earworm of a folk rock track is like tumbling into a dynamic ecosystem of compositional wonder. There's so much to discover behind Nicks and McVie's backing harmonies. Buckingham was inspired by the Bee Gees' "Jive Talkin'" and wanted to get Fleetwood Mac as close to disco as possible. "Second Hand News" wouldn't fit well in Saturday Night Fever, but it sure as hell can get anybody up on their feet.
19. "Big Love"
Buckingham had a big part in the assembly of Tango in the Night—and his greatest feat on the album was writing its opener, "Big Love." The song hit #5 on the Hot 100, which makes sense. It's one of the finest pop tracks Fleetwood Mac ever made together. It's got that big, mainstream rock sound and can still go toe-to-toe with any of the other hits of the era. Buckingham was originally going to release "Big Love" as a part of his third solo album, but he chose to put it on Tango instead. The original demo for the track was barely changed, and his combination of an explosive guitar solo with looping, glistening synth patterns is so delectable and massive.
18. "Never Going Back Again"
"Never Going Back Again" isn't just your guitar ballad; it's the quintessential showcase of Lindsey Buckingham's talents. He recorded the entire track himself—lyrics, arrangements, overdubs and all—and it's breathtaking from start to end. Narratively, it's not overly deep—it's, like all Rumours tracks, about the different stages of a romantic dissolution—but the heart of the song is within the plainspoken way Buckingham gets his point across. "You don't know what it means to win, come down and see me again," he sings after humming across the growing, plucked instrumental. I particularly like his singing on this one, too, as it shows his vocal prowess in ways that other Fleetwood Mac tracks just can't quite put on display.
17. "Everywhere"
A big, glittering stunner from Christine McVie, "Everywhere" is one of the most recognizable parts of Tango in the Night—and for good reason. That record was, effectively, Christine's bright, shining moment in the sun, because she had a better grasp on pop music vocals than her four bandmates. "Everywhere" went 4x platinum and peaked at #14 on the Hot 100—though the song's legacy has greatly outmuscled any chart position it garnered in 1987. The Guardian called the song "bulletproof pop songwriting," and I have to agree. It's a steadfast synth-pop masterpiece with that classic Fleetwood Mac rhythm behind the keys and Christine's heavenly, cosmic vocals. Produced by Buckingham and Richard Dashut, the whole song's engineering sounds crisp and brand new 36 years later.
16. "Hold Me"
The lead single from Mirage, "Hold Me" is just as enchanting now as it was 41 years ago. Put a pair of headphones in and get absolutely blown away by the vocal harmonies on this joint, specifically. It's unreal that Christine McVie and Buckingham turned their singing into an entire symphony. McVie wrote it with singer/songwriter Robbie Patton, and it is one of her finest moments. "I don't want no damage, but how am I gonna manage with you? You hold the percentage, but I'm the fool payin' the dues," she sings in tandem with Buckingham, whose guitar solo is brilliant and complimentary to McVie's Yamaha CP30 electric piano. There's some fleeting and minor hope in the track, one that places a focus on having no one else to love and making due. Like damn near everything Buckingham produced for the band, "Hold Me" has a construction to it that will never age—and it's a big reason why Mirage deserves more love.
15. "Sara"
"You're the poet in my heart, never change, never stop" is one of my favorite lyrical moments in any Fleetwood Mac song. It's a beautiful song written by Nicks, who managed to sneak a few of her classic folk rock tracks into Buckingham's experimental world of Tusk. Though I do think Tusk is the band's underloved but brilliant Rumours follow-up, it's nice seeing how Nicks stuck to her guns and kept penning bangers. "Sara" started as a 16-minute demo and was trimmed down to six minutes for the album version, but I really wish we'd gotten a fully recorded version of that Pink Floyd-sized epic. The subject matter of the song has been widely debated. Nicks' ex-boyfriend Don Henley has said it's about their unborn child, while Nicks herself has said that it was partially inspired by Mick Fleetwood's wife Sara Recor. Either way, "Sara" is a pseudo-ballad that deserves so much more love. Nicks sings so beautifully here, and Buckingham's acoustic guitar accompaniment is especially delightful and sublime.
14. "You Make Loving Fun"
All across Rumours, we get great, uncomfortable and mesmerizing depictions of romantic fallout. The album is completely built off of personal strife. Yet, one of the best moments of the album (and one of the great "fuck you" moments in all of music history) is when Christine McVie wrote "You Make Loving Fun," a celebration of the affair she was having with Fleetwood Mac's lighting director Curry Grant. To write and perform a song about the guy you were having sex while about to divorce your husband is an absolutely devastating power move—especially the lines "I never did believe in miracles, but I've a feeling it's time to try." To put "You Make Loving Fun" after "The Chain" on the tracklist is a spell-binding one-two punch that has never truly been replicated since. Oh, and Buckingham's guitar solo on the song is one of the best he ever fashioned while in the band.
13. "Landslide"
It's surprising that "Landslide" was not released as a single from Fleetwood Mac, given how the song has taken on a life of its own in the years since the album came out. It's pretty much the quintessential ballad of the 1970s, and, even more so, the quintessential moment in Nicks' career. Lately, she's been projecting a montage of her and the late Christine McVie behind her while singing the song live, which adds another layer to the already moving, heartbreaking message that "Landslide" has come to symbolize over the last 48 years. "Well, I've been afraid of changin,' 'cause I've built my life around you," Nicks sings. "But time makes you bolder, even children get older. And I'm getting older too." It's a particularly stirring portrait of growth and love, inspired greatly by her trying to figure out whether or not she should quit music and go back to school. "Landslide" has emerged as immortal in the years since its release, and everyone from the Smashing Pumpkins to Harry Styles to The Chicks have covered it beautifully—all because Nicks wrote a story so widely accessible and beloved that anyone anywhere can tap into and make it their own.
12. "Gold Dust Woman"
Few album closers have ever been better than "Gold Dust Woman," the resounding Stevie Nicks-penned stunner that serves as the coda to Rumours. The instrumentation is haunting and expansive, as everything from broken glass to electric harpsichord to cowbell found its way into the arrangement. The song's meaning is fluid, but the universal understanding is that it's about heavy drug use. Nicks had a knack for doing these incredible character portraits of occult-like figures, and "Gold Dust Woman" is just as mythical as anything else she's ever written. "Pale shadow of a woman, black widow," she sings, as the instrumental nosedives into a dark, monstrous coda. "Pale shadow, she's a dragon." The way the track fades in with the full band playing, it sounds like it's always been in your ear. When it all comes crashing down, you're never too certain "Gold Dust Woman" will ever leave you.
11. "Over My Head"
The second-best Fleetwood Mac song is such a doozy from Christine McVie. If my personal biases were allowed to take full control, this would be #1. There's something so relentlessly catchy and angelic about "Over My Head." It's a fantastical track that McVie penned about her relationship with Buckingham, and it became the band's first Hot 100 hit song in six years. In a discography packed aplenty with spiteful, cruel songs, "Over My Head" is a buoyant reprieve—a gorgeous calm before the volatile storm of Rumours. "I'm over my head, but it sure feels nice" is a line that feels universally perfect. Few emotions feel greater than being stupidly infatuated with someone so complex and mysterious yet remarkable. Christine McVie was born Christine Perfect for a reason.
10. "Seven Wonders"
Fleetwood Mac's 14th album, 1987's Tango in the Night, is, perhaps, their greatest and purest pop performance ever. Much of the tracklist came to be defined by Buckingham and McVie's implementation of synthesizers, and that's what makes the record stand out so greatly. Tango's second single, "Seven Wonders," was co-written by Nicks and her longtime collaborator Sandy Stewart and features an absolutely beautiful, ethereal Fairlight CMI performance from Buckingham that compliments Nicks' raspy, rapturous singing. A far-away deviation from the blues and pop rock Fleetwood Mac had made their calling card, "Seven Wonders" was a product of the 1980s that sounds as splendid now as it did 36 years ago. "If I live to see the seven wonders, I'll make a path to the rainbow's end," Nicks sings. "I'll never live to match the beauty again." Tango would go on to be the band's last great record.
9. "Storms"
I don't think any Fleetwood Mac song has grown on me more in my life than "Storms," one of the most brilliant acoustic ballads in the band's catalog. Nicks is on another planet here, delivering a graceful, magnetic and subdued portrait of grief and loss. "Every hour of fear I spend, my body tries to cry," she sings. "Living through each empty night, a deadly call inside." Nicks has always been a poet, but there's something particularly waxing and enchanting about "Storms," especially as the band's gorgeous, melodic and dreamy backing instrumentation bubbles behind her confident and worn-in vocals. "I have always been a storm" is one of the most heartbreaking moments in all of Nicks' career—and you can hear the pain in her voice when she sings it. "Storms" is a shining moment on Tusk, and a piece of the band's career that deserves so much more reverence than it gets.
8. "Go Your Own Way"
The existence of "Go Your Own Way" is a miraculous equation. All of the instruments were overdubbed, as none of the members recorded any of the tracks live together. It was made in three different studios from California to Florida during the Rumours sessions—and Buckingham wrote it in a rented Florida house between legs of their self-titled album tour. He's even gone as far as calling the track Fleetwood Mac's "Street Fighting Man," but I would dare to say that "Go You Own Way" is greater than the Beggar's Banquet song. It's Buckingham's portrait of his breakup with Nicks, and writing it was, supposedly, how he came to terms with their ending. That "Loving you isn't the right thing to do" opening remains one of the most plainspoken, heartbreaking intros in all of rock 'n' roll.
7. "Gypsy"
An early example of dream-pop (yes), "Gypsy" is such a beautiful, relentlessly catchy song that I'll never grow tired of. Initially conceived to be included on Nicks' debut solo album Bella Donna in 1981, "Gypsy" would wind up becoming the centerpiece of Mirage and become a definitive song in her oeuvre. It's believed that the song was greatly inspired by Nicks' reflection on the early days of her relationship with Buckingham, when the couple were making music together and living off of the money Nicks made from working two jobs. Before she performs "Gypsy," Nicks always tells the story of how she would, post-Rumours fame, ground herself by retreating to "her roots"—when she and Buckingham had to sleep on a mattress on the floor because they couldn't afford a bed frame together. "Gypsy" is splendid, dense and dynamic. Christine McVie's Hammond organ particularly shines on the track, Nicks' vocals dare to pierce through the stratosphere when she hits that choral vocal run two minutes in.
6. "Rhiannon"
The first career-defining song Fleetwood Mac ever assembled, "Rhiannon" was Stevie Nicks' first stroke of true brilliance during her time with the band. A portrait of a Welsh witch, Nicks made "Rhiannon" into this haunting rock cut pumped full of blues undertones and mythological storytelling. Pair Buckingham and Christine McVie's background vocals with John McVie and Mick Fleetwood's terrific and thumping rhythmic backbeat, and you've got one immense, beautiful and spectral masterpiece. "Rhiannon" never gets old, which is much attributed to the shape-shifting balance of Nicks' lyricism and the rest of the band's instrumentation. Both components are as timeless and they are catchy and hypnotic. Few rock tracks have ever sounded so beautiful on every single listen across a span of 48 years.
5. "Tusk"
The title track of Fleetwood Mac's 12th album, Tusk, is a stroke of experimental brilliance from Buckingham, who'd gotten really excited about post-punk and wanted to make his very own Talking Heads record. Granted, "Tusk" does not sound like anything David Byrne was making, but Buckingham was able to do something absurd and dissimilar to Rumours. At the time, Tusk was the most expensive rock album ever built. Buckingham wrote nearly half of the songs and commanded the blueprints of what the record would look like. "Tusk" employs the use of horns and woodwinds from the USC marching band, while Mick Fleetwood's percussion overdubs are so immense and front-facing all across the track. When Buckingham, Nicks and McVie all shout "Don't say that you love me! Just tell me that you want me!" together, it's unreal to hear play out. Not only is Tusk one of the most improbable detours a band has ever taken after making one of the greatest records of all time, "Tusk" is one of the best title tracks ever written.
4. "Dreams"
The only US #1 single Fleetwood Mac ever had, "Dreams" has become Stevie Nicks' signature song—and for good reason. "Dreams" is, well, perfect. There's a reason it's one of the few Mac songs Nicks still performs on her solo tours. Apparently, the rest of the band wasn't initially sold on Nicks' early demos of the track, with Christine McVie even calling it "boring." After Buckingham turned it into a three-section tune made up of similar chords, "Dreams" became the musical masterpiece we know it as today. It wasn't as upbeat and energetic as preceding single "Go Your Own Way," but it spoke greatly of Nicks' lyrical prowess. "Like a heartbeat, drives you mad in the stillness of remembering what you had and what you lost" is a sequence that still hits me like a ton of bricks every time I hear it. Listen to "Dreams" with headphones on; Buckingham's instrumental construction around the track is so intimate and captivating.
3. "Songbird"
Often overlooked in favor of the big hitters, like "Go Your Own Way" and "Dreams" and "The Chain," I think it needs to be said that Christine McVie's ballad "Songbird" is powerful enough to move mountains. After writing the song in just 30 minutes late at night, the story goes that McVie stayed awake until morning so she wouldn't forget the melody. She then recorded "Songbird" in an empty auditorium in Berkeley with 15 microphones. It's just her, a piano and Buckingham strumming an acoustic guitar nearby. It was the B-side to "Dreams" in 1977, but, in many ways, it is so much more powerful. "And I wish you all the love in the world, but, most of all, I wish it from myself," McVie sings in her beautiful mezzo-soprano, suggesting that, amid her divorce from John, a spark still endured.
2. "Silver Springs"
You can look at tracks like "Dreams" and "Gypsy" and "Rhiannon" and see how good of a songwriter Stevie Nicks is. But it's on "Silver Springs" where you can, for the first real time, viscerally hear how good she is. Initially a B-side to "Go Your Own Way" that was left off the final cut of Rumours, "Silver Springs" has endured as one of Fleetwood Mac's very best songs. It's the ultimate portrait of how tumultuous Buckingham and Nicks' breakup was. Despite arriving through a tender instrumental, the song is, arguably, the most scathing banishment in the history of music. "You'll never get away from the sound of the woman that loves you" is like a razor blade in language, and it cuts especially deep when delivered through Nicks' gravelly, passionate singing. You know what they say: Don't just write a "fuck you" song about your ex-boyfriend; make him play lead guitar on it, too.
1. "The Chain"
Though it doesn't have the chart-topping catchiness of "Go Your Own Way" or the mythological staying power of "Dreams," "The Chain" is, undoubtedly, the most badass and haunting song of all time. Written by all five members of Fleetwood Mac, there is an unbreakable sense of bitterness running rampant through the 4:28 runtime. Engineers Ken Caillat and Richard Dashut put the song together by splicing tapes, and the way it all came together still feels otherworldly and improbable 46 years later. The main connective tissue of the track, lyrically, is the dissolution of Buckingham and Nicks' relationship, but it's here where it hits heavier than on any other place on Rumours. It's the greatest song about fracturing romances ever assembled, and you can hear the vitriol in every single note.
Also, I will never skip out on an opportunity to share this recording of Fleetwood Mac performing "The Chain" in Los Angeles in 1982. It's the greatest live performance of any song I've ever seen. You can see the anger and spite and how it gets funneled into one of the most passionate displays of rock 'n' roll. Buckingham's guitar solo is especially searing. From John McVie's demonic bassline that separates the two acts of the song to Nicks, Buckingham and McVie harmonizing on their own villainy, "The Chain" is remarkable, damning and inimitable "If you don't love me now, you will never love me again" is a ruinous proclamation that arrives like a gut punch every time, without fail.
---
Listen to a playlist of the 30 greatest Fleetwood Mac songs below.