Hear Fleetwood Mac Perform Hits from Rumours, Released on This Day in 1977
The pop masterpiece turns 43 today
Photos by Rob Loud/Getty, Michael Kovac/Getty
Music
Features
Fleetwood Mac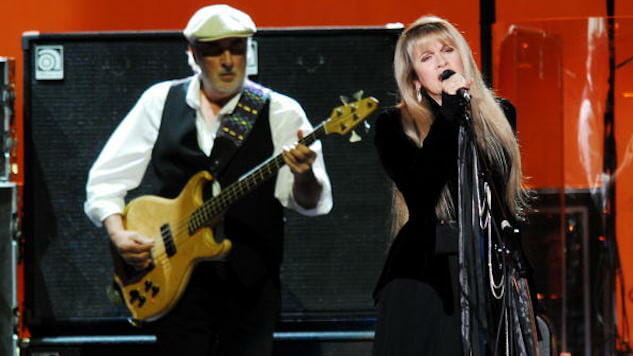 Fleetwood Mac's titanic Rumours is widely considered to be one of the greatest records ever made, and it's also one of the best-selling albums of all time. Today, the band's pop masterpiece turns 42.
On this day (Feb. 4) in 1977, Fleetwood Mac released Rumours, which they recorded throughout 1976 at the Record Plant in Sausolito, California. Four months later, in June of 1977, the entrancing, irresistible "Dreams" was already a certified hit, sitting at number one on the Billboard Top 100. And it's safe to say the album's popularity never wavered—its most recent iteration was a 35th anniversary reissue, which our writer concluded was somehow an improvement on "one of the warmest, richest recordings in the history of pop music." Rumours, perhaps more than any other pop masterwork, endures. After that album, Fleetwood Mac became international sensations, and they're still touring today.
Back in 2003, however, the original lineup was still in place when the band played twin shows at Boston's Fleet Center. Below, you can listen to them play such Rumours staples as "Dreams," "The Chain," "Never Going Back Again" and "Gold Dust Woman," plus around 20 more deep-cuts, on night one in Boston in September of 2003.
Again, you can listen to Fleetwood Mac perform Rumours hits below via the Paste vault. Further down, watch another archived Fleetwood Mac concert circa 1975. While you're at it, read our roundup of the band's best songs ever.