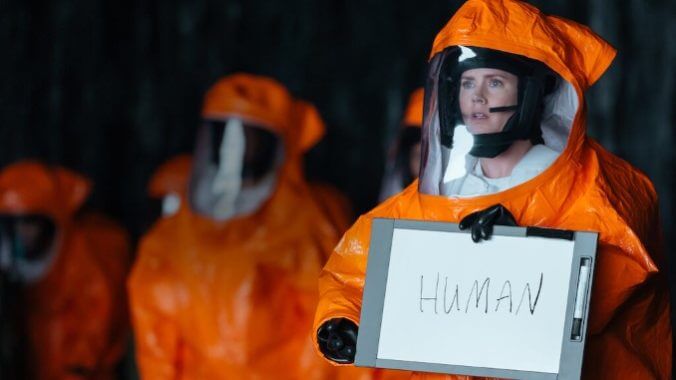 Science fiction is the favorite genre of many of us here at Paste. And Netflix has upped their sci-fi movie game over the last year and now includes several of our 100 Best Sci-Fi Movies of All Time. The catalog of streaming films is especially strong when it comes to 21st-century indie movies like Okja, Snowpiercer and The Mitchells vs. The Machines, while being supported by Netflix originals such as Project Power or The Platform. And maybe revisit David Lynch's Dune? It's an exciting time for speculative fiction, whether you're looking for alien arrivals, superheroes, space travel, technological dangers or imaginative glimpses at the future.
You can also check out all of our What to Watch on Netflix guides, updated each month.
Here are the 20 best sci-fi movies on Netflix:
1. Arrival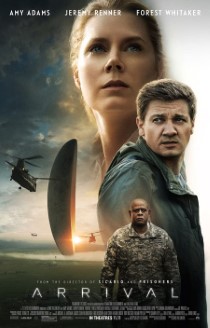 Year: 2016
Director: Denis Villeneuve
Stars: Amy Adams, Jeremy Renner, Forest Whitaker, Michael Stuhlbarg
Rating: PG-13
Runtime: 116 minutes
Your appreciation of Denis Villeneuve's Arrival will hinge on how well you like being led astray. It's both the full embodiment of Villeneuve's approach to cinema and a marvelous, absorptive piece of science fiction, a two hour sleight-of-hand stunt that's best experienced with as little foreknowledge of its plot as possible. Fundamentally, it's about the day aliens make landfall on Earth, and all the days that come after—which, to sum up the collective human response in a word, are mayhem. You can engage with Arrival for its text, which is powerful, striking, emotive and, most of all, abidingly compassionate. You can also engage with it for its subtext, should you actually look for it. This is a robust but delicate work captured in stunning, calculated detail by cinematographer Bradford Young, and guided by Amy Adams' stellar work as Louise Banks, a brilliant linguist commissioned by the U.S. Army to figure out how the hell to communicate with our alien visitors. Adams is a chameleonic actress of immense talent, and Arrival lets her wear each of her various camouflages over the course of its duration. She sweats, she cries, she bleeds, she struggles, and so much more that can't be said here without giving away the film's most awesome treasures. She also represents humankind with more dignity and grace than any other modern actor possibly could. If aliens do ever land on Earth, maybe we should just send her to greet them. —Andy Crump
---
2. Annihilation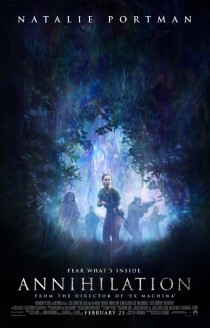 Year: 2018
Director: Alex Garland
Stars: Natalie Portman, Tessa Thompson, Jennifer Lason Leigh, Oscar Isaac, Tuva Novotny, Gina Rodriguez
Rating: R
Runtime: 115 minutes
Alex Garland's meditative adaptation of Jeff VanderMeer's novel Annihilation is perhaps not the first film you'd immediately associate with "Lovecraftian" horror, but it actually fits the descriptor quite well. The "Shimmer" itself seems deeply indebted to Lovecraft's 1927 story "The Colour Out of Space." As in Lovecraft's story, Annihilation sees a mysterious force of extraterrestrial origin fall to Earth, where it leeches into the countryside and begins to transform and warp reality around it, with one of the leading indicators being the otherworldly colors and visual distortion that spreads from the epicenter of what is essentially an alien infection. Annihilation takes a studious, philosophical perspective on the ramifications of entering such a zone, as biology grapples with the inherent spark of identity and humanity within all of us–it's perhaps a bit more cerebral than many of Lovecraft's works, but the influence is unmistakable. In particular, the film's ultimate depiction of the extraterrestrials strikes a very appropriate tone for Lovecraft, in the sense that the alien intelligence is portrayed as truly alien, rather than as human in some other guise. The consciousness encountered by the characters here is genuinely unknowable, totally outside of our capacity to grasp, which reinforces the Lovecraftian tenet of humanity's extremely meager understanding of our reality, and relative insignificance in the cosmic scheme of things. —Jim Vorel
---
3. Snowpiercer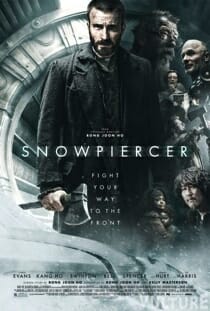 Year: 2014
Director: Bong Joon-ho
Stars: Chris Evans, Tilda Swinton, John Hurt, Song Kang-ho, Jamie Bell, Octavia Spencer, John Hurt
Rating: R
Runtime: 126 minutes
There is a sequence midway through Snowpiercer that perfectly articulates what makes Korean writer/director Bong Joon-ho among the most dynamic filmmakers currently working. Two armies engage in a no-holds-barred, slow motion-heavy action set piece. Metal clashes against metal, and characters slash through their opponents as if their bodies were made of butter. It's gory, imaginative, horrifying, beautiful, visceral and utterly glorious. Adapted from a French graphic novel by Jacques Lob, Benjamin Legrand and Jean-Marc Rochette, Snowpiercer is a sci-fi thriller set in a futuristic, post-apocalyptic world. Nearly two decades prior, in an ill-advised attempt to halt global warning, the government inundated the atmosphere with an experimental chemical that left our planet a barren, ice-covered wasteland. Now, the last of humanity resides on "Snowpiercer," a vast train powered via a perpetual-motion engine. Needless to say, this scenario hasn't exactly brought out the best of humanity. Bong's bleak and brutal film may very well be playing a song that we've all heard before, but he does it with such gusto and dexterous skill you can't help but be caught up the flurry. —Mark Rozeman
---
4. Okja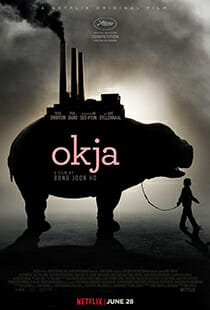 Year: 2017
Director: Bong Joon-ho
Stars: Tilda Swinton, Paul Dano, An Seo Hyun, Byun Heebong, Steven Yeun, Lily Collins, Yoon Je Moon, Shirley Henderson, Daniel Henshall, Devon Bostick, Woo Shik Choi, Giancarlo Esposito, Jake Gyllenhaal
Rating: NR
Runtime: 118 minutes
Okja takes more creative risks in its first five minutes than most films take over their entire span, and it doesn't let up from there. What appears to be a sticking point for some critics and audiences, particularly Western ones, is the seemingly erratic tone, from sentiment to suspense to giddy action to whimsy to horror to whatever it is Jake Gyllenhaal is doing. But this is part and parcel with what makes Bong Joon-ho movies, well, Bong Joon-ho movies: They're nuanced and complex, but they aren't exactly subtle or restrained. They have attention to detail, but they are not delicate in their handling. They have multiple intentions, and they bring those intentions together to jam. They are imaginative works that craft momentum through part-counterpart alternations, and Okja is perhaps the finest example yet of the wild pendulum swing of a Bong film's rhythmic tonality. Okja is also not a film about veganism, but it is a film that asks how we can find integrity and, above all, how we can act humanely towards other creatures, humans included. The answers Okja reaches are simple and vital, and without really speaking them it helps you hear those answers for yourself because it has asked all the right questions, and it has asked them in a way that is intensely engaging. —Chad Betz
---
5. Starship Troopers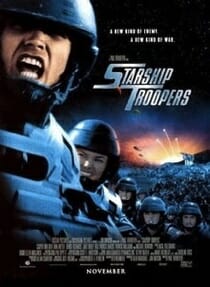 Year: 1997
Director: Paul Verhoeven
Stars: Casper Van Dien, Dina Meyer, Denise Richards, Jake Busey, Neil Patrick Harris, Patrick Muldoon, Michael Ironside
Rating: R
Runtime: 129 minutes
Glistening agitprop after-school special and gross-ass bacchanalia, Paul Verhoeven's Starship Troopers delights in the ultraviolence it doles out in heavy spurts–but then chastises itself for having so much fun with something so wrong. Telling the story of a cadre of extremely attractive upper-middle-class white teens (played by shiny adults Casper Van Dien, Denise Richards, Nina Meyers, Jake Busey and Neil Patrick Harris) who get their cherries popped and then ground into hamburger inside the abattoir of interstellar war, Verhoeven cruises through the many tones of bellicose filmmaking: hawkish propaganda, gritty action setpieces and thrilling adventure sequences, all of it accompanied by plenty of gut-churning CGI, giant space bugs and human heads alike exploding without shame or recourse or respect for basic physics and human empathy. As much a bloodletting of Verhoeven's childhood trauma, forged in the fascist mill of World War II Europe, as a critique of Hollywood's cavalier attitude toward violence and uniformly heroic depictions of the military, the sci-fi spectacle can't help but arrive at the same place no matter which angle one takes: geeked out on some hardcore cinematic mayhem. –Dom Sinacola
---
6. Black Mirror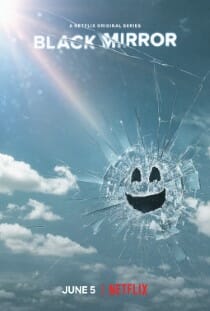 Year: 2011-2019
Creator: Charlie Brooker
Rating: N/A
There are probably times in most of our lives when we see our technological world as more of a dystopia than a utopia. The way it curbs our freedom, diminishes our privacy, and subjects us to anonymous attacks can feel like an unforgivable violation. But the worst part is, we're complicit—we've accepted the intrusion, and in some cases, or even most cases, we've become addicted. The ubiquity of technology is a reality that we can't fight against, and to maintain our sanity, we have to accept it. But that doesn't mean it's not worth questioning, which is exactly what Black Mirror is all about. The title is nearly perfect, as explained by creator Charlie Brooker: "The black mirror of the title is the one you'll find on every wall, on every desk, in the palm of every hand: the cold, shiny screen of a TV, a monitor, a smartphone." The job of this show is to reflect our society in an unflattering light, and they do it with a new cast and a new story in each episode. This is not fun watching—it's mostly horrifying—but even if our brave new world is inescapable, the show represents a kind of protest that feels more necessary than ever. —Shane Ryan
---
7. Mobile Suit Gundam: Char's Counterattack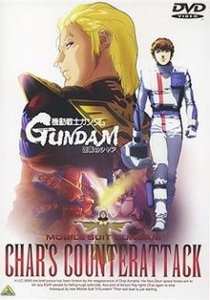 Year: 1988
Director: Yoshiyuki Tomino
Stars: Toru Furuya, Shuichi Ikeda, Hirotaka Suzuoki, Maria Kawamura, Nozomu Sasaki, Koichi Yamadera
Rating: TV-14
Runtime: 119 minutes
The first Gundam theatrical film and final chapter in the original saga begun in 1979 with the "Universal Century Timeline" of the Mobile Suit Gundam TV series, Char's Counterattack has the weight of three seasons of TV behind it. Yoshiyuki Tomino, creator of the Gundam series, directed and wrote the film, adapting it faithfully from his novel, Hi-Streamer. Widely considered the best film in the Gundam franchise, Char's Counterattack is most successful at wrapping up the 14-year rivalry between the "hero" of the Earth Federation, Amuro Ray, and the leader of Neo-Zeon, Char Aznable. The story involves a classic Gundam dilemma: Char's Neo-Zeon force attempts to drop an asteroid filled with nuclear weapons onto Earth, which would free the colonies from the yoke of oppression by their rivals, the Earth Federation, and kill everyone on Earth in the process. As with all of the best Gundam tales, Tomino approaches the story from a hard sci-fi point of view, clearly laying out the science behind things like giant mobile suits and "newtypes" (humans that have evolved to acquire psychic abilities). Tomino carefully lays out the reasoning behind Char and Amuro's passions and hatreds, not allowing the viewer to choose a clear side. Gundam series have always been willing to take on discussions about the horrors of war and how mankind, for all its advancements, never seems to be able to free itself from humanity's baser instincts. Char's Counterattack attempts this as well, yet it's mostly concerned with wrapping up the rivalry between Amuro and Char—and on that note, it succeeds wildly. Featuring gorgeous, tense fight sequences set in space, an excellent soundtrack by Shigeaki Saegusa, and some of the most lauded Gundam designs in the history of the franchise, the film is inarguably one of the high points of the Gundam Universe. One downside: If you don't have the investment of spending hundreds of episodes of television with these characters, the plot can be confusing, and Char/Amuro's ending will likely not resonate as strongly. Regardless, Char's Counterattack remains a key moment in the Gundam universe, one still worth checking out almost 30 years later. Hail Zeon! —Jason DeMarco
---
8. The Mitchells vs. The Machines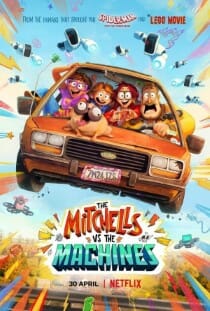 Year: 2021
Director: Mike Rianda
Stars: Danny McBride, Abbi Jacobson, Maya Rudolph, Mike Rianda, Eric Andre, Olivia Colman, Fred Armisen
Rating: PG
Runtime: 109 minutes
Animated generational divides have never been more like a sci-fi carnival than in The Mitchells vs. the Machines. Writer/director Mike Rianda's feature debut (he and co-writer/director Jeff Rowe made their bones on the excellently spooky, silly show Gravity Falls) is equal parts absurd, endearing and terrifying. It's easy to feel as lost or overwhelmed by the flashing lights and exhilarating sights as the central family fighting on one side of the title's grudge match, but it's equally easy to come away with the exhausted glee of a long, weary theme park outing's aftermath. Its genre-embedded family bursts through every messy, jam-packed frame like they're trying to escape (they often are), and in the process create the most energetic, endearing animated comedy so far this year. —Jacob Oller
---
9. The Platform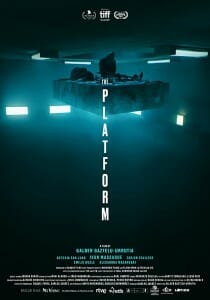 Year: 2019
Director: Galder Gaztelu-Urrutia
Stars: Iván Massagué, Zorion Eguileor, Antonia San Juan, Emilio Buale Coka, Alexandra Masangkay
Rating: NR
Runtime: 94 minutes
The Platform benefits immensely from the strength of its simple, high-concept premise and all the superfluous information that is withheld from the viewer. It doesn't matter that we don't know why exactly people are placed into this diabolical, vertical prison structure, in which the only sustenance arrives once a day in the form of a steadily descending, increasingly gross stone slab piled high with perishables. Nor do we really need to know how this apparent social experiment operates, although the repeated glimpses we get at cooks slaving over perfect dishes to be sent down to the doomed convicts is no doubt designed to needle at our curiosity. What matters is that we observe the differences in human reaction to this plight—the ways that different personalities react to adversity with an "us or them" mentality, or a predatory hunger, or a spontaneous drive toward self-sacrificing altruism. The fact that the position of the prisoners is constantly in flux is key—it gives them both a tangible reason to be the change they want to see in their world, and an almost impossible temptation to do the exact opposite out of distrust of their neighbors. One expects a nihilistic streak here, and you won't be disappointed—but there's a few glimmers of hope shining through the cracks as well. Just enough, perhaps, to twist the knife that much deeper. —Jim Vorel
---
10. Dune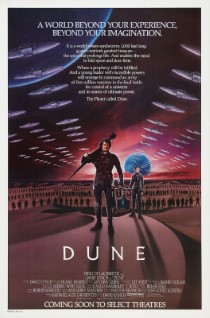 Year: 1984
Director: David Lynch
Stars: Kyle MacLachlan, Jurgen Prochnow, Francesca Annis, Patrick Stewart, Sting, Brad Dourif, Virginia Madsen
Rating: PG-13
Runtime: 137 minutes
Before Denis Villeneuve, popular consensus on Frank Herbert's iconic sci-fi novel Dune was that it might be unfilmable … because the great David Lynch had already tried to do just that in 1984, with mixed results. Lynch's version of Dune has not maintained the best reputation among rank and file film fans, though it's not hard to find ardent defense of it from cinematic aesthetes and devotees of Lynch's filmography. What it undeniably has going for it is a grandiosity of visual style and panache, with incredible, overwrought costuming and set-dressings that evoke the interstellar peacocking that is absolutely present in Herbert's tome. Less faithfully transcribed is Dune's plot and themes of unavoidable horrors inherent in trying to exercise and wield power, even with good intentions. Lynch's film isn't given the space and running time necessary to really plumb these depths, an advantage now possessed by Villeneuve. The result is a more conventional revenge and messiah story, albeit one with all the idiosyncrasies of filming and performance one expects from Lynch's oeuvre. Today, it's worth watching for the costuming alone. —Jim Vorel
---
11. Oxygen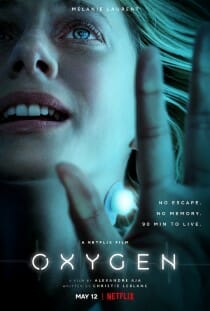 Year: 2021
Director: Alexandre Aja
Stars: Mélanie Laurent, Mathieu Amalric, Malik Zidi
Rating: NR
Runtime: 101 minutes
If you decide to watch the new sci-fi horror offering Oxygen during your latest Netflix and chill, allow me to impart a word of caution: This film isn't what you think it is. Alexandre Aja, the acclaimed New French Extremism director responsible for the subgenre's classic Haute Tension, is known for just that: Extremism. He's no stranger to pushing his characters into heightened, blood-curdling scenarios where the very fabric of their beings dangle at impossibly high stakes. But where Oxygen differs from the rest of his work is that, ultimately, it is a love letter to human survival—a horrorshow with catharsis running through its veins. A woman (Mélanie Laurent), awakens in a cryogenic chamber with no memory of her identity or how she got there. M.I.L.O. (Mathieu Amalric), the pod's onboard computer system, informs her that she has only 33 percent left in her oxygen reserve. We only see the inside of this pod, making her true location a terrifying unknown. Needless to say, escape couldn't be more critical. —Lex Briscuso
---
12. Vivarium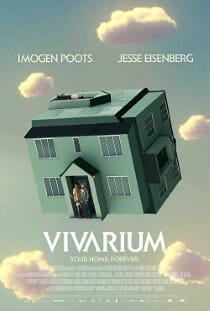 Year: 2020
Director: Lorcan Finnegan
Stars: Jesse Eisenberg, Imogen Poots
Rating: R
Runtime: 97 minutes
A quirky real estate story, where first-time homeowners Tom (Jesse Eisenberg) and Gemma (Imogen Poots) get a lot more than they bargained for, Vivarium is a low-key sci-fi nightmare of the mundane in the vein of early David Cronenberg. Director Lorcan Finnegan's film also functions as a relationship allegory, where Tom and Gemma find themselves stuck in a trendy neighborhood of cookie-cutter homes where starting a family isn't just an expectation but something foisted upon them. It isn't as grisly as something like Shivers, but more affecting in its surreal design and hopelessness. Eisenberg and Poots own the screen as a disintegrating couple coping in distinct ways to their newfound terrarium where they are observed, manipulated, and—perhaps most disturbingly of all—objectively provided for by unseen and undefinable forces. Its 2020 release feels especially fitting as repetition and hopelessness become permanent residents of the couple's home. Genre elements seep into the film, accelerating in hiccups and starts that are as arresting as the film's intentionally artificial design. Startling sound dubbing, odd colorizing, and a few genuine "Oh shit" moments make Vivarium a tight, nasty fable that would fit in with the best Twilight Zone episodes. —Jacob Oller
---
13. The Midnight Sky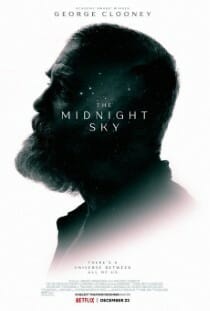 Year: 2020
Director: George Clooney
Stars: George Clooney, Felicity Jones, David Oyelowo, Tiffany Boone, Demian Bichir, Kyle Chandler, Caoilinn Springall
Rating: PG-13
Runtime: 118 minutes
Set in 2049, The Midnight Sky is a meditative journey which sees our planet as a rapidly decaying wasteland and the expanse of space as a dangerous, yet hopeful, new frontier. Cutting between the Arctic and an elaborate spaceship called the Aether, the film follows dying scientist Augustine Lofthouse (George Clooney) as he races to warn those upon the Aether to abandon their return to Earth, after an alluded to cataclysmic event renders most of the world uninhabitable. Although it has its share of cliches, it remains a gripping, chilling story throughout—one that strikes a little too close to home in the context of 2020. —Joseph Stanichar
---
14. The Old Guard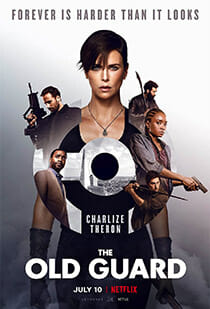 Year: 2020
Director: Gina Prince-Bythewood
Stars: Charlize Theron, Kiki Layne, Matthias Schoenaerts, Chiwitel Ejiofor, Van Veronico Ngo, Henry Melling, Marwan Kenzari, Luca Marinelli
Rating: R
Runtime: 125 minutes
Gina Prince-Bythewood, given a budget more than worthy of the best DTV action flick anyone could hope could make it to permanent Netflix browsal, succeeds in towing, and then mildly subverting, the genre line: She proves she can capably steer a high-concept action blockbuster while cobbling together something that feels like the kind of movie "they" just don't make anymore. All of it amounts to a one-step-forward-one-step-back appraisal: There is much to cull from the travails of Andromache the Scythian (Charlize Theron), an immortal warrior who, thousands of years later, still questions the purpose of her own endlessness, and sequels, given Netflix's ostensibly unlimited resources, are all but guaranteed—but one wishes for more capably clear action auteurism, even when Prince-Bythewood's action chops confidently step up. Still: There are countless joys to behold in The Old Guard, most of all the emergence of Kiki Layne—last seen as hyper-dramatic personae #1 in If Beale Street Could Talk—as exceptionally promising action star, executing a one-handed pistol cocking so confident and so unremarked-upon it automatically achieves cinematic canon. Otherwise, trigger-happy editing gets in the way of itself too often, admirable set-pieces sometimes chopped to shit, though plenty of violence—squelching and tendon-splitting—abounds, and the final villain is dispatched with such disregard for the human body that one can't help but applaud Prince-Bythewood for getting it—for knowing that the key to good action filmmaking is treating the human body like a pile of wet meat. —Dom Sinacola
---
15. Don't Look Up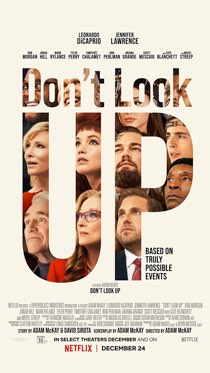 Year: 2021
Director: Adam McKay
Stars: Leonardo DiCaprio, Jennifer Lawrence, Rob Morgan, Jonah Hill, Mark Rylance, Tyler Perry, Meryl Streep
Rating: R
Runtime: 138 minutes
In 2021, there are more reasons than one might have been previously comfortable with for legitimately fretting about the end of the world. And while the downfall of humankind likely won't be coming as expediently as an extinction-level threat heading on a crash course for Earth, director Adam McKay's new doomsday comedy/"timely" political satire Don't Look Up attempts to congeal populism and the pandemic and climate change and all that which causes us to recoil against the unknowable future into one immediate, planet-killing orb. If that seems like a better and quicker way for us to go out in retrospect, McKay doesn't make the path towards potential desolation easy. He plays out scenarios that, now, come across less like Idiocracy and more like genuine, scientific hypothesizing about how our world would react to the knowledge that we have six months left to live. Businessmen and politicians would attempt to financially leverage the situation at the cost of human lives; brainless hashtags would proliferate on social media; half the population would believe it to be a hoax; and the people who broke the story would be branded as cranks…to some extent. So, who better to articulate this existential dread at large than resident Hollywood goofball comedy director-turned-political theorist McKay, in his first wholly fictionalized film since Anchorman 2: The Legend Continues? The result is a star-studded Netflix affair. The film isn't bad; it's just boring, and long. There is no reason that a comedy—even a purported "prestige" one—needs to run 145 minutes (though I have a feeling that Judd Apatow would beg to differ). I can imagine an alternate universe where Don't Look Up was a sharper affair, if not a better one, trimmed down to two hours, or even a scant 100 minutes, which would alleviate the weight of the burdensome political satire and, perhaps, even the long-winded non-jokes. As is, Don't Look Up is an exhausting and meandering "What if? But also, what now?" If the world really is going to end in my lifetime, these were 145 minutes that I'm never getting back. —Brianna Zigler
---
16. Space Sweepers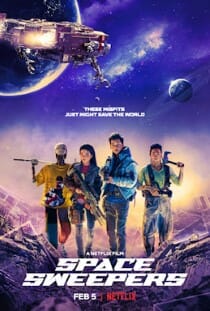 Year: 2021
Director: Jo Sung-hee
Stars: Song Joong-ki, Kim Tae-ri, Jin Seon-kyu, Yoo Hae-jin
Rating: NR
Runtime: 136 minutes
Netflix introduced its audience to Southeast Asian big-budget sci-fi with the Chinese film The Wandering Earth, a mess of a story that was still beautiful to look at. Space Sweepers, from Korean filmmaker Jo Sung-hee, is a much more cohesive and coherent offering with just as much flash. The dystopian setting sees the head of a giant tech company creating an Eden on Mars, essentially consigning most of humanity to poverty and pollution. A ragtag team of space-junk collectors is each looking after their own self-interest when they find a mysterious young girl who entangles them in much larger worries. With compelling characters, thrilling action sequences and an engaging plot, it's a strong entry for Korea's first sci-fi blockbuster. —Josh Jackson
---
17. Blame!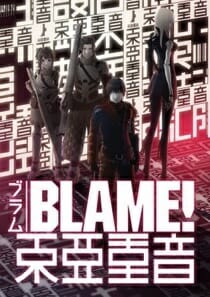 Year: 2017
Director: Hiroyuki Seshita
Stars: Sora Amamiya, Kana Hanazawa, Takahiro Sakurai
Rating: TV-14
Runtime: 105 minutes
When it comes to dark industrial sci-fi, Tsutomu Nihei is a visionary. Trained as an architect before pursuing a career as a manga author, Nihei's art is simultaneously sparse and labyrinthine, his body of work defined by a unifying obsession with invented spaces. Byzantine factories with gothic accents spanning across impossible chasms, populated by bow-legged synthoids and ghoulish predators touting serrated bone-swords and pulsating gristle-guns. His first and most famous series, Blame!, is considered the key text in Nihei's aesthetic legacy, going so far as to inspire everything from videogames, to music, and even art and fashion. Past attempts have been made to adapt the series into an anime, though none have been able to materialize successfully. That is, until now. With the support of Netflix, Hiroyuki Seshita of Polygon Pictures has delivered that long-awaited Blame! film. Set on a far-future Earth consumed by a massive, self-replicating superstructure known as 'The City', Blame! follows Killy, a taciturn loner, wandering the layers of the planet in search of a human possessing the 'net terminal gene,' an elusive trait thought to be the only means of halting the city's perpetual hostile expansion. Boasting a screenplay penned by Sadayuki Murai, famed for his writing on such series as Cowboy Bebop and Satoshi Kon's Perfect Blue, and supervised by Nihei himself, Seshita's film abbreviates much of the manga's early chapters and streamlines the story into an altogether more narrative and action-driven affair. Art director Hiroshi Takiguchi deftly replicates Nihei's distinctive aesthetic, achieving in color what was before only monochromatic, while Yuki Moriyama capably improves on the uniform character designs of the original, imparting its casts with distinct, easily identifiable traits and silhouettes that greatly improve the story's parsability. Blame! is as faithful an adaptation as is possible and as fitting an introduction to the series as the manga itself. Blame! builds a strong case for being not only one of the most conceptually entertaining anime films of late, but also for being one of, if not the best original anime film to grace Netflix in a long time. —Toussaint Egan
---
18. Spiderhead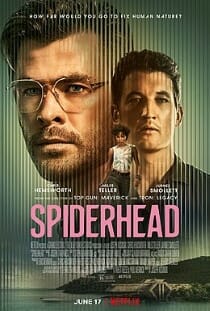 Year: 2022
Director: Joseph Kosinski
Starring: Miles Teller, Chris Hemsworth, Jurnee Smollett, Mark Paguio, Tess Haubrich
Rating: R
Runtime: 107 minutes
Paste's Steven Petite called George Saunders "a master of creating worlds that are close enough to mirroring our own to be deemed realistic while not familiar enough to entirely resemble the world we live in" and "perhaps the greatest living English language short story writer, whose bizarre brand of humor is both dark and refreshing." Netflix's Spiderhead, adapted from Saunders's 2010 short story "Escape from Spiderhead," is darker than it is funny (or fun), but it is refreshing to watch Chris Hemsworth drop his superhero persona to play a mad genius running an unorthodox prison where the inmates have volunteered as lab rats in exchange for good meals and personal space. Directed by Tron: Legacy's Joseph Kosinski, the film imagines a future where changing someone's mood and perception is as easy as an iPhone app and oversight of our private prisons is—well, even less than it is today. Miles Teller and Jurnee Smollett star as inmates who begin to question whether life back in gen pop was actually better. —Josh Jackson
---
19. Project Power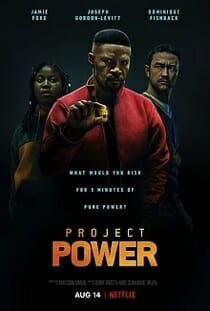 Year: 2020
Director: Henry Joost, Ariel Schulman
Stars: Jamie Foxx, Joseph Gordon-Levitt, Dominique Fishback
Rating: R
Runtime: 111 minutes
Take a pill, get a new superpower for five minutes. It's not the most original concept for a sci-fi film, but it should have been enough to lay the groundwork for a fun-if-not-groundbreaking two hours on the couch. Unfortunately not even the cast of usually charismatic actors Joseph Gordon-Levitt and Jamie Foxx could save this dull affair. Instead of an array of imaginative new superpowers, we get to see no more than about a half dozen people take the pill. And while it's refreshing to see a film like this set in one of America's most unique cities, even New Orleans gets short shrift here. The brightest moments in the movie are when Dominique Fishback takes center stage as Robin, whether she's freestyle rapping or connecting with Foxx's damaged military test subject, Art. —Josh Jackson
---
20. Invader Zim: Enter the Florpus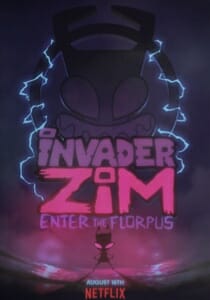 Year: 2017
Director: David Soren
Stars: Richard Steven Horvitz, Rosearik Rikki Simons, Andy Berman
Rating: PG
Runtime: 71 minutes
At a time when original Nickelodeon cartoons included Rocket Power and The Fairly Oddparents, Invader Zim was the network's attempt to attract the slightly older Cartoon Network crowd. They wanted something edgy and a little bizarre. They got it tenfold with Jhonen Vasquez, a comic-book writer and cartoonist whose previous projects included the hyper-violent comic series Johnny: The Homicidal Maniac, Squee and I Feel Sick. His concept for Nickelodeon was simple: Invader Zim was the story of naive but psychotic Zim, the smallest member of an alien species in which social hierarchy is determined by height, who is assigned to conquer an insignificant planet on the outskirts of the universe: Earth. Although dispatched simply to collect undercover surveillance and stay out of the way, Zim—along with his malfunctioning erratic robot drone, GIR—decides to conquer our planet himself. However, all his attempts to take over are either thwarted by his own inexperience or by Dib, a young paranormal investigator who realizes Zim is an alien. Now, a new Netflix movie brings back Zim and his maniacal laugh, along with the show's original creator and voice cast. Set in a near future after Dib has grown feeble and disgusting after months of doing nothing but watching his surveillance monitors for a sign of Zim, whose been hiding in a toilet with his useless pizza-loving robot sidekick GIR—Phase One of his evil plan. If only he could remember Phase Two. With Zib demoralized, Dib's goal shifts from saving the world to finally getting credit for doing so—particularly from his father. But teaming up with Zim proves to be a very bad idea. The new film captures the gloriously dark absurdity of the original with moments like GIR inspiring the children of the world with his song about peace…and chicken and rice…and alternate-realities colliding that include a variety of illustration styles and even claymation. —James Charisma and Josh Jackson