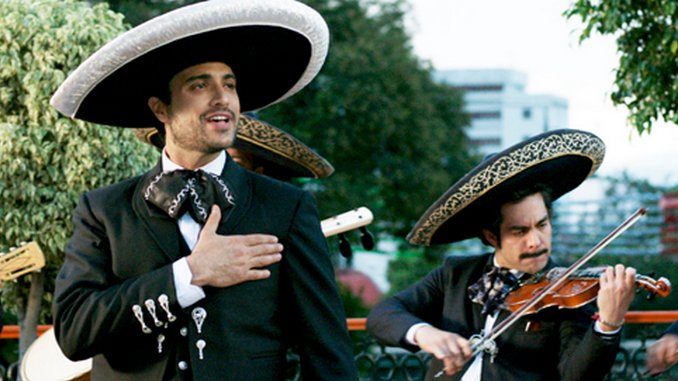 Pulling Strings is the latest offering of Pantelion Films, a production and distribution house founded in 2010 with the intention of focusing on films that "speak directly to acculturated and Spanish-dominant Hispanics alike," a formula that proved its potential with this year's surprise hit Instructions Not Included. Pantelion is a partnered effort of Lionsgate and Grupo Televisa, and its cooperative makeup is reflected in its film selections, each of which offers a varying interpretation of what cross-cultural appeal might look like.
Before this year, Pantelion's greatest success was the 2012 Adam McKay comedy Casa de Mi Padre, which pivoted on Will Ferrell's ironic casting as a Mexican rancher. With Instructions Not Included, first-time director and star Eugenio Derbez sketched out a literally delineated picture of a multicultural family (Mexican father, American mother, bilingual daughter), then gleefully hacked it into plot-complicating pieces and shipped it to Los Angeles, dropping his characters into the lap of the American film industry. As of a few weeks ago, his film has eclipsed Guillermo del Toro's Pan's Labyrinth as the highest-grossing Spanish-language film ever in the U.S. market.
This time around, Pulling Strings, which has already proven moderately profitable, presents a cosmetically similar premise about a single father with romantic ties to a blonde American who is cast into the heart of Mexico City. Alejandro (played by the self-consciously handsome telenovela star Jaime Camil) is a hard-working, mostly honest mariachi who has gotten in over his head with a couple of unfashionably coiffed loan sharks. Fearing for his daughter Maria's safety, he attempts to secure a visa so he can send her to live with her grandparents in Arizona. We never learn any details about the grandparents' living situation or relationship with their granddaughter, but this half-formed idea nevertheless leads Alejandro to the U.S. Embassy, where his request is roundly denied by the pretty and impersonal Rachel (Laura Ramsey). She later ends up attending the same party his band is playing, where she drinks too much, and Alejandro squires her home in a bout of reluctant sympathy.
Sympathy quickly turns into something a little less kind when Alejandro realizes that by withholding her boss's laptop, which Rachel thinks she's lost, he might be able to manipulate her into approving his visa request. He leads her on a wild goose chase around the city, trying simultaneously to demonstrate his worthiness, and in the process the two spend enough time together to fall, according to Romantic Comedy Law, deeply in love. Meanwhile, Alejandro's cheeky best friend, Canicas (Omar Chaparro), helps perpetuate the ruse, occasionally stopping to groom his facial hair, and Rachel's mother (Stockard Channing) breezes in from the States to belittle her daughter's lifestyle.
Pulling Strings isn't particularly sharp as either a comedy or a romance—Camil is too doggedly sincere to sell the humor, while Ramsey's character isn't very likable. Director Pedro Pablo Ibarra has a tendency to linger too long on the actors' faces during emotionally pivotal scenes, and he also indulges leading man Camil with several lengthy musical interludes that stall the story's momentum. (Camil studied opera and also works as a professional singer.) But, surprisingly, Alejandro's moral ambivalence is consistently justifiable: the American characters almost uniformly stomp around with the reckless abandon of college students spending a semester away from home. After nearly two years of not learning a lick of Spanish, Rachel only becomes interested in her surroundings after a series of orchestrated interactions with local personalities and street vendors. Riding around in oblivious good humor, she at one point exclaims: "I was behind a glass window and now I'm with a mariachi band!" By the time Alejandro admits his dishonesty, the most finely detailed aspect of the film is Rachel's insensitivity.
One of the ways that Pulling Strings hopes to make itself widely marketable is by bolstering its main cast with smaller appearances from Stockard Channing and comedian Tom Arnold, who seems to have crawled out of a hole somewhere to put in one day's worth of work as Rachel's boss and mentor. Both characters are intended to provide context for Rachel's detachment, and Channing rises to the occasion with a boozy, acerbic portrayal of toxic mothering. Still, their appearances do more to drive home the difficulty of mounting a production with interests on both sides of an international border, with both appearing in scenes that were likely shot separately from the main action. (Notably, the film credits two casting directors, one for English-speaking and one for Spanish-speaking roles.)
Despite Rachel's eventual conversion to the ranks of humanity, the uncomfortable divide between the Mexican and American characters never quite disappears from the central romance, either. Even as she begins to treat Alejandro and his friends as more than incidental concerns, Rachel nevertheless remains tied to a coldly bureaucratic agency with its own persistent moral ambiguities—her boss, upon returning from an Immigration and Customs Enforcement (ICE) conference, reveals that he's been tracking her every move via a microchip embedded in his laptop. There's a half-hearted third-act romance between Rachel and Alejandro's respective best friends, but the writers can't quite bridge the gulf, leaving the film to rest on colorful cinematography and the physical charms of its cast.
The film leaves many questions unanswered: why, for instance, does Tom Arnold deliver his lines menacingly, as if he got into character by reading every critical word ever written about ICE's dehumanizing tactics? How does Alejandro expect Rachel to help him if she is traipsing around with him all day and playing hooky from work? These and other loose ends make the film both emotionally unsatisfying and ultimately, weirdly fascinating. If this is a representative slice of Pantelion's catalogue (they have several films in the pipeline for the next year, including a Diego Luna-directed biopic of National Farm Workers Association founder Cesar Chavez) then it's both frustrating and encouraging—a small-scale collage of plot devices with a correspondingly open-ended message.
Director: Pedro Pablo Ibarra
Writer: Issa López, Georgina Riedel, Gabriel Ripstein, Oscar Orlando Torres
Starring: Jaime Camil, Laura Ramsey, Omar Chaparro, Stockard Channing, Tom Arnold
Release Date: Oct. 4, 2013
Others Tagged With