The Mindy Project Review: "Magic Morgan" (Episode 2.04)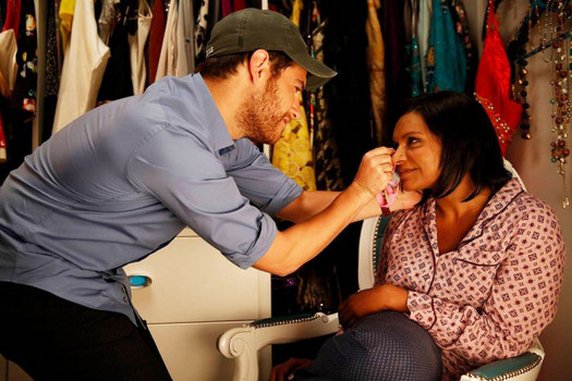 The Mindy Project's second season started with a trio of episodes I'll call the "Forget About Casey Trilogy," in a way to start fresh after the choices made in the last few episodes of the first season. In "Magic Morgan," which I guess turns this into a quadrilogy, we seemingly see the end of Casey, but we also get the most enjoyable episode of The Mindy Project in a long time.
"Magic Morgan" is by far the funniest episode of The Mindy Project's second season, even if the reasoning behind these jokes is very strong. Basically Mindy is heartbroken over losing Casey and wonders if she'll ever feel love again. She soon finds out that every girl that Morgan dates ends up getting engaged to the next guy the girl dates. So Mindy wants Morgan to work his magic on her, and when she laughs at him during his seduction, he sues her for sexual harassment. She has the option to either pay $200,000 to him or go on a single date with Morgan.
It's all sort of ridiculous and doesn't really make sense considering that several lawsuits probably could have occurred on this show already, but it does get Mindy and Morgan together and allow them to play off each other, which is always welcome.
But Mindy also brings an emotional core to the episode that is usually missing. Sure, her heartbreak is mostly played for laughs, but there is a resonance there, so by episode's end when she's yelling about Casey in a rock quarry, it pays off.
Mindy's lovesick pain and Morgan lawsuit are just a few of the many elements going on in "Magic Morgan" though in an episode that is literally stuffed with probably too many things. We also continue the tradition of having male actors from more popular shows guest-star as Mindy's new love interests. Now it comes in the form of It's Always Sunny in Philadelphia's Glenn Howerton as Cliff, who isn't far off from his character of Dennis, but instead of working at a bar, he's a lawyer. Howerton works because his character is similar to what he's used to playing (see also Workaholics' Anders Holm as Casey).
In trying to give both Jeremy and Danny more to do, they're put in control of new doctor Peter's future in the office. Jeremy likes Peter's manner with patients and dedication to the job, while Danny doesn't like him because he's basically the exact opposite of himself. Oh, and Peter grabs Danny's junk, which could also warrant a separate episode where the two go on a sexual harassment-enforced date. Hopefully.
Adam Pally as Peter is a great addition to an already-filled cast. I like the idea of the three male doctors playing off of each other as well, while Mindy goes on her dates with well-established comedic actors. Pally as a bro character is a bit different from what he was doing on Happy Endings, but he's still able to be as hilarious and genuinely likable as he was on that canceled-too-soon series.
"Magic Morgan" feels like the first episode in a while to have all the components of a really great show; the only problem is that there's way too much. Basically two episodes' worth of material is thrown into 22 minutes, not giving any one storyline enough room to resonate. If it can parse out the material a bit more instead of cramming it in, The Mindy Project would be much better off.
Others Tagged With